From The Washington Post:
Thousands of U.S. Marines descended upon the volatile Helmand River valley in helicopters and armored convoys early Thursday morning, mounting an operation that represents the first large-scale test of the U.S. military's new counter-insurgency strategy in Afghanistan.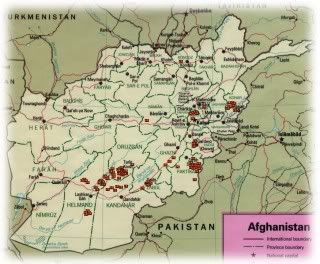 (You can see the province of Helmand at the southernmost area, in the center, on this map)
The strategy is different this time around:
Once Marine units arrive in their designated towns and villages, they have been instructed to build and live in small outposts among the local population. The brigade's commander, Brig. Gen. Lawrence D. Nicholson, said his Marines will focus their efforts on protecting civilians from the Taliban, and on restoring Afghan government services, instead of a series of hunt-and-kill missions against the insurgents.

"We're doing this very differently," Nicholson said to his senior officers a few hours before the mission began. "We're going to be with the people. We're not going to drive to work. We're going to walk to work."
I hope they do a better job "protecting civilians" than we've done with our drone planes.