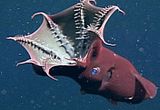 Writing in the the current print issue of Rolling Stone, journalist Matt Taibbi exposes Goldman Sachs, the "world's most powerful investment bank", for the "great vampire squid wrapped around the face of humanity, relentlessly jamming its blood funnel into anything that smells like money" that it truly is.
In "The Great American Bubble Machine", Taibbi outlines how Goldman Sachs has either influenced, shaped, or simply created five market bubbles since 1929 and how now, the bankers are planning to use the greenhouse gas emissions cap-and-trade scheme as their penultimate bubble.
While I do not agree with some of the conclusions he makes, there is enough in his 9,700 word essay that can make the blood boil.
"The first thing you need to know about Goldman Sachs is that it's everywhere," he begins. But, "any attempt to construct a narrative around all the former Goldmanites in influential positions quickly becomes an absurd and pointless exercise, like trying to make a list of everything."