One's favorite paintings are purely subjective. Since I first discovered but a poster of it, Paul Cézanne's Le Lac d'Annecy has been among the handful of mine. The real thing resides in London's Courtauld Gallery, but I first saw it when the Courtauld Institute was being remodeled, and the collection was shipped exclusively to Toronto. The future Mrs. T and I were headed to a friend's wedding, in rural Ontario, and had decided to drive across the country. I'd never been to Toronto, so we planned to stay for a few days. We drove in from Indiana, had our car searched at the border, and only made it to our hotel after midnight. Except that there had been a screw-up with the reservation, so it wasn't our hotel. And it was Gay Pride Week, which meant that almost every room in the city was booked. But the hotel manager managed to reach a friend who ran another hotel, and we ended up in a lavish business suite for the price of a small room. We got to bed around 3 a.m., woke the next day, went out exploring, and saw the banners on lampposts: The Courtauld Collection! In Toronto! Right then! It became our first stop!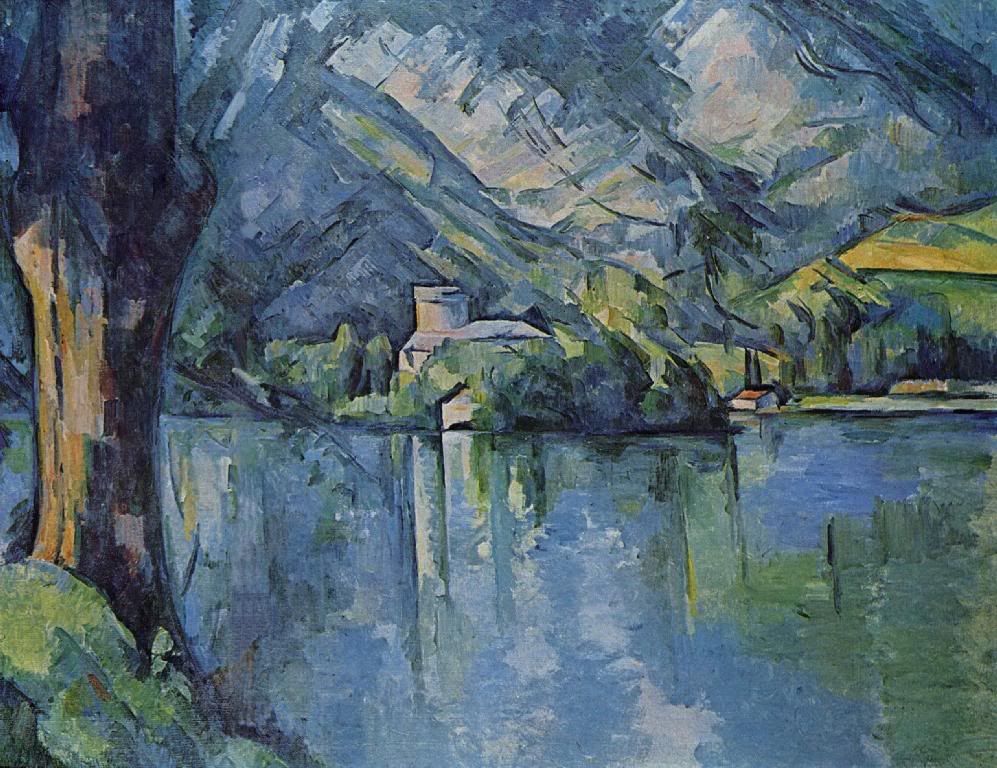 (massive version here)
The haunting magic of the painting simply cannot be captured online. For one thing, Impressionism and Post-Impressionism are very much about physical texture, and unless you can see the brush strokes, you're not really seeing the painting. And in Cézanne's case, and specifically with this work, that often meant palette knife strokes, because Cézanne's fascination with intersecting planes often led him to craft his art with his knife rather than with a paintbrush. And when we found the room with this painting, I could not leave. The future Mrs. T later told me she began to wonder if I would try to walk out with it.
My enchantment led a couple other visitors to inquire about it. I began explaining. A small crowd gathered. I told them to stand ten to fifteen feet back, relax their eyes, and observe the near photo-realism. The perspective is so perfect that you are transported into its depths, from the foreground tree, across the rippled reflections on the water, to the buildings and landscapes across the lake, and on up into the mountains. It's an astonishing achievement. Because when you then walk closer, to observe the detailed knife and brush strokes and the physical texture, the image dissolves into what is almost Expressionism. Only the best Cubism similarly shimmers between near three-dimensional realism and pure abstraction. Little wonder some art historians say modern art begins with Cézanne.