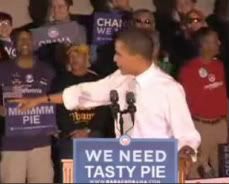 During last year's U.S. presidential campaign, Barack Obama campaigned on a pro-pie platform. But apple pie, an epitome of Americanness, is threatened by the apple's stagnant gene pool.
Like many Americans, the apple is an immigrant to the United States. The apple's ancestors came from Central Asia. Today, wild apple trees grow in the Tien Shan Mountains in Western China and in neighboring Kazakhstan. Almaty, the former capital, of Kazakhstan literally means 'the Father of Apples'.
In addition to wild apple, Central Asia is home to more than 300 wild fruit and nut species, including plum, cherry, apricot, pistachio, walnut and many other important food trees from which domesticated varieties are thought to originate.
A team of international scientists have completed an inventory of Central Asia's trees and identified 44 species in Kazakhstan, Kyrgyzstan, Uzbekistan, Turkmenistan, and Tajikistan as globally threatened with extinction.