Sam Stein weighs in on Obama's pre-approved, bipartisan-tested, generic excuse for not enforcing the law against BushCo criminals . . .
Asked for the first time to respond to the likelihood that Spanish prosecutors will target officials in the Bush administration for sanctioning torture at Guantanamo Bay, Barack Obama stressed, once again, that he prefers to look forward, not backward. "I'm a strong believer that it's important to look forward and not backwards, and to remind ourselves that we do have very real security threats out there," said Obama.
I think it's important to remind ourselves, Mr. President, that war criminals are still running around loose all over Washington D.C. Their smug faces can still be seen on national television, they're writing op-eds in the fucking Wall Street Journal, they're getting million dollar book deals and are still wined and dined at Georgetown cocktail parties, while the victims of their war crimes can't look forward to anything ever again because they're dead, or are still in Gitmo, or have been shattered physically and psychologically by American torturers acting upon the orders of an American president and vice president, who paid American lawyers to tell them it was legal to violate the law, the Constitution, and the Geneva Conventions.
"Legal cover", bought and paid for . . .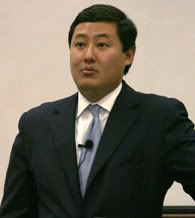 with 30 pieces of silver.
You want to focus on the very real threats "out there", Mr. President? I'm just a nobody who worked his ass off to help get you elected, but I think you need to focus on the very real threats to the Constitution and American democracy that are staring us all in the face right here in the United States. Those very real threats are not "out there" in Afghanistan or Pakistan, they're right here in America, entrenched in the CIA, the NSA and the Pentagon, they're in those Wall Street banks you keep bailing out, they're in the leadership and rank and file of that mindless cult of subversion, racism, and corporate fraud that used to be the Republican Party.