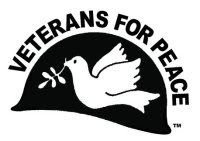 When is a veteran not a veteran?
When he or she is a Veteran for Peace, according to the committee which runs Milwaukee's Veterans Day parade.
According to the committee's logic, inviting non-veteran politicians to march in the Veterans Day parade is not political, but having the word "peace" in an organization's name is.

Members of Veterans for Peace have again been barred from participation in Milwaukee's Veterans Day Parade, although the parade website says the event is "Honoring all Americans who have served."
The committee has refused to allow Veterans for Peace members – many of whom are combat veterans with Purple Hearts – from taking part in the observance on Saturday, Nov. 7, saying Veterans for Peace is "a politically motivated group," and therefore not welcome.
So much for "honoring all Americans who have served."
Chapter 102 members (I am one) did not ask to participate in the parade to make a political statement, but to take our rightful place in the annual event saluting all who served our country in uniform.
Yet the committee, which finds us "political," invites non-veteran politicians — Scott Walker, Gwen Moore, Tom Barrett — to march in the parade, and welcomes veterans groups which are outspoken in support of military action and war.
The committee's reply, from Chairman David Drent, said,
"There is no doubt that your organization is a politically motivated group. One visit to the organization's website makes your views perfectly clear.

"We don't make judgment on your purpose. End the war or escalate it carries the same weight with the board. A political statement is being made and there is no room in the parade for it."

"We thank you for your service in our Armed Forces, but our goal has always been to have a day of honor that is 100% politically free."
The committee's decision was unanimous, he said.