Who's the guy with the big Iraq Moratorium button?
Could it be a presidential candidate?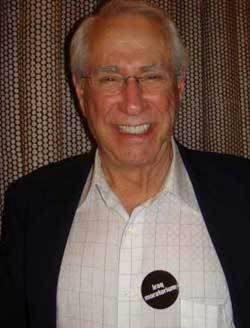 Indeed, Sen. Mike Gravel joined tens of thousands of others who observed Iraq Moratorium #3 on Nov. 16.
The Alaska Democrat, former Senator and presidential hopeful wore a big, black Iraq Moratorium button all day, the Moratorium website says. It's in the Moratorium Day #3 reports.
That makes him the first presidential candidate to actually get on board the peace train, although a would-be First Lady beat him to it by two months.