The Big Tent was a hip and happening place. Lotsa people in the bloggers lounge today. I met up with some of the shakers and movers of the blogosphere: Markos, MissLaura, BarbinMD, Plutonium Planet, Kagro X, and others. Daily Kos has their own couch reserved for them. Everybody there is cool. I also ran into Bill Scher of Liberal Oasis and Matt Stoller of MyDD.
Lots of people made their appearances. Arianna Huffington, my wonderful Senator Pat Leahy of Vermont, Paul Krugman, and more.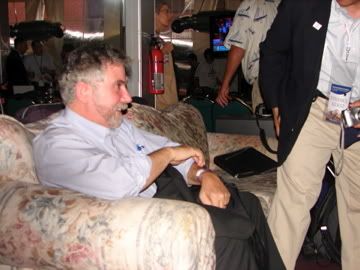 Paul Krugman of The New York Times
There was lots of media covering The Big Tent. Eat your heart out MSM. You loathe us yet we're the ones getting tons of press. It's great.
Not much more to report. The rest is just a blur. I think that was when the Fat Tire Ales kicked in. However….
More below the fold.