I now know how MSNBC host Rachel Maddow feels when she has to scrap a well prepared program for the latest insanity coming from the madhouse around the world. However, I am determined to do some lighter postings. You can ketch up with the chaos the news shows. March Madness 2023 begins tonight with the Men's First Four. At least somethings are back to almost normal.
Since it is Pi Day, 3.14, the Greek symbol representing the mathematical constant used to calculate the area and circumference of circles, to celebrate the ancient symbol, let's bake a pie.
What's your favorite? Mine is Lemon Meringue quickly followed by pumpkin, summer berries and apple, also quiche which can be eaten for breakfast, lunch and dinner. So here are my favorite recipes.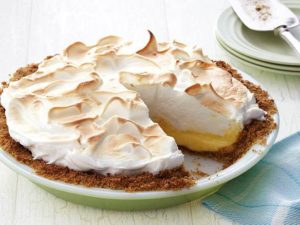 Lemon Meringue Pie with a Graham Cracker Crust
When I was a little girl, a family friend who was an executive chef, let me watch him make this pie. Every time I grate lemon peel, I'm that little girl again sitting on a stool in his kitchen.
Libby's Pumpkin Pie
There is no better recipe for pumpkin pie than the on on the side of the Libby's canned pumpkin. The recipe dates back to 1950. Although you can use a pastry crust, I sometimes use the graham cracker crust used in the lemon meringue pie recipe. Nummmy
Calvados Tarte Tatin
This is the French version of an apple pie. Calvados is an apple brandy from Normandy, France. The pie does use a pie plate and the circular buttery crust folds over the filling. Serve with creme fraiche or Calvados laced whipped cream, it is a treat and well worth the time to make it.
Jumbleberry Pie (Summer Berry Pie)
Even though this is a "Summer pie" with the availability of berries year round in supermarkets, it can be a treat even during the cold months of the year. I serve it with vanilla ice cream.
Classic Quiche Lorraine
An Alsatian Quiche is a rich egg pie with bacon and hails from the mountainous region of Lorraine in northern France and is better known as a Quiche Lorraine.

Quiche Lorraine has been adapted over the years from a humble custard and bacon pie to the substantial cheese, bacon, and egg creation that it is known for today.

The quiche is more than enough for a filling meal in itself especially with a side salad, and simple enough for a quick lunch, snack or even for parties and picnics.
Although this recipe calls for four eggs, I use six. Some recipes also add a dash of cayenne for an little zip.
I'll be making a quiche for breakfast and lunch. For dinner it's Pizza from my favorite pizzeria and for desert a lemon meringue pie.
These are just a few of my favorites, I'm sure you have yours. So bake a pie for pie day or, if you prefer, pick one up from your favorite bake shop and enjoy it on Pie Day.