I've been a little remiss with posting these days, that's because I've gone back to my real life job which can be really time consuming. I took this week off to get ready for the "Big Carb Gorge" better known as Thanksgiving Day. So without ado, here are some of the recipes I posted in the past. TMC
Republished from November 18, 2012 because it's that time of year again.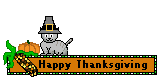 Over the last couple of years I've shared some of the recipes that I served at the annual Turkey Feast. There have also been diaries about cooking the bird, whether or not to stuff it and suggestions about what to drink that will not conflict with such an eclectic meal of many flavors. It's not easy to please everyone and, like in my family, there are those who insist on "traditions" like Pumpkin Pie made only from the recipe on the Libby's Pumpkin Puree can slathered with Ready Whip Whipped Cream. For my son-in-law it isn't Thanksgiving without the green bean casserole made with Campbell's Cream of Mushroom Soup. Thank the cats we have a crowd that will eat just about anything on the table that looks pretty. Rather than reprise each recipe, I've compiled an anthology of past diaries to help you survive the trauma of Thanksgiving Day and enjoy not just the meal but family and friends.
Health reasons why not to stuff that bird and a recipe with a clever decorative way to serve the dressing.
Suggestions on wine and beer pairings that go with everything including brussel sprouts.
A great substitute for those sticky, over sweet, marshmallow topped tubers that goes well with pork or ham and breakfast.
Hate those gritty, tasteless lima beans in succoatash? I do but this recipe using edamame change my mind
Includes a great recipe for Pumpkin Cheesecake that will please even those diehard traditional pumpkin pie lovers.
Any squash can be substituted for pumpkin in this recipe. My daughter is using butternut served with a dollop of cumin flavored sour cream.
Besides making turkey soup or hash with those leftovers and the carcass, there is also some great recipes like the mushroom risotto in this essay.
May everyone have a safe and healthy Thanksgiving.