This is your morning Open Thread. Pour your favorite beverage and review the past and comment on the future.
Find the past "On This Day in History" here.

Click on images to enlarge
August 6 is the 218th day of the year (219th in leap years) in the Gregorian calendar. There are 147 days remaining until the end of the year.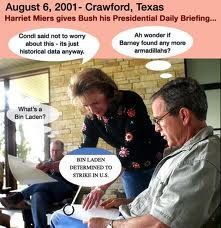 On this day there have been many significant events. Certainly, one of the most memorable is that this is the anniversary of dropping of the first atomic bomb on Hiroshima, Japan. It is also the anniversary of President Johnson signing the Voting Rights Act.
Recent significant history that has been over looked by my usual sources is this: The August 6, 2001 Presidential Daily Briefing better known as the August 6th PDB. It was handed to President George W. Bush, who was on one of his many vacations to his home in Crawford, TX, by Harriet Miers, who was the President's WH Council, and promptly ignored. Whether Bush ignored the warning that Osama bin Laden was planning to attack the US because he was told to let it happen or, the darker theory, that the government made it happen will never be known, at least not in the lifetime of those reading this. Whatever Bush's motive was, it set off a series of events in this country that has affected us all and divided us like no other incident since the Civil War. The US has now been in Afghanistan for almost 9 years 10 years 12 years and Iraq for over seven eight , the last U.S. combat troops withdrawing from Iraq on 18 December, 2011. Despite campaign promises to restore the rule of law and the Constitution, the Obama administration has continued the most heinous of the Bush policies that are violations of not just US law but International Law, ratified treaties and agreements. A sad anniversary, indeed.
I wrote this three years ago, although Pres. Obama has withdrawn combats troops from Iraq, "support" troops still remain. The US is in the process drawing down military presence in Afghanistan. That may sound encouraging but the President has since increased drones attacks in Pakistan and targeted American citizens for assassination and, now, is turning the US into a police surveillance state, shredding the Constitutional rights of its citizens. So much for ending the "war on terror" and restoring the rule of law.
1284 – Italian city of Pisa is defeated in Battle of Meloria by Genoa, ruining its naval power.
1538 – Bogota, Colombia, is founded by Gonzalo Jimenez de Quesada.
1661 – The Treaty of The Hague is signed by Portugal and the Dutch Republic.
1787 – Sixty proof sheets of the Constitution of the United States are delivered to the Constitutional Convention.
1806 – Francis II, the last Holy Roman Emperor, abdicates ending the Holy Roman Empire of the German Nation.
1819 – Norwich University is founded in Vermont as the first private military school in the United States.
1825 – Bolivia gains independence from Spain.
1845 – The Russian Geographical Society is founded in Saint Petersburg.
1861 – The United Kingdom annexes Lagos, Nigeria.
1862 – American Civil War: the Confederate ironclad CSS Arkansas is scuttled on the Mississippi River after suffering damage in a battle with USS Essex near Baton Rouge, Louisiana.
1870 – Franco-Prussian War: Battle of Worth is fought, resulting in a decisive Prussian victory.
1890 – At Auburn Prison in New York murderer William Kemmler becomes the first person to be executed by electric chair.
1901 – Kiowa land in Oklahoma is opened for white settlement, effectively dissolving the contiguous reservation.
1909 – Alice Ramsey and three friends become the first women to complete a transcontinental auto trip.
1912 – The Bull Moose Party meets at the Chicago Coliseum.
1914 – World War I: First Battle of the Atlantic – two days after the United Kingdom had declared war on Germany over the German invasion of Belgium, ten German U-boats leave their base in Helgoland to attack Royal Navy warships in the North Sea.
1914 – World War I: Serbia declares war on Germany; Austria declares war on Russia.
1915 – World War I: Battle of Sari Bair – the Allies mount a diversionary attack timed to coincide with a major Allied landing of reinforcements at Suvla Bay.
1917 – World War I: Battle of Marasesti between the Romanian and German armies begins.
1926 – Gertrude Ederle becomes first woman to swim across the English Channel.
1926 – In New York City, the Warner Brothers' Vitaphone system premieres with the movie Don Juan starring John Barrymore.
1926 – Harry Houdini performs his greatest feat, spending 91 minutes underwater in a sealed tank before escaping.
1930 – Judge Joseph Force Crater steps into a taxi in New York and disappears.
1942 – Queen Wilhelmina becomes the first reigning queen to address a joint session of the United States Congress.
1945 – World War II: Hiroshima is devastated when the atomic bomb "Little Boy" is dropped by the United States B-29 Enola Gay. Around 70,000 people are killed instantly, and some tens of thousands die in subsequent years from burns and radiation poisoning.
1956 – After going bankrupt in 1955, the American broadcaster DuMont Television Network makes its final broadcast, a boxing match from St. Nicholas Arena.
1960 – Cuban Revolution: in response to a United States embargo, Cuba nationalizes American and foreign-owned property in the nation.
1962 – Jamaica becomes independent.
1964 – Prometheus, a bristlecone pine and the world's oldest tree, is cut down.
1965 – US President Lyndon B. Johnson signs the Voting Rights Act of 1965 into law.
1986 – A low-pressure system that redeveloped off the New South Wales coast dumps a record 328 millimeters (13 inches) of rain in a day on Sydney.
1988 – The Tompkins Square Park Police Riot in New York City spurs reform of the NYPD, who were responsible for the melee that transpired the night of August 6-7.
1990 – Gulf War: the United Nations Security Council orders a global trade embargo against Iraq in response to Iraq's invasion of Kuwait.
1991 – Tim Berners-Lee releases files describing his idea for the World Wide Web. WWW debuts as a publicly available service on the Internet.
1991 – Doi Takako, chair of the Social Democratic Party (Japan), becomes Japan's first female speaker of the House of Representatives.
1996 – NASA announces that the ALH 84001 meteorite, thought to originate from Mars, contains evidence of primitive life-forms.
2008 – A military junta led by Mohamed Ould Abdel Aziz stages a coup d'etat in Mauritania, overthrowing president Sidi Ould Cheikh Abdallahi
2010 – Widespread rioting erupts in Karachi, Pakistan, after the assassination of a local politician, leaving at least 85 dead and at least 17 billion Pakistani rupees (US$200 million) in damage.
2010 – Flash floods across a large part of Jammu and Kashmir, India, damages 71 towns and kills at least 255 people.
2011 – A peaceful march in protest of the death of Mark Duggan in Tottenham, London ends in a riot, sparking off a wave of rioting throughout the country over the following four nights.
2012 – NASA's Curiosity rover lands on the surface of Mars.
* Christian Feast Day:
* Lydia of Thyatira

* Nicodemus

* Saint Olaf of Norway (Translation of the relic)

* Stephen (Invention of the relic)

* Waltheof of Melrose

* August 3 (Eastern Orthodox liturgics)
* Flag Day since 2006. (Venezuela)
* Independence Day, celebrates the independence of Niger from France in 1960.