Stephen E. Thompson is a 45 year-old man who was working as a DJ at a party thrown at Down Under Lounge in Omaha. His attire for the evening consisted of what has been called priestly garb: (a black Catholic shirt with priest collar and skinny skeleton jeans.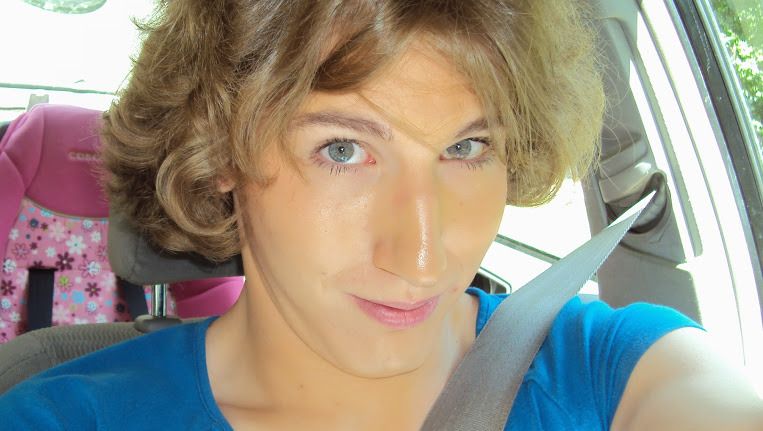 Kara Jeslyn Barone, 27, and a friend, both transgender women, needed to use the women's restroom that night. It turned out that Thompson's girlfriend, Dahlia Strange, needed to use the restroom at the same time.
These things happen…especially at bars.
Thompson went berserk. He began kicking at the door and tried to force his way in. Barone pushed him out and locked the door in order to keep him out. Strange finished her business and opened the door to leave. Thompson took the opportunity to punch Barone in the face…while calling her a "faggot" and other anti-gay slurs.
A situation that's not acceptable, you know. We don't condone assault. We don't condone bigotry, I heard a little bit of commotion and then I went around and I removed the combatant from the situation.

–Down Under Lounge owner John Nosal
Nosal said he hired Thompson as a disc jockey the night of the alleged assault. Nosal said he didn't see what happened, but knows enough to not bring Thompson into his business anymore.
Hopefully we can take the situation and learn from it and move forward
Barone suffered a bloody nose and a split lip according to the police report. Thompson has been arrested and charged with third-degree assault…with hate crime enhancement. He is being held on $50,000 bail.
I'm doing a lot better. My nose feels better now. It hurt pretty bad, and my lip was sore for a couple days.

It's still a lot to take in and comprehend.

–Barone
Dahlia Strange said she was in the bathroom with Barone. She said she watched everything happen and was dating the man accused in the attack until he allegedly threw the punches. They have since separated.
I hope he goes to jail for a long time. I don't ever want to see him again.

–Strange
Barone said she's concerned about what the attack might mean to others in the transgender community.
When they see stuff like that, they could be afraid of coming out. I was afraid to come out too, you know.

Stuff like that happens to everybody, the whole population. We just happen to be in the crosswalk of haters and hate out there. Just like anybody, just like if anybody is tall or fat or skinny or short or a different color.

–Barone
For some reason Omaha police felt it necessary to share Barone's birth name with the community.
No one has a right to assault anyone at anytime, under any circumstance.

I hope when it is all said and done this becomes a lesson not only for the gentleman, but for the community as a whole.

—Kate Parrish, president of the River City Gender Alliance