Eddie Redmayne, who won an Oscar playing Stephen Hawking in Theory of Everything, will try to make it two in a row by portraying pioneer transgender woman Lili Elbe in The Danish Girl.
Elbe was born Einar Mogens Wegener and became a successful artist. She also lived as Lili and was publicly referred to as Einar's sister. Einar married illustrator Gerda Gottlieb while both were in college at the Royal Academy of the Fine Arts in Copenhagen. After traveling through Italy and France, they settled in Paris in 1912, and Einar began to live openly as a woman and Gerda as an active lesbian. Wegener received the Neuhausens prize in 1907 and exhibited at Kunstnernes Efterårsudstilling (the Artists Fall Exhibition), Vejle Art Museum and in the Saloon and Salon d'Automme in Paris. She is represented at Vejle Art Museum in Denmark.
Eventually Lili became Gerda's model. Over time, Gottlieb became famous for her paintings of beautiful women with haunting almond-shaped eyes dressed in chic fashions. In approximately 1913, the unsuspecting public was shocked to discover that the model who had inspired Gottlieb's depictions of petite femmes fatales was in fact Gottlieb's wife, "Elbe".
In 1930 Elbe traveled to Germany for sex reassignment surgery, which at the time was an experimental procedure being carried out by a team led by Magnus Hirschfeld in Berlin and Kurt Warnehros at Dresden Municipal Women's Clinic. It included the transplantation of ovaries, but they were rejected as Lily was undergoing serious complications.
At the time of Elbe's surgery her case was already a sensation in newspapers of Denmark and Germany. The King of Denmark invalidated the Wegeners' marriage in October 1930, and Elbe managed to get her sex and name legally changed, including receiving a passport as Lili Elbe. She stopped painting, believing it to be something that was part of the identity of Einar. After the dissolution of her marriage, she accepted a proposal from an unknown man, which she intended to follow up as soon as she would be able to become a mother.
A uterus was transplanted into Elbe in 1931. She died of transplant rejection.
Gerda married an Italian military officer and moved to Morocco. They divorced and Gerda moved back to Denmark, where she did in 1940.
The definitive Elbe story is David Ebershoff's 1000 novelized version, which became a bestseller. The movie version of The Danish Girl is directed by Tom Hooper and stars Redmayne as Lili, and Alicia Vikander as Gerda. It is set for limited release in New York and Los Angeles on November 27, 2015. Originally scheduled to play Gerda was Charlize Theron. She was replaced by Gwyneth Paltrow. Uma Thurman was rumored to be Paltrow's replacement for a time.
Redmayne has done an interview with Out about portraying Elbe.
Eddie Redmayne had a rude awakening on LGBT issues in 2008, when he was rehearsing Now or Later at the Royal Court Theatre in London. He was playing the gay son of a fictitious American president. "His father was negotiating with Iran," he says, sitting in a subsidized arts café in South London. There was a line Redmayne was not quite delivering, one that centered on the significance of the negotiations for his character. The director, Dominic Cooke, had to explain it. "Dominic said, 'Ed, you know, it's not just a line. I'm not telling you to do this, but you can find images [online].' " The actor, a firm believer in the power of incorporating every iota of knowledge he can find into a role's gestation, took a look when he returned home that evening. "It's so fucking shocking, people hanging for being gay."
Between Les Misérables and The Theory of Everything, Redmayne shot Jupiter Ascending under the instruction of transgender director Lana Wachowski. "What an extraordinary woman," he says. Because The Danish Girl was by then waist-deep into development and Redmayne had begun serious self-schooling on trans issues, he spoke with her about it.

This project had gone in and out and I didn't even think it would ever get made, if I'm being honest," he says. "But I did start talking to Lana about Lili and she told me how important the book, Man into Woman [an edited collection of Elbe's letters and journal entries], was to her. And also the art, specifically of Gerda. She very kindly continued my education, pointed me to literature, and where I should be headed.
Redmayne says that he does not think in a gendered way. "No, not massively." He is not sure how male he feels. "God, that's an interesting question. I don't know if I ever think of it like that." He stumbles to recall whether there were traditional male and female roles prescribed in the house in which he grew up. "I suppose it depends what you think of as masculine and feminine. I was musical, and I was into theater and arts, but I was also into sports, so I had quite a broad spectrum. I can also totally see that other people see a femininity in me." He has been aware of this perception before, in life as in work. He is not a butch man. "No. No, no, no, absolutely not."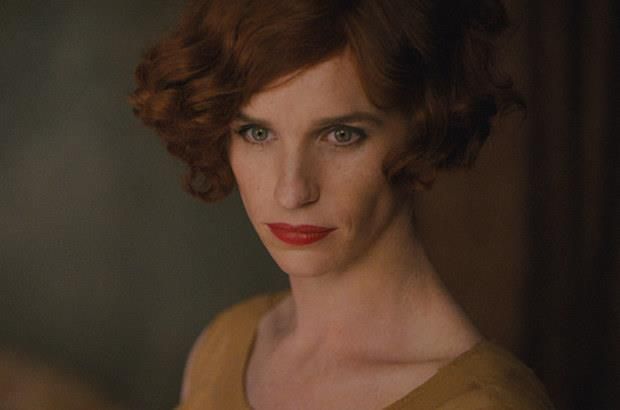 In the three years between being cast as Lili Elbe and playing her, Redmayne's research took him far from the texts Lana Wachowski first recommended. He began with Jan Morris's Conundrum before moving on to Kate Bornstein's pivotal gender theory work. His first research meeting was with the volubly outspoken and powerful British trans activist Paris Lees. "She was the first person I'd met when the film had been green-lit," he says, "and she was very kind to me, actually. Gorgeous."
I asked him what he thought of people criticizing him for playing a trans woman. He said, 'Look, I've just played a man in his 50s with motor neuron disease. I'm acting.'

As a trans woman, I don't think that if and when they make a biopic of my life I would want a cisgender man playing me. Politically, it makes me groan. But if anybody's going to do this justice, then I'm happy it's Eddie. We had a good chat about everything.

–Lees
Elle Fanning has gotten much more flak about portraying a trans boy in Susan Sarandon's About Ray. Naomi Watts play's Ray's mother and Sarandon plays Ray's lesbian grandmother.
The part is a girl and she is a girl who is presenting in a very ineffectual way as a boy. She's not pretending to have a deeper voice. She's just a girl who is being herself and is chasing the opportunity to start hormone treatment. So to actually use a trans boy was not an option because this isn't what my story is about.

–Director Gaby Dellal
It seems like Dellal, despite being a person who is making a movie about a transgender boy, doesn't understand that transgender boys aren't girls.

Dellal talks about Ray as if he is a girl, and she talks about transitioning as if it's a costume or some sort of an on/off switch. She even uses "she/her" pronouns to talk about Ray and repeatedly misgenders him.

Treating stories about lesbians and stories about trans boys as artistically interchangeable is alarming enough before we even get into her perspective on trans guys. Rather than treating these stories with the reverence and social responsibility they deserve, she seems to be approaching them like daring artistic challenges, like when she said of Elle Fanning, "I could not have chosen a more blonde, more feminine actress who had a big a mountain to climb. And that's what I'm interested in." What??

–Mey, AutoStraddle
About Ray will be released on September 18, 2015.
I do get the point about the inappropriateness of using trans people who have already transitioned to portray transgender people who are just transitioning. But everyone knows the real reason to use cisgender people to play transgender people in films is the ability to use name actors in the cast in hopes of a bigger payday and more awards
This is not about improving the image of transgender people in the industry. If that happens, it will be an accidental side benefit. And it is definitely not about raising the stature of actual transgender actors. We can hope that comes in its own good time.