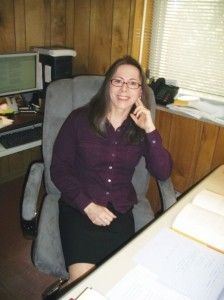 Back in April I wrote about the denial of tenure for Dr. Rachel Tudor at Southeastern Oklahoma State University because Dr. Tudor's "transgender lifestyle" offended the religious beliefs of the school's vice president for academic affairs Douglas McMillan.
The Department of Justice sued both Southeastern Oklahoma State University and the Regional University System of Oklahoma for violating Title VII of the Civil Rights Act of 1964.
The suit alleged that the University terminated the employment of Dr. Rachel Tudor, an assistant professor, based on her gender, gender identity and gender expression, as well as in retaliation for making complaints of discrimination.
Dr. Tudor intervened in that law suit by bringing her own complaint in early May, additionally claiming that she had been subjected to a hostile work environment.
Southeastern and the RUSO asked the court to dismiss Dr. Tudor's suit, arguing that transgender people are not entitled to protection from sex discrimination because we are not a protected class under the law.
Last Friday Judge Robin Cauthron of the US District Court in the Western District of Oklahoma denied the motion to dismiss.
Judge Cauthron held that Dr. Tudor is a member of a protected class. The Court also found that the complaint alleged enough facts to show that the work environment was hostile. The Court similarly rejected the Defendants' arguments that Dr. Tudor had not properly presented her claim to the EEOC, and that she had delayed too long in presenting her claims to the Court.
Tudor's intervenor complaint satisfied federal pleading rules, the court found, because it alleged she was subjected to harassment based on her membership in a class protected by Title VII. "[T]he actions Dr. Tudor alleges Defendants took against her were based upon their dislike of her presented gender," the court wrote.

Judge Robin J. Cauthron said Tudor also adequately alleged that she placed the university on notice during the administrative process that she would be pursuing a hostile environment claim. A letter Tudor sent to the Equal Employment Opportunity Commission and her EEOC charge made clear her claims were based in part on her gender transition and her co-workers' "reaction to that change," Cauthron found.
Freedom from gender discrimination is everyone's right, including transgender people, and the Court correctly recognized this. Merit should be the measure, not irrelevant personal matters that someone in the workplace happens to dislike.

–Jillian Weiss, attorney for Dr. Tudor
Dr. Tudor was originally hired in 2004 when presenting as a man, but transitioned in 2007. She was denied tenure during the 2009-2010 academic year.
Moreover, Tudor's allegations that she was harassed "because she was female, yet Defendants regarded her as male" adequately pleaded the protected-class element of a Title VII harassment claim. The U.S. Court of Appeals for the Tenth Circuit, in a footnote in Etsitty v. Utah Transit Authority, 502 F.3d 1215, 101 FEP Cases 1357 (10th Cir. 2007), recognized the distinction between harassment based on transgender status and harassment based on a dislike of "presented gender."
Unfortunately, this type of discrimination is still common in both private and public universities. People are being fired for being transgender across all types of jobs. And professors are essentially being forced out after transitioning.

This sends an important message. It says we can advance civil rights of employees as well as students. The case can do this. While we still need a law that gives gender rights explicitly, this (case) says this is unacceptable and there is still recourse.

–Harper Jean Tobin, National Center for Transgender Equality
I've personally had a class with this women. She is one of the best teachers I have ever had and had planned on taking more classes with her in the future. This campus is just teaching the students that it is not okay to be themselves. We may live in the Bible belt, but we do not live in Jerusalem circa 0001 BC.

–Former SOSU student Shannon Hutchison