Republished from February 19, 2012
Mardi Gras, Carnivale, Shove Tuesday, Fat Tuesday, what ever you call the day before the Christian Lent, it's all about food, fatty food. Eat, drink and be merry for at midnight you must fast and give up your favorite vice, except on Sunday, for the next forty days, that is if you're a Christian. We Pagans just raise an eye brow and enjoy the party and the FOOD!
Traditional foods are all rich, fatty and sweet. Gumbo, jambalaya, red beans and rice, catfish, po' boys to pancakes and beignets are all calorie laden delights that will need 40 days of fasting and exercise to shed the pounds. So to start the party off, here are a few recipes for a hearty gumbo, desert, something to drink and, of course, King Cake. Tradition is the person who discovers the tiny plastic or porcelain baby in his or her slice is branded as the provider of the next cake. In pre-Christian societies whoever found a coin or bean in a special cake was crowned King for the year; afterwards, he was sacrificed to ensure a good harvest – which makes having to pony up for the next cake seem like a mighty good deal.
Chicken and Sausage Jambalaya
This recipe serves 10 but can be cut in half
Ingredients:

12 ounces applewood-smoked bacon, diced

1 1/2 pounds smoked fully cooked sausage (such as linguiça), halved lengthwise, cut crosswise into 1/2-inch-thick semi-circles

1 pound andouille sausages, quartered lengthwise, cut crosswise into 1/2-inch cubes

1/2 pound tasso or smoked ham (such as Black Forest), cut into 1/2-inch cubes

1 1/2 pounds onions, chopped (4 to 5 cups)

2 large celery stalks, chopped

1 8-to 10-ounce red bell pepper, coarsely chopped

1 8-to 10-ounce green bell pepper, coarsely chopped

6 large skinless boneless chicken thighs, cut into 1- to 11/2-inch pieces

2 tablespoons paprika

1 tablespoon chopped fresh thyme

1 tablespoon chili powder

1/4 teaspoon (or more) cayenne pepper

3 10-ounce cans diced tomatoes and green chiles

2 1/2 cups beef broth

3 cups (19 to 20 ounces) long-grain white rice

8 green onions, chopped (about 2 cups)

Chopped fresh Italian parsley

Preparation:

Position rack in bottom third of oven and preheat to 350°F. Cook bacon in very large pot over medium-high heat until brown but not yet crisp, stirring often, 8 to 10 minutes. Add smoked sausage, andouille, and tasso. Sauté until meats start to brown in spots, about 10 minutes. Add onions, celery, and bell peppers. Cook until vegetables begin to soften, stirring occasionally, 10 to 12 minutes. Mix in chicken. Cook until outside of chicken turns white, stirring often, 5 to 6 minutes. Mix in paprika, thyme, chili powder, and 1/4 teaspoon cayenne. Cook 1 minute. Add diced tomatoes with chiles and broth; stir to blend well. Add more cayenne, if desired. Mix in rice.

Bring jambalaya to boil. Cover pot. Place in oven and bake until rice is tender and liquids are absorbed, 45 to 48 minutes. Uncover pot. Mix chopped green onions into jambalaya; sprinkle jambalaya with chopped parsley and serve.

Buttermilk Beignets
This will make 48 beignets
Ingredients:

3/4 cup whole milk

1 1/2 cups buttermilk

4 teaspoons active dry yeast

2 1/2 tablespoons sugar

3 1/2 cups bread flour plus extra for flouring work surface

1/2 teaspoon baking soda

1/4 teaspoon salt

Peanut oil for frying

Confectioners' sugar for serving, as much as you think you'll need-then double that!

Preparation:

Heat the milk in a small saucepan over medium-high heat until small bubbles form at the surface. Remove from the heat, add the buttermilk, and then pour into a stand mixer bowl. Whisk in the yeast and the sugar and set aside for 5 minutes. Add the flour, baking soda, and salt, and mix on low speed, using a dough hook, until the dry ingredients are moistened, 3 to 4 minutes. Increase the mixer speed to medium and continue mixing until the dough forms a loose ball and is still quite wet and tacky, 1 to 2 minutes longer. Cover the bowl with plastic wrap and set the dough aside in a draft-free spot for 1 hour.

Pour enough peanut oil into a large pot to fill it to a depth of 3 inches and bring to a temperature of 375°F over medium heat (this will take about 20 minutes). Line a plate with paper towels and set aside.

Lightly flour your work surface and turn the dough out on it. Sprinkle the top of the dough with flour, gently press to flatten, fold it in half, and gently tuck the ends under to create a rough-shaped round. Dust again and roll the dough out into a ½-inch- to ¹/³ inchthick circle. Let the dough rest for 1 minute before using a chef's knife, a bench knife, or a pizza wheel to cut the dough into 1 1/2-inch squares (you should get about 48).

Gently stretch a beignet lengthwise and carefully drop it into the oil. Add a few beignets (don't overcrowd them, otherwise the oil will cool down and the beignets will soak up oil and be greasy) and fry until puffed and golden brown, turning them often with a slotted spoon, for 2 to 3 minutes. Transfer to the prepared plate to drain while you cook the rest. Serve while still warm, buried under a mound of confectioners' sugar, with hot coffee on the side.

Make ahead:

The beignet dough can be made up to 8 hours in advance of frying. Line a baking sheet with parchment paper and spray it with nonstick cooking spray. After cutting the dough, place the beignets on the paper and place another greased sheet of parchment paper, sprayed-side down, on top. Wrap the entire baking sheet with plastic wrap and refrigerate. The beignets can be fried straight from the refrigerator.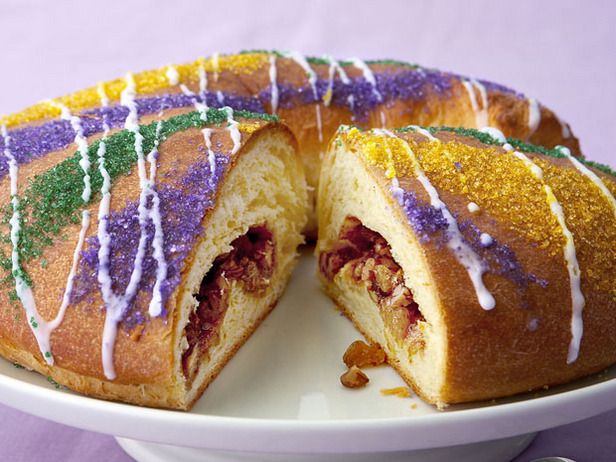 King Cake
Ingredients:

For the Cake:

1/3 cup milk

1 package active dry yeast

2 1/2 cups bread flour, plus more for dusting

2 large egg yolks, plus 2 eggs

3 tablespoons granulated sugar

Finely grated zest of 1 lemon

1 teaspoon salt

1/2 teaspoon freshly grated nutmeg

1 1/2 sticks unsalted butter, melted and cooled, plus more for greasing the bowl

For the Filling and Glaze:

1/2 cup golden raisins

1/4 cup bourbon

3/4 cup packed dark brown sugar

2/3 cup toasted pecans, chopped

1 teaspoon vanilla extract

1 teaspoon ground cinnamon

2 teaspoons grated orange zest

1/4 teaspoon salt

1 dry bean or plastic King Cake baby (available at party-supply stores or mardigrasday.com)

1/2 cup confectioners' sugar

Purple, green and gold sanding sugar, for decorating

Directions:

Make the cake: Heat the milk in a saucepan until scalding; transfer to a food processor, add the yeast and pulse to combine. Add 1/2 cup flour and the egg yolks; process to combine. Pour the remaining 2 cups flour evenly over the yeast mixture; do not process. Put the lid on; set aside for 90 minutes.

Add the 2 whole eggs, granulated sugar, lemon zest, salt and nutmeg to the food processor; process to make a slightly textured dough, about 1 minute. With the machine running, slowly add the butter to make a smooth, sticky dough. Transfer the dough to a lightly buttered bowl and cover tightly with plastic wrap; let rise in a warm place for 3 hours. Turn the dough out onto a clean surface and knead briefly; form into a ball and return to the bowl. Cover tightly with plastic wrap and refrigerate for 8 hours or overnight.

Make the filling:

Plump the raisins in the bourbon in a small saucepan over medium heat. Remove from the heat and add the brown sugar, pecans, vanilla, cinnamon, orange zest, salt and the bean or plastic baby; mix until combined and set aside.

On a floured surface, roll the dough into a 20-by-7-inch rectangle, with the long edge facing you. Spoon the filling in an even layer over the dough, leaving a 1-inch border along the top and bottom. Fold the bottom and then the top edge over the filling to make a tight roll; pinch to seal. Transfer the roll seam-side down to a parchment-lined baking sheet; tuck one end into the other to form a ring. Cover loosely with plastic wrap and set aside in a warm place until the roll doubles in size, about 2 hours.

Preheat the oven to 350 degrees. Bake the cake until firm and golden brown, about 40 minutes. Cool on a rack.

Make the glaze:

Mix 3 tablespoons water with the confectioners' sugar; brush 3 tablespoons glaze over the cake. Sprinkle with bands of colored sugar; drizzle with more glaze.

Hurricane
In the years since Katrina, the only welcome storms in New Orleans are the ones in a glass. Watch out for this fruity, gale-force rum concoction-more than one, and you'll need to declare yourself a natural disaster.

Because the syrup is hard to come by (and artificially flavored) here is a substitute for it that was well received: a tablespoon of passion fruit sorbet (Häagen Dazs makes one) and a teaspoon of grenadine, per serving.

Ingredients:

1 ounce light rum

1 ounce dark rum

1 tablespoon passion fruit syrup

Juice of 1/2 lime

1 teaspoon superfine sugar, or to taste

Ice cubes

Preparation:

Mix all ingredients except ice in shaker. Stir to dissolve sugar. Add ice cubes, shake well, and strain mixture into a cocktail glass.