(2 pm. – promoted by ek hornbeck)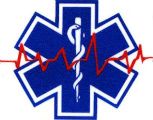 Welcome to the Health and Fitness News, a weekly diary which is cross-posted from The Stars Hollow Gazette. It is open for discussion about health related issues including diet, exercise, health and health care issues, as well as, tips on what you can do when there is a medical emergency. Also an opportunity to share and exchange your favorite healthy recipes.
Questions are encouraged and I will answer to the best of my ability. If I can't, I will try to steer you in the right direction. Naturally, I cannot give individual medical advice for personal health issues. I can give you information about medical conditions and the current treatments available.
You can now find past Health and Fitness News diaries here and on the right hand side of the Front Page.
Let Your Freekeh On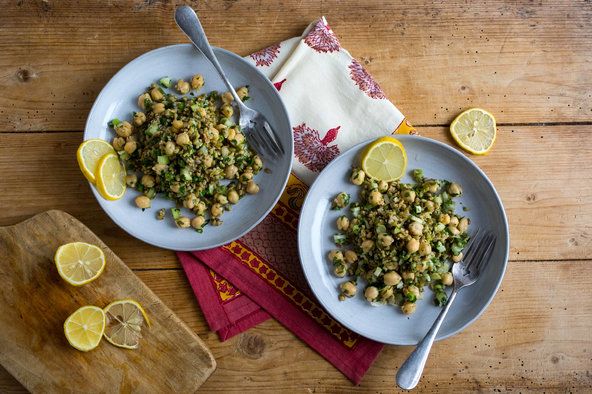 Chefs are coming up with all sorts of inspiring ideas for grains, and I was lucky enough to learn about some of them at last November's Whole Grains: Breaking Barriers conference organized in Boston by Oldways and the Whole Grains Counsel. [..]

One of the new old grains that peaked my interest at the conference was freekeh, a green wheat product that is popular throughout the Middle East but seems to be just catching on here. It has a smoky/earthy flavor, the result of the production process that I describe in this week's freekeh salad recipe, and it is bound to win over the hearts and palates of those who can still appreciate wheat.
Cracked Farro Risotto (Farrotto) With Parsley and Marjoram
The farro lends flavor and results in a more robust dish than a rice risotto.
A comforting dish with a strong flavor.
These croutons have a toasty and crunchy surface with a still-soft center.
A satisfying breakfast porridge with sweet and grassy overtones.
Warnings/Alerts/Guidelines
Many U.S. Girls Aren't Getting HPV Vaccine: Study

By Robert Preidt, HealthDay
Researchers note that CDC recommends vaccination at age 11 or 12

Jan. 23, 2015 (HealthDay News) — Only about half of American girls begin receiving the human papillomavirus (HPV) vaccine at the recommended age, a new study finds.

HPV is believed to cause nearly all cases of cervical cancer, and also other types of cancers and genital warts. The HPV vaccine protects against 70 percent of cervical cancers and 90 percent of genital warts cases, according to the researchers.
Antibiotics, Traveler's Diarrhea and Superbugs

By Robert Preidt, HealthDay
Researchers recommend caution when using antibiotics to treat digestive ills while abroad

Jan. 22, 2015 (HealthDay News) — The overuse of antibiotics to treat travelers' diarrhea may contribute to the spread of drug-resistant superbugs, a new study suggests.

Antibiotics should be used to treat travelers' diarrhea only in severe cases, said the study authors.

The study was published online Jan. 22 in the journal Clinical Infectious Diseases.
High Levels of Formaldehyde in E-Cig Vapor

By Dennis Thompson, HealthDay
When users turn up the heat, formaldehyde levels may increase as well

Jan. 21, 2015 (HealthDay News) — E-cigarette vapor can contain cancer-causing formaldehyde at levels up to 15 times higher than regular cigarettes, a new study finds.

Researchers found that e-cigarettes operated at high voltages produce vapor with large amounts of formaldehyde-containing chemical compounds.
Sleep Position Tied to Death Risk for Epileptics

By Kathleen Doheny, HealthDay
Researchers see similarities with sudden infant death syndrome

Jan. 21, 2015 (HealthDay News) — Sleeping on your stomach may boost your risk of sudden death if you have epilepsy, new research suggests.

Sudden, unexpected death in epilepsy occurs when an otherwise healthy person dies and "the autopsy shows no clear structural or toxicological cause of death," said Dr. Daniel Friedman, assistant professor of neurology at NYU Langone Medical Center in New York City.
General Medicine/Family Medical
Viruses May Play Role in Crohn's Disease, Colitis

By Robert Preidt, HealthDay
More research is needed to define what role they play, researcher says

Jan. 23, 2015 (HealthDay News) — Viruses may play a role in inflammatory bowel diseases, including the two most common types, Crohn's disease and ulcerative colitis, a new study reveals.

Previous research has linked these bowel diseases with a lower variety of bacteria in the gut, according to the researchers.
Eczema Linked to Other Health Problems
Study finds higher risk of heart disease, stroke in people with the skin condition

Jan. 23, 2015 (HealthDay News) — Adults with eczema — a chronic, itchy skin disease that often starts in childhood — may also have an increased risk of heart disease and stroke, according to a new study.

This increased risk may be the result of bad lifestyle habits or the disease itself.
Study Rates Migraine Medications

By Robert Preidt, HealthDay
Findings will be basis of new guidelines on treatments for debilitating headaches

Jan. 20, 2015 (HealthDay News) — The best medications to use if you suffer migraine headaches are listed in a new study.

Researchers reviewed recent scientific literature and concluded that a number of classes of drugs were effective for treating acute migraine.
FDA Approves New Psoriasis Drug

By Robert Preidt, HealthDay
Cosentyx blocks protein involved in inflammatory response of disease

Jan. 21, 2015 (HealthDay News) — A new drug to treat adults with moderate-to-severe plaque psoriasis was approved Wednesday by the U.S. Food and Drug Administration.

People with plaque psoriasis, the most common form of the autoimmune skin disease, develop thick, red skin with flaky, silver-white patches called scales. In autoimmune diseases, the body's immune system attacks healthy tissue by mistake.
Early Study: Stem Cells May Reverse MS Disability

By Amy Norton, HealthDay
Small initial trial showed improvement for people with relapsing-remitting MS

Jan. 20, 2015 (HealthDay News) — A therapy that uses patients' own primitive blood cells may be able to reverse some of the effects of multiple sclerosis, a preliminary study suggests.

The findings, published Tuesday in the Journal of the American Medical Association, had experts cautiously optimistic.
Pneumonia Raises Heart Disease Risk for Years

By Steven Reinberg, HealthDay
Findings underscore value of preventive vaccines

Jan. 20, 2015 (HealthDay News) — Older patients hospitalized with pneumonia appear to have an increased risk of heart attack, stroke or death from heart disease for years afterward, a new study finds.

This elevated risk was highest in the first month after pneumonia — fourfold — but remained 1.5 times higher over subsequent years, the researchers say.
Surgery Not Better for Spine Narrowing: Study

By Robert Preidt, HealthDay
More conservative treatments worked just as well to ease back and leg pain

Jan. 19, 2015 (HealthDay News) — Surgery and more conservative treatments provide similar long-term outcomes for people with spinal stenosis, a new study suggests.

Spinal stenosis is narrowing of the spinal canal that leads to back and leg pain and other symptoms.

The study included more than 650 spinal stenosis patients who had surgery or received nonsurgical treatment such as physical therapy or medications. For the first several years, patients who had surgery had better outcomes.
Overactive Bladder a Common Problem, FDA Says

By Robert Preidt, HealthDay
But many people are too embarrassed to seek treatment, or do not know options exist

Jan. 19, 2015 (HealthDay News) — More than 33 million Americans suffer from overactive bladder, including 40 percent of women and 30 percent of men, the U.S. Food and Drug Administration says.

There are numerous approved treatments for the condition, but many people don't seek help because they're embarrassed or don't know about therapy options, according to an agency news release.
Seasonal Flu/Other Epidemics/Disasters
Vaccine Opponents Often Cluster in Communities

By Steven Reinberg, HealthDay
California study found certain areas have high numbers of parents who forgo immunizing kids

Jan. 19, 2015 (HealthDay News) — Parents who refuse to have their children vaccinated appear to be clustered in certain areas, a new study suggests.

Among more than 150,000 children in 13 counties in Northern California, the researchers found five clusters where kids had missed one or more vaccinations by the time they were 3 years old.
The Flu Remains Widespread in Much of the U.S.

By Ashley Hayes, WebMD Health News
Jan. 23, 2015 – The flu is still widespread in a majority of states, and flu-related hospitalizations and deaths are on the rise, the CDC says.

The worst might not be over: It's too soon to tell whether this flu season has peaked. Since it began early, it might last longer than the average of about 13 weeks, according to the agency.

We're in the ninth week of a particularly bad season, complicated by a flu vaccine that offers less protection than hoped.
Ebola Vaccine Sent to W. Africa for Testing

WebMD News from HealthDay
Jan. 23, 2015 –The first shipment of an experimental Ebola vaccine is being sent to Liberia for field testing, but experts say it may be difficult to determine how effective it is because the number of Ebola cases in West Africa is falling.

An airplane carrying about 300 initial doses of the vaccine made by GlaxoSmithKline (GSK) and the U.S. National Institutes of Health (NIH) is expected to arrive in Liberia on Friday, and a clinical trial of the vaccine could begin within a few weeks, BBC News reported.
Ebola 'Turning Point' as Cases Decline: WHO

WebMD News from HealthDay
Jan. 22, 2015 — Ebola cases are falling in the three hardest-hit West African countries and the outbreak has reached a "turning point," according to the World Health Organization.

In Liberia, only eight cases were detected last week, compared with a peak of 500 a week in September. New Ebola cases in Guinea are at 20 a week, compared to a peak of 292, and new cases in Sierra Leone are at 117 a week, compared with a peak of 748, BBC News reported.
Women's Health
Many Women of This Age Take Narcotic Painkillers

By Steven Reinberg HealthDay
If they become pregnant, birth defects and preterm birth are possible risks

Jan. 22, 2015 (HealthDay News) — Too many women of childbearing age take narcotic painkillers, putting any unborn babies at risk, U.S. health officials said Thursday.

Thirty-nine percent of females aged 15 to 44 who were enrolled in Medicaid filled a prescription for a narcotic painkiller each year from 2008 to 2012, says a new report from the U.S. Centers for Disease Control and Prevention (CDC). Among privately insured women, that rate was 28 percent.
'The Pill:' Higher Risk for Rare Brain Cancer

By Alan Mozes, HealthDay
But the odds of any one birth control pill user getting the tumor remain extremely small, experts stress

Jan. 22, 2015 (HealthDay News) — The risk for developing a rare form of brain cancer known as glioma appears to go up with long-term use of hormonal contraceptives such as the Pill, new Danish research suggests.

Women under 50 with a glioma "were 90 percent more likely to have been using hormonal contraceptives for five years or more, compared with women from the general population with no history of brain tumor," said study leader Dr. David Gaist.
Ulcer Bacteria Tied to Lower MS Risk in Women

By Amy Norton, HealthDay
Study suggests infection with H. pylori bug may be somewhat protective

Jan. 20, 2015 (HealthDay News) — Women who harbor the stomach bacteria Helicobacter pylori (or H. pylori) may be less likely to develop multiple sclerosis (MS), a new study suggests.

In the study, researchers found that among women with MS — an often disabling disease of the central nervous system — 14 percent had evidence of past infection with H. pylori. But 22 percent of healthy women in the study had evidence of a previous H. pylori infection.
Fertility Treatments and Children's Health

By Mary Elizabeth Dallas, HealthDay
Implanting just one embryo a significant factor in the change, study author says

Jan. 20, 2015 (HealthDay News) — Over the past two decades, the health of children born with the help of fertility treatments has improved substantially, according to a new study.

Fewer babies are being born prematurely or with low birth weight. There are also fewer stillbirths or children dying within the first year of life, researchers in Denmark found.

The study was published in the Jan. 21 online edition of the journal Human Reproduction.
Men's Health
Use of Male IVF Procedure Doubled in Past Decade

By Mary Elizabeth Dallas, HealthDay
But the procedure is expensive and not always tied to better outcomes, study suggests

Jan. 20, 2015 (HealthDay News) — Although use of an IVF treatment for male infertility, known as intracytoplasmic sperm injection (ICSI), has doubled in the past decade, the procedure is not always associated with better outcomes, according to a new study from the U.S. Centers for Disease Control and Prevention.

During ICSI, a single sperm is injected directly into an egg. The procedure, which was introduced in 1992, made it possible for many infertile men to father children.
Pediatric Health
Study: 'Video Feedback' May Help Curb Autism

By Robert Preidt, HealthDay
Research suggests an effect for at-risk babies, but more study is needed, expert says

Jan. 22, 2015 (HealthDay News) — A therapy involving "video feedback" — where parents watch videos of their interactions with their baby — might help prevent infants at risk for autism from developing the disorder, a new study suggests.

The research involved 54 families of babies who were at increased risk for autism because they had an older sibling with the condition.

Some of the families were assigned to a therapy program in which a therapist used video feedback to help parents understand and respond to their infant's individual communication style.
Researchers Rethink Inner-City Asthma Theory

By Robert Preidt, HealthDay
Poverty, race, ethnicity are more accurate predictors, study says

Jan. 20, 2015 (HealthDay News) — A new study challenges the widely held belief that inner-city children have a higher risk of asthma simply because of where they live.

Race, ethnicity and income have much stronger effects on asthma risk than where children live, the Johns Hopkins Children's Center researchers reported.
Aging
Leaks in Brain May Contribute to Dementia

By Robert Preidt, HealthDay
Study finds blood vessels in older adults break down

Jan. 21, 2015 (HealthDay News) — Age-related blood vessel leaks in the brain may contribute to the development of Alzheimer's disease and other types of dementia, according to a new study.

The findings suggest it may be possible to use brain scans to detect such leaks and repair them in order to prevent damage that can lead to dementia, the University of Southern California researchers said.
Falls on the Rise Among U.S. Seniors

By Robert Preidt, HealthDay
Study found more than a third of people over 65 reporting a fall over the past 2 years

Jan. 19, 2015 (HealthDay News) — For American seniors, a fall can have disabling or even fatal consequences. And a new study finds that the rate of older people who suffer a fall is actually on the rise.

A research team led by Dr. Christine Cigolle, of the University of Michigan Medical School in Ann Arbor, tracked national data from adults aged 65 and older. They found that the number of older adults with at least one self-reported fall in the past two years rose from about 28 percent in 1998 to about 36 percent in 2010.
Nutrition/Diet/Fitness
Could Fish Nutrients Shield Fetus From Mercury?

By Dennis Thompson, HealthDay
No developmental problems seen in kids of frequent seafood eaters from Seychelles islands, study says

Jan. 21, 2015 (HealthDay News) — Despite concerns over mercury exposure, pregnant women who eat lots of fish may not harm their unborn children, a new study suggests.

Three decades of research in the Seychelles, the islands in the Indian Ocean, found no developmental problems in children born to women who consume ocean fish at a much higher rate than the average American woman, the study concluded.
Can Coffee Protect You From Melanoma?

By Dennis Thompson, HealthDay
Researchers suggest caffeine might mitigate sun damage

Jan. 20, 2015 (HealthDay News) — Your morning coffee might do more than perk you up. Researchers suggest it also might help protect you against melanoma, the deadliest form of skin cancer.

Coffee drinkers are less likely to suffer from malignant melanoma, and their risk decreases somewhat with every cup they swallow, according to findings published Jan. 20 in the Journal of the National Cancer Institute.
Pizza Takes a Slice Out of Kids' Health: Study

By Tara Haelle, HealthDay
Children, teens consume more calories, fat and salt on days they eat this American staple

Jan. 19, 2015 (HealthDay News) — On the days your kids eat pizza, they likely take in more calories, fat and sodium than on other days, a new study found.

On any given day in the United States in 2009-10, one in five young children and nearly one in four teens ate pizza for a meal or snack, researchers found.
Could a Drink a Day Lower Your Heart Failure Risk?

By Alan Mozes, HealthDay
Study found an association for middle-aged people, but experts stress that heavy drinking is never healthy

Jan. 19, 2015 (HealthDay News) — Having a drink each day might help lower a middle-aged person's odds for heart failure, a new study reveals.

The investigation suggests that men in their 40s, 50s and 60s who drink as much as seven comparably sized glasses of wine, beer and/or spirits per week will see their risk for heart failure drop by 20 percent.

For women the associated drop in risk amounted to roughly 16 percent, according to the study published online Jan. 20 in the European Heart Journal.
Too Much Sitting Can Be Deadly, Even With Exercise

By Maureen Salamon, HealthDay
Researcher suggests ways to include movement in your day that goes beyond that hour at the gym

Jan. 19, 2015 (HealthDay News) — Regular exercise doesn't erase the higher risk of serious illness or premature death that comes from sitting too much each day, a new review reveals.

Combing through 47 prior studies, Canadian researchers found that prolonged daily sitting was linked to significantly higher odds of heart disease, diabetes, cancer and dying.
A Bit More Salt Each Day May Not Harm Older Adults

By Robert Preidt, HealthDay
But experts say restricting intake is still advisable

Jan. 19, 2015 (HealthDay News) — Consuming a "modest" amount of salt might not harm older adults, but any more than that can damage health, a new study finds.

The study of adults aged 71 to 80 found that daily consumption of 2,300 milligrams (mg) of salt — the equivalent of a teaspoon — didn't increase deaths, heart disease, stroke or heart failure over 10 years.