BiPM includes a poll in his Friday C&J to select who won the week. I decided I needed to riff off that for my title.
I don't know that I have ever read the magazine Glamour. I mean, I may have done so, once upon a time. When I was a child, I read whatever I could get my hands on, just for the joy of reading.
On November 10, Glamour honored its 2014 Women of the Year award recipients at Carnegie Hall in New York City.
Glamour's annual Women of the Year Awards is one of our favorite issues of the magazine, and the event marks one of the most inspiring nights of the year; it's a chance to celebrate trailblazing women from all walks of life-Hollywood stars, political and cultural leaders, groundbreaking scientists and researchers, and more come together to honor the women who helped to shape and change the year. But let's not forget that phenomenal women are all around us; to celebrate the spirit of Women of the Year, we named 50 standouts-one for every state. Flip through to see the hometown heroes whose work we recognize this year.
Flipping through the inspiring women from each state, one eventually encounters…
Nicole Maines, 17, who is transgender, made headlines earlier this year when she and her family won a long-standing lawsuit against her school after she'd been directed to use the staff bathroom instead of the girls' restroom. "When we won, it felt like this huge weight was lifted off," says Maines. Maines is proud that the case sets a precedent for future transgendered students' rights. "They can look at what happened in Maine and see…our state leaders validated that everyone gets to be whom [sic] they need to be." Now Maines, who just signed her first book deal, has become a transgender advocate: "There's still work to be done and stories that need to be told…. I think [advocacy] will always be a part of my life."
This past Tuesday Penobscot County Superior Court issued an order, dated November 25, concluding the Maines case, which began in 2009, by awarding a financial settlement of $75,000 to the Maines family and their Boston attorneys Gay and Lesbian Advocates and Defenders (GLAD) and Berman Simmons.
The Penobscot County Superior order, dated Nov. 25, represents the conclusion of the court case that began in 2009 when the Maines family and the Maine Human Rights Commission sued the Orono school district. The order prohibits the district from "refusing access by transgender students to school restrooms that are consistent with their gender identity.
Nicole, who is now 17, began identifying as a girl when she was 2.
The case stemmed from an incident in 2007 when the grandfather of a fellow fifth grade classmate complained to school administrators that Maines was allowed to use the girls' restroom. In the wake of the protest, the Orono school district began forcing Maines to use a staff facility – a decision that her parents argued was discriminatory.
The Orono school district's insurance will cover almost all of the legal and settlement costs according to Superintendent Joanne Harriman.
The attorney fees are covered by insurance so there is no cost [or] impact to Orono taxpayers.

–Harriman
Portland attorney Melissa Hewey represented the district, which is now RSU 26.
The Maines family now lives in Cumberland County, where Nicole and her twin brother, Jonas, attend a private school.I'm just glad it's over,"
We just want to move on. We just want to be normal.

—Wayne Maines, Nicole's father
Wayne Maines says that Nicole and Jonas, as high school seniors, are visiting colleges…and that Nicole's gender identity has not come up.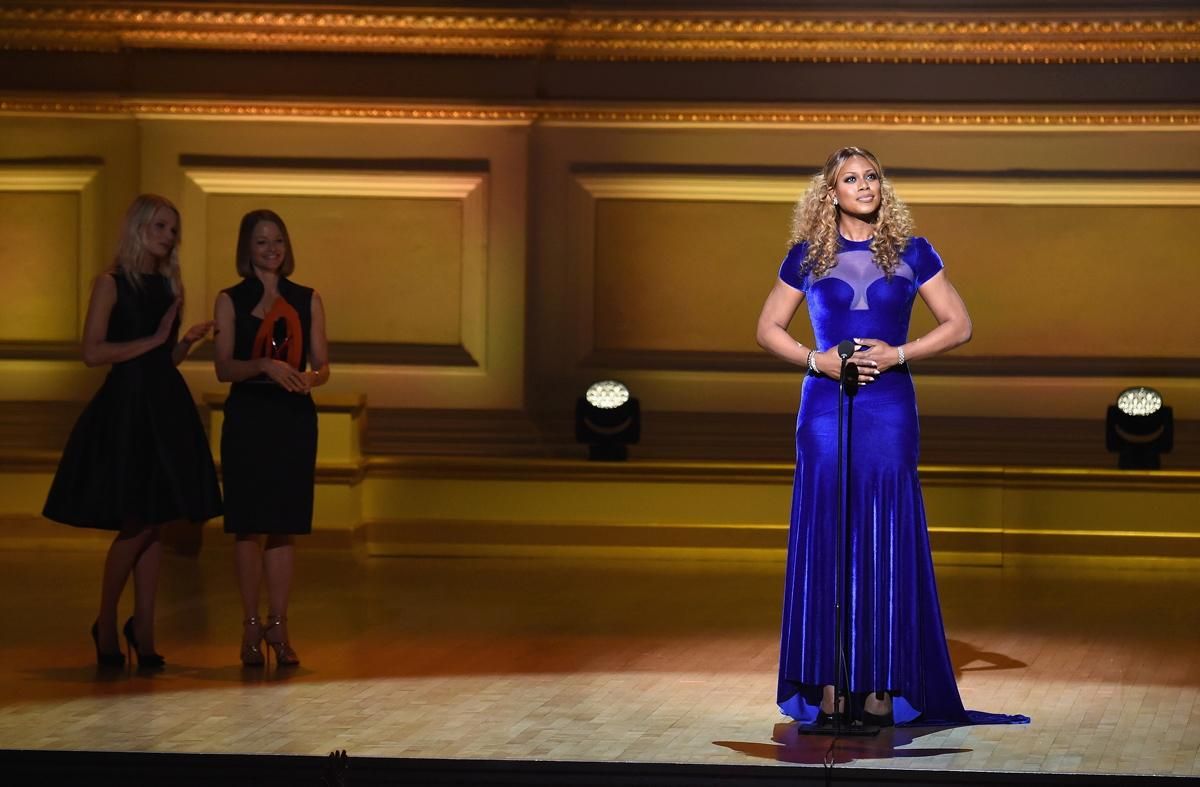 Laverne Cox was also selected as a Glamour Woman of the Year because…
Her unparalleled candor, courage, and eloquence have helped us understand a community that is far too often misunderstood. She teaches us that gender identity lives, first and foremost, in our hearts and minds.
In fact, the moment was ripe. This year, with gay rights and marriage equality forging ahead at an unprecedented pace, the transgender community came out of the shadows, demanding to be respected and understood too. "I looked around at the lives of so many trans folks-lives that are often in danger," says Cox. "The homicide rate is disproportionately high among trans people. The rate of bullying is disproportionately high. Forty-one percent of all trans people have attempted suicide, compared to 4.6 percent of the rest of the population." Forty-one percent.