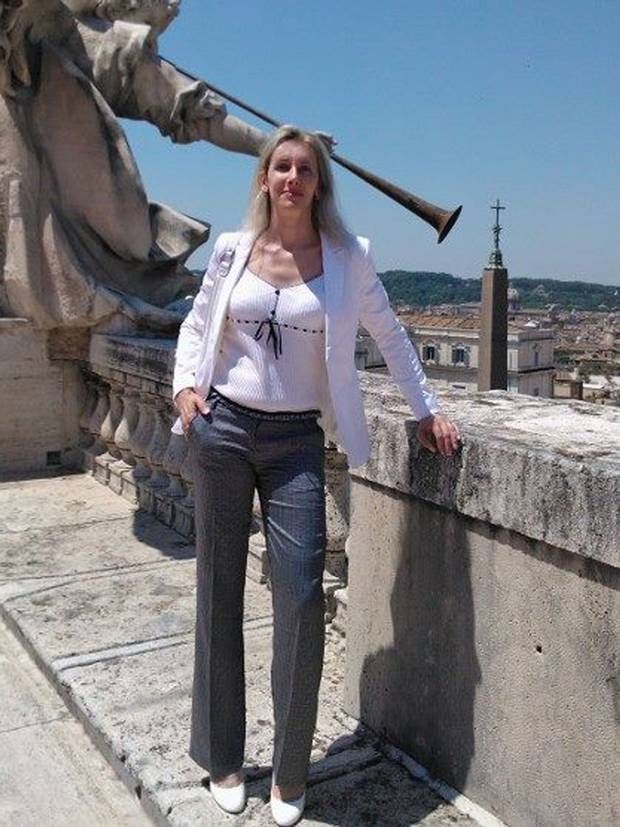 Alessandra Bernaroli has been battling with the Italian government for the past five years to keep her legal marriage in tact.
When I was small I liked to play with little girls, I was looking to understand their femininity. I dreamed of becoming a woman but I had no idea what trans-sexuality was.
The 43-year-old bank employee from Bologna was living as a male when she met her wife in the mid-1990s. The couple wed in 2005. It was only after the marriage that Alessandra exposed her transgender feelings to her spouse.
I hid my inner torment from my wife but I felt trapped in a prison, in a body that had become an enemy to me. I suffocated my true identity.

–Bernaroli
After Bernaroli came out to her wife, her wife agreed to stand by her throughout the process. Alessandra underwent a series of operations in Thailand in 2009.
When they returned to Italy and sought to update their national identity cards, they were informed that they would no longer be classified as married.
My body may have changed, but the love between us remains the same. I'm acting to defend our marriage.

I fell in love with her nearly 20 years ago when I was a man and we love each other as much as the first day we met, despite the fact that after a long journey and many operations I became a woman. Why should the state now try to separate us?

–Alessandra Bernaroli
Bernaroli was ruled against in a local court before appealing to Italy's national appeals court.
Our marriage simply lost its validity. We didn't know what our status was. For the last five years we've been living in limbo.

–Bernaroli
The Constitutional Court in Rome has finally ruled that the marriage should not be automatically dissolved.
It's a great win and brings us great joy. Ours was the first case to reach the courts involving a couple who wanted to remain married despite one of them changing sex.

If this is a trigger for what already exists in many countries of the European Union, so much the better, and it will always have been thanks to something born out of transsexualism.

–Bernaroli
The Constitutional Court said it was aiming to balance "the State's interest in not changing the model of heterosexual marriage…and the interest of the couple where one of the two components changes sex".
The Court has suggested that legislators establish an alternative form of marriage. Some are suggesting that civil unions will be brought forward for consideration.
Meanwhile in Denmark a new law is making it easier for transgender to change their legal gender. Amnesty International says it should set an example to the rest of the world.
The bill passed by the Danish parliament on Wednesday allows transgender people to obtain official documents reflecting their gender identity without being diagnosed with a mental disorder to undergoing any surgeries resulting in irreversible sterilization.
[The new law] will make life easier and more dignified for the individual, for example, when you are asked for ID in shops.
This progressive and courageous step made by Danish MPs should set an example to the rest of Europe and beyond.

All states should ensure that transgender people can obtain legal recognition of their gender through a quick, accessible and transparent procedure in accordance with their own sense of their gender identity.

Legal gender recognition is vital to preserve the right to privacy for transgender people, but the process must preserve their right to health and not impose on them mandatory requirements that violate their human rights.

–Helle Jacobsen, Amnesty International Denmark
Previously transgender people in Denmark could only change their gender after receiving a psychiatric diagnosis of transsexualism or undergoing surgeries, irreversible sterilization and hormone therapy.
Just like in 1989, when Denmark became the first country in the world to introduce a legal concept of same-sex partnership, today Denmark pioneered another significant change in Europe. Instead of keeping the state in charge of a person's body and life, the parliament recognized that these are rights pertaining to the individual.

–Gabi Calleja, ILGA-Europe
It was in 1992 that the European Court of Human Rights ruled that a state's refusal to allow someone to write their changed gender on legal documents what a violation of their human rights.
The new law will become effective on 1 September 2014. Earlier this year Amnesty International documented how the human rights of gender non-conforming people are routinely violated in Europe.
Denmark is, of course, the site of the first modern sex reassignment surgery when an American GI obtained special permission to undergo a series of operations in Copenhagen beginning in 1951.