(10 am. – promoted by ek hornbeck)
Cross posted Messing With the Wrong City] from [The Stars Hollow Gazette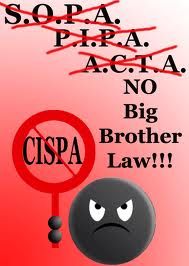 Time to take action. As I reported last week the Cyber Intelligence Sharing and Protection Act(CISPA) was sent to the House for a vote.
From an e-mail that Joan McCarter at Daily Kos posted the e-mail from the White House issuing a veto threat of the bill as it currently stands:
The Administration recognizes and appreciates that the House Permanent Select Committee on Intelligence (HPSCI) adopted several amendments to H.R. 624 in an effort to incorporate the Administration's important substantive concerns. However, the Administration still seeks additional improvements and if the bill, as currently crafted, were presented to the President, his senior advisors would recommend that he veto the bill. The Administration seeks to build upon the continuing dialogue with the HPSCI and stands ready to work with members of Congress to incorporate our core priorities to produce cybersecurity information sharing legislation that addresses these critical issues.

H.R. 624 appropriately requires the Federal Government to protect privacy when handling cybersecurity information. Importantly, the Committee removed the broad national security exemption, which significantly weakened the restrictions on how this information could be used by the government. The Administration, however, remains concerned that the bill does not require private entities to take reasonable steps to remove irrelevant personal information when sending cybersecurity data to the government or other private sector entities. Citizens have a right to know that corporations will be held accountable-and not granted immunity-for failing

to safeguard personal information adequately. [emphasis in original]
House Democrats are now rallying in opposition to the bill:
Four Democratic members say the Cyber Intelligence Sharing and Protection Act, or CISPA, as written "would undermine the interests of citizens and their privacy" despite the addition of five privacy-focused amendments adopted to the bill last week. They argue that the amendments do not go far enough to ease their concerns.

"Without further amendments to protect privacy and civil liberties, we cannot support the bill," the House Democratic lawmakers write in the "Dear Colleague" letter.

"The bill has improved from earlier versions, but even with the amendments adopted, CISPA unacceptably and unnecessarily compromises the privacy interests of Americans online," they add.

Reps. Adam Schiff (D-Calif.), Jan Schakowsky (D-Ill.), Anna Eshoo (D-Calif.) and Rush Holt (D-N.J.) signed the letter.

The House Rules Committee will meet on Tuesday afternoon to approve the rule for the bill, which will determine what amendments will be voted on in the House later this week. House members have until Tuesday morning to file their proposed amendments to the bill.
There are twelve Democratic co-sponsors to the bill. We need to send tell them to withdraw their support:
Ruppersberger, A. Dutch [D-MD2]

Costa, Jim [D-CA16]

Cuellar, Henry [D-TX28]

Enyart, William [D-IL12]

Gutierrez, Luis [D-IL4]

Hastings, Alcee [D-FL20]

Kilmer, Derek [D-WA6]

Lipinski, Daniel [D-IL3]

Peters, Scott [D-CA52]

Sewell, Terri [D-AL7]

Sinema, Kyrsten [D-AZ9]

Vargas, Juan [D-CA51]
The Electronic Freedom Foundation (EEF) is urging action:
The Cyber Intelligence Sharing and Protection Act (CISPA) is supposed to promote cybersecurity- a goal EFF wholeheartedly supports – but it doesn't address common-sense network security issues. Instead, it creates a new, dangerous exception to existing privacy laws. That's why hundreds of thousands of concerned Internet users have joined EFF and other civil liberties groups in opposing the bill. This is our last chance to stop it in the House.

Despite recent amendments, CISPA still features vague language that could put your personal information in the hands of military organizations like the National Security Agency.

Can you call your representative and tell him or her to oppose this bill? We'll give you the phone number for your representative and a very brief suggested script. Click here to call Congress now.

Not in the United States? Click here to sign our petition.

We want to generate thousands of calls between now and the vote-likely on Thursday. Please call now and then tell your friends to speak out on this important issue. It's as easy as posting this on your social networking accounts:

Congress is about to vote on CISPA. If you care about online privacy, you've got to speak out now: https://eff.org/r.5bPw

You can also use Twitter tool to tell key members of Congress to stand up for your privacy and vote NO on CISPA.
The White House switchboard is 202-456-1414.

The comments line is 202-456-1111.

Numbers for the Senate are here.
The late internet activist Aaron Swartz called CISPA the "The Patriot Act of the Internet".
Call the White House and your representatives to protect your privacy rights.