(10 am. – promoted by ek hornbeck)
Following the ideals of his hero, Simon Bolivar, President Hugo Chávez Friás long had a grand vision of a Bolivarian unity among the countries of South America, Central America, and the Caribbean. His long serving foreign minister, Nicolas Maduro, now acting president of Venezuela, was the person who brought that vision to material reality. In so doing, they may have walked off with some prime real estate — the U.S.'s own backyard.
As a reported two million people lined the streets to accompany the body of Venezuela's President Hugo Chávez Friás, to the Military Academy in Caracas where likely millions more stood in line for hours, if not days, to view his face one last time. Fifty-four international delegations, political leaders and heads of state arrived in Venezuela to attend the official state ceremony for the deceased president, 15 of whose countries had declared official days of mourning for him at home. They were greeted by then vice president and now Acting President Nicolas Maduro.
The South, Central American and Caribbean countries in attendance gave witness to the impact the Chavez Administration has had on forging unity among them.

Representatives of the more than 33 countries belonging to MERCOSUR, UNOSUR, ALBA and CELAC appeared and credited Chavez's vision and energy with establishing the equivalent of a new regional union, modeled after the European Union, south of the U.S. border, in what the U.S. formerly regarded as virtually its own territory.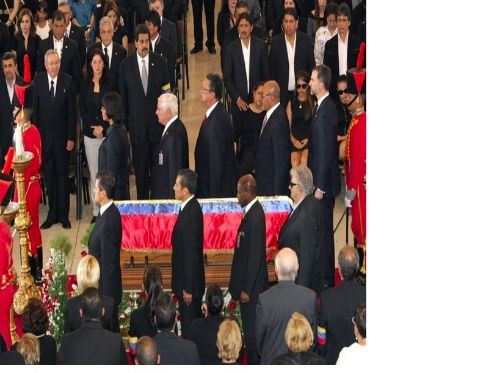 It was an unprecedented display of international respect and admiration for President Chavez, a political leader who had repeatedly been demonized and called a "clown" and a "buffoon" by the U.S. State Department and its puppet media. (Now, only days since Chavez's death, that same reactionary media is scorning Chavez's acting successor, Maduro, as a "burly one-time bus driver" . Expect more epithets to come.
The U.S. and many European governments were also fond of referring to President Chavez as a "dictator" or "strongman", disregarding the obvious contradiction that Chavez had been elected by large national majorities to the Venezuelan presidency in 1998, 2000, 2006 and 2012, while winning a national recall referendum to remain president in 2004. They now appear poised to tar Maduro with the same scurrilous brush.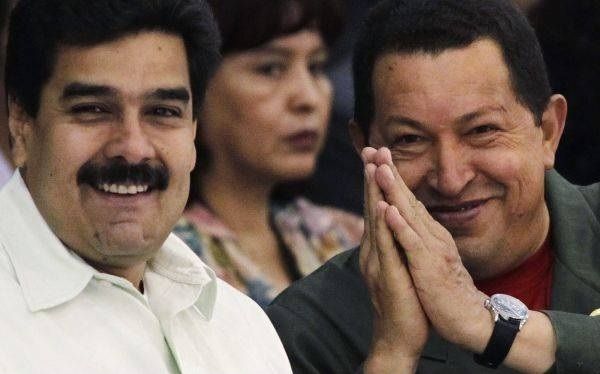 Perhaps the most revealing proof that President Chavez was not a dictator by any stretch of the imagination occurred in 2007, when he lost, by less than 2% of the vote, a national referendum on his proposal to amend sections of Venezuela's 1999 Constitution.
Upon the announcement by the Venezuela's National Electoral Council of Chavez's amendments defeat, President Chavez did not even ask for a re-count; he immediately accepted his loss and congratulated the opposition for their success.
But the 54 international delegations that appeared in Caracas on March 8, 2013, did not travel to President Chavez's funeral simply to pay their respects to a good democrat, even one that succeeded in accomplishing the UN's Millennium goals for his country by drastically reducing poverty, inequality, illiteracy and hunger there.
No, in many cases they came to mourn the passing of a personal friend. Chavez was a warm, sensitive, humane personality who frequently inspired deep friendships with those whose lives he touched, even among some who might be considered officially as enemies. Thus it was with Colombia's current president, Juan Manuel Santos.
Under Colombia's former president, Alvaro Uribe, and his defense minister –now president — Juan Manuel Santos, Colombia had invaded the sovereignty of neighboring Ecuador to kill a FARC hostage negotiator and his team, thus greatly setting back efforts to persuade the FARC opposition to release prisoners they held hostage in Colombia.
Fearing a similar invasion of Venezuela, Chavez sent troops to the Venezuelan-Colombian frontier, to defend against a possible military incursion. Ordinary international relations between the countries were shredded, ambassadors were withdrawn, and even common citizens obstructed from their usual cross-border trade.
That the U.S. and Colombia's Uribe had recently signed an agreement to set up 7 new U.S. military bases on Colombia's territory, several of which were obviously targeted at Venezuela's vast oil resources in its frontier provinces of Zulia and Tachira, added to the extreme tension. (The U.S. military base agreement was later ruled unconstitutional by Colombia's Supreme Court.)
When President Uribe was held to be term-limited from running for re-election, his Defense Minister, Santos, ran in his stead and was elected. Relations with Venezuela were at their nadir when Santos took office in 2010. (President Uribe has since admitted that, as president, he had had actual plans for military incursions into Venezuela, presumably with U.S. approval, but ran out of time to carry them out.)
But, with Santos's election – much to the world's surprise (and undoubtedly to the U.S.'s dismay) — a series of meetings between President Chavez and President Santos and their foreign ministers yielded a mending of their countries' relations, such that even joint projects to fight drug trafficking and to share energy resources were initiated.
Good relations resumed between Venezuela and Colombia. Colombia's foreign minister, Maria Angela Holguin, was routinely heard from in Caracas, reporting successful negotiations with the Chavez government's Maduro on a number of mutual issues. Upon Chavez's death, she expressed what appeared to be heartfelt regret at his passing.
President Santos himself appeared shaken by Chavez's loss, even crediting him with making the peace negotiations with Colombia's FARC opposition a reality:


"In merit to his dedication and unlimited commitment, we have been able to advance in a solid peace process" said the Colombian leader in a national address on television, emphasizing that the best homage to Chavez is "to accomplish the dream he shared with us: an agreement to end decades of armed conflict and see a Colombia living in peace".

"Chavez used to say that this was what the great Liberator Simon Bolivar wanted to see and he was right" said the Colombian president emphasizing that Chavez' death is a "great loss for Venezuela, for the region, for Colombia and for me particularly".

In gratitude for Chavez peace offices in the first contacts that facilitated dialogue between his government and the FARC guerrillas, Santos pledged full support for Venezuela in this new chapter.

"You can be sure that you have our full support so that Venezuela can have a democratic transition in peace and calm. We will walk along with you, as you have accompanied us in the peace process", promised Santos.

http://en.mercopress.com/2013/…

It was not only Chávez's gracious personality that managed to turn his past enemies into friends, but the astute negotiating skills attributable to his then foreign minister, Nicolas Maduro, that not only brought Colombia's opposing forces to the peace table after more than 50 years of strife, but also successfully forged a new unity among South and Central American countries through the establishment of the UNASUR and CELAC organizations, Latin America's equivalent to the European Union.
In so doing, Chavez and Maduro may have severely limited the U.S.'s hegemony over all of South and Central America and the Caribbean countries.
Chavez and Maduro first carved out an independent voice for South American countries through pushing for the the creation of UNASUR, in 2008. Then the countries of Central America and the Caribbean were added to the chorus of South American voices, with the Venezuelan propelled creation of CELAC, in 2011.
CELAC stands for the Community of Latin American and Caribbean states and is the regional bloc of Latin American and Caribbean states created on December, 3, 2011, in Caracas, Venezuela by 33 countries of the Americas by the signing of the Declaration of Caracas. Those 33 countries represent roughly 600 million people of the Americas. (The U.S., Canada, the United Kingdom and the territories belonging to France, Netherlands, and Denmark were not invited to join CELAC.)
In July 2010, the 33 CELAC countries selected President of Venezuela Hugo Chávez and President of Chile, Sebastián Piñeras of the forum to draft statutes for the organization. This year, President Raul Castro of Castro was selected to chair the organization.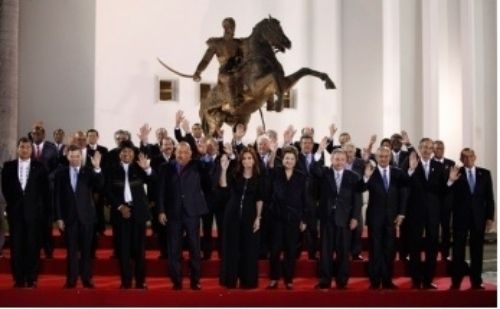 In their January, 2013 meeting, CELAC leaders thanked the then ailing and absent, Chavez for his efforts to initiate their organization, the honors were led by the conservative president of Chile, Sebastián Piñera.
CELAC is the outgrowth of the decade-long push by Chavez and Maduro for deeper unity among the countries of the Americas, for a union which could act on the world stage with the power similar to that of the European Union.
The Declaration of Caracas was effectively a "Declaration of Independence" against U.S. domination of the Americas via its conduit of control, the Organization of American States (OAS). The OAS was created primarily by the U.S. in 1948 to enforce its hegemony over its southern neighbors and isolate them from Soviet influence. Recently, the U.S. has used the OAS to act as a brake on the independent policies of its socialist or left-leaning southern neighbors. CELAC may soon make the now almost moribund OAS even deader.
As such, it could fulfill the dream of Latin America's great liberator, Simon Bolivar, a dream successfully made manifest by Venezuela's Hugo Chávez Frias through the work of his foreign minister, Nicolas Maduro.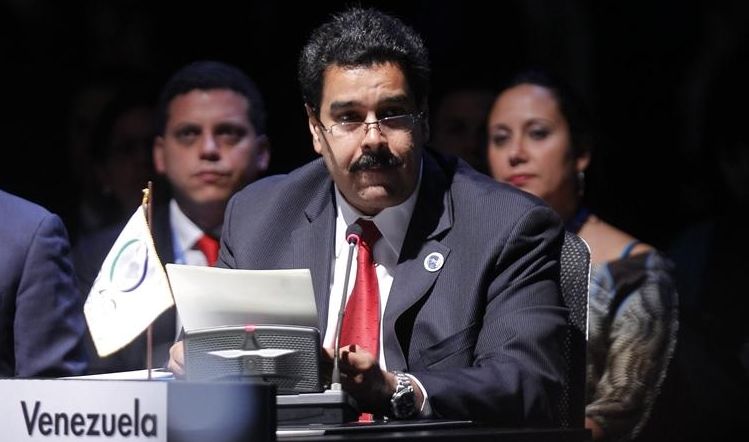 As Nicolas Maduro met the many foreign dignitaries arriving for President Chavez's funeral, he was greeting those he had personally worked and negotiated with since his appointment as foreign minister in 2006. Virtually every participant country in MERCOSUR, UNASUR, ALBA and CELAC sent its highest leader to mourn Chávez's passing: among others, Argentina, Bolivia, Brazil, Chile, Colombia, Costa Rica, Cuba, Dominican Republic, Ecuador, El Salvador, Guatemala, Mexico, Nicaragua, Panama, Peru, and Uruguay, even the questionably installed (following a coup) president of Honduras, Porfirio Lobo Sosa, was in attendance. The equally questionably installed (by legislative coup) Federico Franco of Paraguay was not, although his democratically elected predecessor, President Fernando Lugo, appeared in person to farewell President Chavez.
For almost seven years, as Venezuela's foreign Minister, Maduro, while supervising over 63 embassies around the world, took the lead in successfully negotiating the terms of the new unities of UNASUR and CELAC, as well as many other bi-lateral treaties.
Maduro's diplomacy, beginning in 2006, also included hammering out the terms of the ALBA (Bolivarian Alliance for the Americas) organization, the socialist alternative to the U.S.'s proposed "Free Trade Area of the Americas (FTTA). ALBA, an international cooperation organization originally formed by Venezuela and Cuba based on a vision of mutual economic aid and bartering, now includes Bolivia, Nicaragua, Ecuador, Dominica, Antigua and Barbuda, Saint Vincent and the Grenadines, Suriname, and Saint Lucia. Haiti has indicated an intention to join as well. ALBA has established its own banking system with the "Sucre" as its new international currency and provided development funds without the self-serving, often strangling, "free market" austerity conditions of the International Monetary Fund.
In conducting all these various negotiations, Maduro has forged strong personal relationships with key figures in many other countries which will serve Venezuela well should he be elected in April, as appears likely.
Maduro not only has extensive foreign policy experience, but he has served as Speaker of Venezuela's National Assembly as an elected member of that body between 2000 and 2005, previously he participated in the drafting of the 1999 Constitution as a member of its Constituent Assembly in 1999. In earlier days, he was a bus driver and trade unionist with the workers of the Caracas Metro bus system, and an early supporter and confident of President Hugo Chávez Friás.
On December 8, 2012, Chavez announced to the nation that he would undergo another cancer surgery in Cuba and urged the nation to support the election of Nicolas Maduro as president should he himself be unable to continue to serve. On March 6, 2013, President Chavez died after a two year battle against cancer.
On April 14, 2013, Maduro will be the presidential candidate of the Venezuelan Socialist Party (PSUV) against current Miranda State governor and defeated presidential candidate in 2012, Henrique Capriles Radonski.
It may well be that, if elected, Nicolas Maduro, a staunch socialist, will be a major force for countering the imperialist aspirations of the U.S. capitalists and its global fellow-travelers, not only in the U.S.'s "back yard", but as far afield as Africa and Asia. Chavez and Maduro have already spoken publicly of the need for African-American unity and made official efforts in that direction, with visits by Chavez and a href="

doubling">http://www.aljazeera.com/indep… of the number of Venezuelan embassies there.
Such an African-Americas unity could further serve to throw U.S. imperialism under the bus. Chavez is no longer here, but Nicolas Maduro is an experienced and burly bus driver with an excellent sense of direction, as he has already well demonstrated.