Cross posted from The Stars Hollow Gazette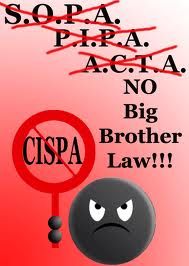 You know that dress or shirt that's been hanging in your closet for years, you know that hideous shade of fuscia that was a fashion must have for barely a season but you had to buy it, well, there are some bills in Congress that are just like that, the Cyber Intelligence Sharing and Protection Act (CISPA) is one of those bills. On Friday, while everyone was distracted by the blizzard in the Northeast, House Intelligence Committee Chairman Mike Rogers (R-Mich.) and ranking member Rep. Dutch Ruppersberger (D-Md.)announced that they would reintroduce CISPA next week. Apparently alarmed by the recent hacks of government web sites and private banking information, this dynamic duo plan on reintroducing the same bill that the House passed last year that President Barack Obama's advisors recommended he veto.
The bill, in the form it was presented in 2011,
would allow for the sharing of Internet traffic information between the U.S. government and certain technology and manufacturing companies. The stated aim of the bill is to help the U.S government investigate cyber threats and ensure the security of networks against cyberattack. [..]

CISPA has been criticized by advocates of Internet privacy and civil liberties, such as the Electronic Frontier Foundation, the American Civil Liberties Union, and Avaaz.org. Those groups argue CISPA contains too few limits on how and when the government may monitor a private individual's Internet browsing information. Additionally, they fear that such new powers could be used to spy on the general public rather than to pursue malicious hackers. CISPA has garnered favor from corporations and lobbying groups such as Microsoft, Facebook and the United States Chamber of Commerce, which look on it as a simple and effective means of sharing important cyber threat information with the government.

Some critics saw CISPA as a second attempt at strengthening digital piracy laws after the anti-piracy Stop Online Piracy Act became deeply unpopular. Intellectual property theft was initially listed in the bill as a possible cause for sharing Web traffic information with the government, though it was removed in subsequent drafts
It is now clawing its way back to life. The ACLU is asking for our help to once again gear up to protect and preserve the right to freedom of the internet
Because of your activism last year, big and important changes were made to the Senate cyber bill, including significant privacy protections. Let's do it again House-side. If the House wants smart cyber legislation that also protects privacy, it needs to ensure that the programs are civilian-led, minimize the sharing of sensitive personal information between government and corporations, and protect collected information from non-cyber uses.

So bone up on what CISPA does, see the many organizations from left to right who have opposed CISPA, compare it (pdf) to the far better legislation in the Senate, and read why even the Obama administration threatened to veto this bill last year. And get ready to fight for your right to online privacy once again.
This was what Internet Activist Aaron Swartz fought against when he called CISPA "The Patriot Act of the Internet"
Swartz told Russia Today that whereas SOPA was exclusively "about giving the government the power to censor the Internet," CISPA has the same kind of censorship provisions but "is more like a Patriot Act for the Internet."

"It sort of lets the government run roughshod over privacy protections and share personal data about you," he explained, "take it from Facebook and Internet providers and use it without the normal privacy protections that are in the law. … It's an incredibly broad and dangerous bill."

"The thing about this bill is it doesn't really have any protections against cyber threats," Swartz added. "All it does is make people share their information. But that's not going to solve the problem. What's going to solve the problem is actual security measures, protecting the service in the first place, not spying on people after the fact."
This bill needs to be stopped and quickly. The time to act is now, educate yourself, your family and friends to the danger this bill represents.
Violating Our Privacy Is Not An Option
Sign this petition and send Congress a message that our rights are not negotiable.
For Aaron and for us.