Nashua, New Hamphire voters elected the first transperson ever to the New Hamphire House of Representatives on Tuesday. Stacy Laughton, 28, places gender issues at the top of her agenda, but wants to be treated like any other woman on the House floor.
Laughton has been politically active since she was a teenager. When she lived in Laconia, she was unsuccessful in several attempts at securing city positions and one attwempt at a run for the State House while running as a Republican.
She worked on John Kerry's campaign in 2004 as an independent. Her shift in allegiance had a lot to do with Gov. Craig Benson's budget cuts.
He cut welfare funding, he cut special ed funding, he cut a lot of these vitally important programs, and these were programs that I knew lots of people who were on, and I started to see their lives change, but they didn't change for the better.

–Laughton
Laughton became a Democrat in 2010 and was elected as a selectman in Ward 4 in Nashua, where she now lives. Several friends and mentors suggested a run for higher office, but it was newly-elected Rep. Maggie Hassan's plea for people to run which ultimately caused her to do so.
This area of New Hampshire needed somebody like me, somebody who understands the complex issues that this district faces, somebody who understands what it's like to live with a lower income, somebody who knows the people in the area.

–Laughton
Along with Mary Gorman and David Cote, democrats swept the three positions available in her ward.
She doesn't want it [being transgender] to define the state representative position because she knows that there's a lot of other complex issues. When she gets into Concord she's going to fight for the right legislation to protect all of the citizens, (not just) a select few.

–Lisa Laughton, campaign manager
Laughton said she will spearhead some gay and transgender issues in Concord. She said that in a state with gay marriage, gay couples should be entitled to their spouse's health insurance as straight couples are – she's already planning to introduce a bill or amendment to address the issue.
I'm coming at it from a total outsider's perspective. I have ideas that I would like to work on, but at first, as any new person on the block, we're going to want to learn the ropes.

–Stacy Laughton
Stacy says she is liberal on most issues but considers herself to be a fiscal conservative. She wants to work on election laws, propose a means by which high school students may obtain college credits, help bring passenger rail to NH and restore funding to the university system.
I will work hard every single day for everyone, not just the people that voted for me, but also the people that voted for my opponents.

–Stacy Laughton
Marla Brettschneider, a University of New Hampshire political science professor, said Laughton's election is a remarkable moment in terms of the election itself and that it took until 2012 for a transgender person to crack the Statehouse.

It's very important. It's a really historic moment for (Nashua) and New Hampshire and the nation to start to really reimagine what citizenship and leadership can look like.
I hope that through this, there is more of a coming out from the LGBTQ community. We are people, too, who still have talents and ideas. And I hope that people won't be afraid to get into politics, or any other position, for that matter. I want the community to feel inspired.

–Stacy Laughton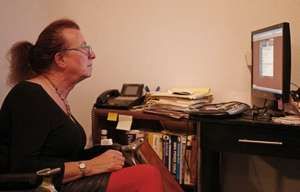 In other election news, transgender mayor Stu Rasmussen won a fifth term as mayor of Silverton, OR, beating three opponents.
I'm pleased at the confidence and trust the people of Silverton have shown in me. I think (with) the preliminary results, it's unlikely there's going to be a vote change. I think the election is over, and now we need to move into management mode.

–Mayor Rasmussen
Rasmussen, a theater owner, campaigned on a platform of fiscal responsibility, pledging "to try to put the city's financial house in order and spend wisely in these difficult economic times while still maintaining Silverton's character."
Think Progress has an interesting review of the status of transpeople post-election.
The primary struggle facing trans people remains discrimination in employment, housing, and public accommodations. The federal Employment Non-Discrimination Act (ENDA) has languished in Congress for decades, and with Republicans maintaining control of the House, its status is not likely to change. Rep. Paul Ryan (R-WI) is the perfect example of a Republican who opposed ENDA specifically because it included transgender protections. President Obama could still issue an executive order protecting employees of federal contractors, but he has been reluctant to do so because it's not a permanent solution. In 34 states, a person can still be legally fired just for being transgender. For example, though New York and Maryland have both advanced same-sex marriage, gender identity protections (bills known as GENDA and GIADA, respectively) struggle to advance.
As is usually the case, we are told we just have to have patience:
Kerry Eleveld argues this week that President Obama will be a "better progressive" in his second term, and standing up for transgender people is the perfect opportunity to do just that. From ending the military's exclusion of transgender servicemembers to protecting trans people from the discrimination that inhibits their basic life needs to ensuring they have access to proper medical care, there is plenty of room for progress.