(2 pm. – promoted by ek hornbeck)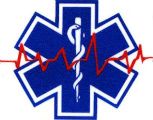 Welcome to the Health and Fitness News, a weekly diary which is cross-posted from The Stars Hollow Gazette. It is open for discussion about health related issues including diet, exercise, health and health care issues, as well as, tips on what you can do when there is a medical emergency. Also an opportunity to share and exchange your favorite healthy recipes.
Questions are encouraged and I will answer to the best of my ability. If I can't, I will try to steer you in the right direction. Naturally, I cannot give individual medical advice for personal health issues. I can give you information about medical conditions and the current treatments available.
You can now find past Health and Fitness News diaries here and on the right hand side of the Front Page.
Sweet, Creamy Corn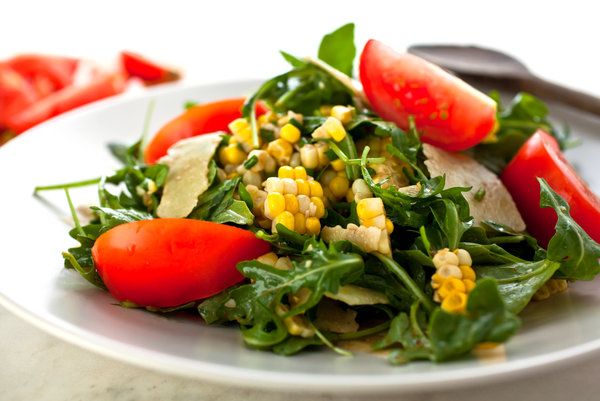 The drought that much of the nation is experiencing this summer is expected to affect the price of milk and meat because of the feed corn that these commodities rely on. But interestingly, according to Bloomberg Businessweek, shoppers are not likely to see higher prices for corn on the cob because sweet corn is not as vulnerable to drought conditions. Corn on the cob that is sold in supermarkets is an irrigated crop, like other vegetables and fruits grown on large farms. However, smaller farms that sell their produce at farmers' markets in drought-stricken areas are having a difficult time with their yields, so you may see a spike in prices there. The season for good, fresh sweet corn is such a short one that I will pay the price for it, just as I'll spend money on heirloom tomatoes.

~Martha Rose Shulman~
Arugula, Corn and Herb Salad
Corn, lightly steamed and cut off the cob, is terrific in salads. It goes very nicely with arugula, the sweet corn providing a beautiful contrast to the pungent salad green.

This comforting pudding has a rich, creamy texture, but the only "cream" comes from the juice of the corn kernels, which are puréed in a blender with a small amount of milk. Toasted garlic has a rich, earthy flavor.
When you grate corn on the large holes of a box grater, you get a lot of creamy milk from the corn, so no dairy cream is necessary for this version of what is usually a very rich dish.
This is another creamy corn dish that has no cream in it – in fact, it has no dairy at all.
You can serve this refreshing mixture as a salad, as a topping for whole grains or as a salsa with grilled fish or chicken.
General Medicine/Family Medical
Which Heart Risk Test Rates Best?

by Salynn Boyles
Coronary Artery Calcium Score Best at Identifying Patients at Risk for Heart Attack and Stroke, Study Finds

Aug. 21, 2012 — A test that measures calcium deposits in the walls of the blood vessels supplying the heart is better than other tests for identifying patients at risk for heart attack and stroke.

Coronary artery calcium score (CAC) was found to be the most accurate predictor of whether people would suffer one of these events, in a study published today in the Journal of the American Medical Association.

The test is increasingly used by heart doctors to identify heart disease, says cardiologist Gordon Tomaselli, MD, of Johns Hopkins University Medical Center. He was not involved with the study.

"Someone who has calcium in their coronary arteries is no longer at risk for developing heart disease — they have heart disease," he tells WebMD. "That is why more and more cardiologists are using this test."
Rosie O'Donnell's Heart Attack: Know Your Symptoms

by Kathleen Doneny
Taking Aspirin a Good Step, but She Should Have Called 911, Expert Says

Aug. 21, 2012 — Talk show host Rosie O'Donnell, 50, advised women via her web site on Monday to learn the symptoms of heart attack and heed them after revealing she ignored her own and now feels "lucky to be here."

O'Donnell suffered what she called a "widow maker" heart attack a week ago, she told fans. She googled "women's heart attack symptoms" and, although the list matched hers, simply took an aspirin.

The next day, a cardiologist diagnosed a heart attack. Doctors removed a large blockage from her coronary artery before inserting a stent to keep it open.

Her story is a timely reminder that women's heart attack symptoms are often different than a man's, and that women often wait too long to get emergency help, says Chrisandra Shufelt, MD, associate director of the Barbra Streisand Women's Heart Center, Cedars-Sinai Medical Center Heart Institute, Los Angeles.
Some Psoriasis Therapies May Cut Heart Attack Risk

by Kathleen Doheny
People on TNF Inhibitors, Oral or Light Therapy Less Likely to Have Heart Attacks, Researchers Find

Aug. 20, 2012 — People with psoriasis, known to be at higher risk of heart attack, had a lower risk when treated with drugs known as tumor necrosis factor (TNF) inhibitors, such as Enbrel, Humira or Remicade, compared to medicines applied to the skin, according to new research.

Those on oral medicines such as cyclosporine, methotrexate, Soriatane, or given light therapy had nearly the same reduction in risk, compared to those on skin-based — or topical — medicines.

The study was a look back at almost 9,000 patients with the skin disorder psoriasis. They got four different types of treatments. Researchers compared the number of heart attacks in the groups during a four-year follow-up.

The inflammation associated with the skin condition is also linked to an increased risk of heart attack and other vascular problems such as stroke.
Weight Loss Surgery Prevents Diabetes

by Daniel J. DeNoon
Study: 80% Lower Diabetes Risk 10 Years After Bariatric Surgery

Aug. 22, 2012 — Weight loss surgery reduced obese patients' 10-year risk of getting type 2 diabetes by 80%, Swedish researchers report.

The study, begun in 1987, already has shown that weight loss surgery, also called bariatric surgery, can improve blood sugar levels in obese patients. The study has also shown that the surgery works much better than diet and exercise in lowering obese patients' risk of heart disease and death.

But now Lars Sjostrom, MD, PhD, of the University of Gothenburg, Sweden, and colleagues show even greater reductions in obese patients' risk of a first-time diabetes diagnosis.
Gout Linked to Low Levels of Lead

by Matt McMillen
No Amount of Lead in the Blood Is Safe, Researchers Say

Aug. 20, 2012 — New evidence that links low levels of lead in the blood to an increased risk of gout suggests that currently acceptable levels of lead exposure are too high.

In a study published in Annals of Internal Medicine, researchers report that the risk of gout is apparently elevated even among adults whose blood lead levels are several times less than what the CDC considers acceptable.

"The point here is that there is no such thing as a safe lead level," says researcher Eswar Krishnan, MD, an assistant professor at Stanford University School of Medicine.
Warnings/Alerts/Guidelines
Deaths in Salmonella Outbreak Traced to Cantaloupe

by Daniel J. DeNoon
2 Dead So Far in 20-State Salmonella Outbreak From Indiana Cantaloupes

Aug. 20, 2012 — Two people from Kentucky have died in an ongoing 20-state salmonella outbreak that has sickened at least 141 people.

CDC officials say cantaloupe from "a farm in southwestern Indiana" is responsible for the outbreak. These cantaloupes were shipped to other states. Neither the CDC, the FDA, nor state officials have identified the farm that grew the cantaloupes or the stores that sold them.

Among people for whom records are available, about half of the people infected during the outbreak have been hospitalized. The outbreak began in early July. Illnesses that began near the end of July may not have been reported.
Cancer-Causing Chemical in Smokeless Tobacco ID'd

by Denise Mann
Researchers Identify Chemical Linked to Oral Cancer Risk in Smokeless Tobacco

Aug. 22, 2012 — Dip, chew, snuff, and other types of smokeless tobacco are known to increase risk for oral cancer. Now new research in rats is zeroing in on exactly how this may occur.

The findings were presented at the American Chemical Society's annual meeting in Philadelphia.

The newly identified cancer-causing culprit in these products is (S)-NNN. It is part of a larger family of chemicals called nitrosamines. Nitrosamines are also found in such foods as beer and bacon. They form naturally in the stomach when people eat foods containing high levels of nitrite. Nitrosamine levels in smokeless tobacco are far higher than in food, according to a prepared statement.
Skin Infections Linked to Tattoo Ink

by Brenda Goodman, MA
Dozens of Cases Traced to Unsterile Pre-Mixed Inks

Aug. 22, 2012 — When it comes to tattoos, here's the rub: The tattoo parlor may be spotless; the tattoo artist may be using sterile techniques; but you can still wind up with a nasty infection from ink that was contaminated before it arrived at the shop, new studies show.

The first study is published in the New England Journal of Medicine. It describes an outbreak of 19 skin infections in New York State that were traced to the same pre-mixed tattoo ink.
Seasonal Flu/Other Epidemics/Disasters
West Nile Virus: Who's at Risk?

by Kathleen Doheny
As Cases Climb, Experts Answer the West Nile Virus Questions Everyone Asks

Aug. 22, 2012 — The West Nile virus outbreak is spreading, threatening to make this the worst year ever in the U.S., with 47 deaths now reported, according to the latest statistics from the CDC.

The mosquito-borne virus is circulating in 47 states.

WebMD turned to three experts and asked them to address the West Nile virus questions most commonly asked.
West Nile Outbreak on Track to Be Worst Ever

by Daniel J. DeNoon
47 Deaths; Texas Especially Hard Hit

Aug. 22, 2012 — West Nile virus now has killed 47 people and infected an estimated 95,000 in 38 states in what is almost certain to be the worst West Nile outbreak since the virus hit the U.S. in 1999.

"The number of West Nile disease cases in people has risen dramatically. We are in the midst of one of the largest West Nile outbreaks ever seen," Lyle R. Petersen, MD, MPH, director of the CDC's division of vector-borne diseases, said today in a news teleconference.

It's far from over. Right now, the U.S. is in the middle of mosquito season — and nearly all West Nile virus infections come from mosquito bites. Case counts usually rise through September.
Men's Health
PSA Test Linked to Better Prostate Cancer Survival

by Denise Mann
Study Shows That Some Men With Prostate Cancer Live Longer

Aug. 23, 2012 — Despite the controversy surrounding its use, routine PSA prostate cancer screening may improve survival among men with spreading prostate cancer.

According to a new study, men diagnosed and treated for prostate cancer during the time when PSA screening was widely recommended lived longer than men who were diagnosed and treated before the "PSA era."

Researchers led by Ian M. Thompson Jr., MD, the director of the Cancer Therapy & Research Center at The University of Texas Health Science Center at San Antonio, analyzed data from three large studies starting in the mid-1980s and spanning through the PSA era, which began in 1990.
Pediatric Health
Gallstones in Kids, Teens Linked to Obesity

by Salynn Boyles
Girls Have Higher Risk Than Boys, Study Shows

Aug. 24, 2012 — More and more children are being treated for gallstones, and the obesity epidemic may play a role.

In a new study, obese children and teens were at least twice as likely to have gallstones as those whose weight was normal or underweight — and the risk was nearly three to eight times higher for the heaviest boys and girls.
Antibiotic Use in Infants May Raise Obesity Risk

by Denise Mann
2 Studies Suggest Antibiotics May Play a Role in Weight Gain, Obesity

Aug. 21, 2012 — Taken together, two new studies point to a potentially new culprit in the obesity epidemic: antibiotic use.

Antibiotics, especially when taken by infants less than 6 months old, may shift the balance of bacteria in the gut and may set the stage for obesity. The first study, which appears in the International Journal of Obesity, found that infants treated with antibiotics before 6 months of age were 22% more likely to be overweight when they were just over 3 years old.

A related study in mice showed that antibiotics affect gut bacteria involved in digesting nutrients, resulting in increases in fat mass. These findings appear in Nature.
Anesthesia May Harm Children's Brains

by Brenda Goodman, MA
Study: Anesthesia Before Age 3 Linked to Later Mental Problems

Aug. 20, 2012 — A new study is raising fresh concerns about the use of general anesthesia in young children.

Recent studies have suggested that anesthetic drugs may increase the risk for learning disabilities and behavioral problems such as attention deficit hyperactivity disorder (ADHD), but only in kids who are exposed to the drugs several times.

The new study, which is published in the journal Pediatrics, links even a single dose of anesthesia to later harm.

However, the study does not prove that anesthesia is the cause.

"I don't want to scare parents," says researcher Lena S. Sun, MD, a pediatric anesthesiologist at Columbia University Medical Center in New York.
Are Kindergarten Kids Getting Their Vaccines?

by Matt McMillen
CDC Says Most Kindergartners Get Vaccinated, but Improvement Is Needed

Aug. 23, 2012 — Most kindergartners are up to date with their vaccines, but federal immunization goals nevertheless remain unmet, the CDC says.

According to a CDC report, the average number of kids who have been vaccinated for measles, mumps, and rubella is 94.8%. Health officials have set their target at greater than 95%.

"Coverage is not the way it should be," says Jaime Deville, MD. Deville is a professor of pediatric infectious diseases at UCLA's Mattel Children's Hospital. He reviewed the report for WebMD.
Father's Age Linked to Autism

by Jennifer Warner
Risk of Genetic Mutations Tied to Autism May Increase With Each Year of Father's Age

Aug. 22, 2012 — The father's age may matter more than the mother's when it comes to the risk of some disorders like autism in children.

A new study shows the number of "de novo" or new genetic mutations passed to children increases with every year of the father's age at the time of conception. And fathers pass along a greater number of these to their children than do mothers.

Researchers found the number of de novo mutations in children increases by two for every year of the father's age. The whole amount doubles every 16.5 years.
Mental Health
Partner Depression Common After Heart Attack

by Salynn Boyles
Anxiety and Even Suicide Risk Higher Than for Other Spouses

Aug. 22, 2012 — When Linda Green recalls her husband John's 2009 heart attack, her heart races and her hands get sweaty.

"It feels like posttraumatic stress," she says. "I just relive it all."

Though she says she held up well during her husband's hospital stay, Green says she became anxious and depressed when the crisis was over and his recovery was under way.

Her experience is not unique.

Depression is common among heart attack survivors, and now a new study finds that this is also the case for spouses.
Nutrition/Diet/Fitness
30 Minutes of Daily Exercise Enough to Shed Pounds

by Jennifer Warner
30-Minute Workout as Good as an Hour to Lose Weight Among Overweight Adults

Aug. 24, 2012 — Thirty minutes of exercise a day may be the magic number to lose weight.

A new study shows 30 minutes of exercise a day works just as well as an hour in helping overweight adults lose weight.

Researchers found moderately overweight men who exercised hard enough to sweat for 30 minutes a day lost an average of 8 pounds over three months compared to an average weight loss of 6 pounds among men who worked out for 60 minutes a day.

The overall loss in body mass was the same for both groups, almost 9 pounds.

Researchers say the results are surprising.

Part of the explanation may be that people found 30 minutes of exercise so doable that they had the desire and energy for additional physical activity, says researcher Mads Rosenkilde, a PhD student at the University of Copenhagen, in a news release.
'Electrified' Sweet Potatoes May Be Even Healthier

by Denise Mann
'Super' Sweet Potatoes Pack Up to 60% More Antioxidants

Aug. 20, 2012 — Sweet potatoes are already packed with antioxidants and fiber, but zapping them with an electric current can boost these levels by as much as 60%, a new study shows.

The simple experiment doesn't change the taste of the tuber either, says researcher Kazunori Hironaka, PhD, of the University of the Ryukyus, Nishihara in Okinawa, Japan.

Researchers bathed the sweet potatoes in salty water and then passed various currents through the water and spuds for five minutes. The team had previously tried the experiment on white potatoes with similar results.

Sweet potatoes have high levels of polyphenols — even before they get zapped. Antioxidants such as polyphenols are thought to help mop up damaging free radicals, which have been linked to cancer and other diseases.