(4 pm. – promoted by ek hornbeck)
Israeli decision to strike Iran is almost final . . .
Prime Minister Benjamin Netanyahu and Defense Minister Ehud Barak have "almost finally" decided on an Israeli strike at Iran's nuclear facilities this fall, and a final decision will be taken "soon."

Militarily, an Israeli strike would prompt missile attacks on Israel, attacks by Hamas and Hezbollah from the south and the north, and upheaval on the Arab street, in the leadership's assessment. Diplomatically, an Israeli strike would prompt a confrontation with the US, global protests, international isolation for Israel, delegitimization, and a situation in which Israel was seen as the aggressor. But Israel's two key leaders believe that if Iran got the bomb, Israel would be defeated and humiliated diplomatically, and would become a liability to the US.

Netanyahu is convinced that thwarting Iran amounts to thwarting a plan to destroy the Jewish people. He considers Iran's spiritual leader to be acting rationally in order to achieve "fanatical" goals.
So Netanyahu has formulated a foolproof plan to foil Khamenei. He's going to act fanatically in order to achieve rational goals. That'll show those stupid Persians who's rational and who isn't.
It looks like this is going to go down. Bebe's precious bodily fluids are bubbling and foaming with excitement . . .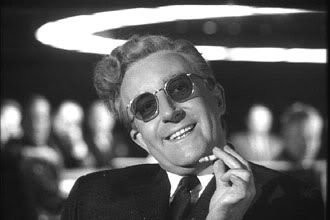 That idiot is going to attack Iran, and the shit's going to hit the fan everywhere.
Some might say I'm being too pessimistic. I suppose there's still a chance that the Israeli opposition will lock Bebe and Ehud up in a nuthouse somewhere and Shaul Mofaz will make a last minute phone call to Supreme Leader Ali Khamenei . . .
Hello? Hello, Ali? Listen, I can't hear too well, do you suppose you could turn the music down just a little? Oh, that's much better. Yes. Fine, I can hear you now, Ali. Clear and plain and coming through fine. I'm coming through fine too, eh? Good, then. Well then as you say we're both coming through fine. Good. Well it's good that you're fine and I'm fine. I agree with you. It's great to be fine.

Now then Ali, you know how we've been kind of worried about the possibility of your country getting the bomb? The bomb, Ali. Nukes. Well now what happened is, some of our leaders, they had a sort of, well they went a little funny in the head. You know. Just a little . . . funny. And uh, they went and did a silly thing.

Well, I'll tell you what they did, they ordered our planes . . . to attack your country.

Well let me finish, Ali. Let me finish.

We're trying to recall the planes, but you might have to shoot them down. Who should we call, Ali?

The martyrs? Sorry, you faded away there.

The Martyr's Central Air Defense Headquarters? Where is that, Ali?

In Tabriz. Right. Yes.

Oh, you'll call them first, will you?

Uh huh. Listen, do you happen to have the phone number on you, Ali?

What? I see, just ask for Tabriz Information. I'm sorry too, Ali. I'm very sorry.

Alright! You're sorrier than I am! But I am sorry as well. I am as sorry as you are, Ali. Don't say that you are more sorry than I am, because I am capable of being just as sorry as you are. So we're both sorry, alright?
Yeah. OK. that's probably not going to happen.
So . . . Docudharma will be mailing out Survival Kits to everyone, even Lasthorseman. In them you'll find: one 45-caliber automatic, two boxes of ammunition, four days' concentrated emergency rations, one drug issue containing antibiotics, morphine, vitamin pills, pep pills, sleeping pills, and tranquilizer pills, Buhdydharma's cell phone number, a case of beer, an absentee ballot application, one issue of prophylactics, three lipsticks, three pairs of nylon stockings, a map of the deepest caves in America, and a book of matches.
Good luck.