(5 pm. – promoted by ek hornbeck)
Cross posted from The Stars Hollow Gazette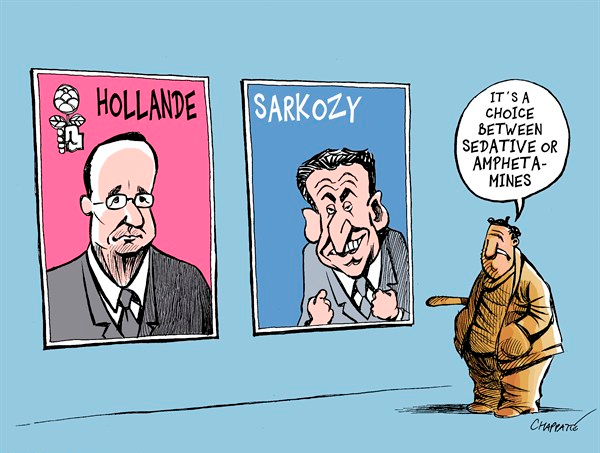 The French Presidential election will take place this Sunday, May 6. Meanwhile, the campaigning has ended Friday evening with the Socialist challenger, François Hollande, still predicted to defeat current President Nicholas Sarkozy:
The last Ipsos poll for French television and Le Monde puts Hollande on 52.5% with Sarkozy closing the gap but still behind on 47.5%. The poll was taken before the dramatic decision by centrist François Bayrou to throw his weight behind Hollande in the second round.

The vast majority of voters appear to have made up their minds, with 92% saying they know who they will vote for, and 82% saying they will definitely turn out.
Many are seeing this as not just a referendum about Sarkoszy's "hyperactive" style but the start of a revolt against austerity which many now believe has slowed the recovery from the recession. Wolfgang Münchau wrote in the Financial Times that Hollande is start of progressive insurrection:
Nicolas Sarkozy does not look like a president, talk like a president, or act like a president. But there is a better reason why he deserves to be ejected. He won the 2007 campaign with a promise of ambitious economic reforms. He was one of the few European politicians with a mandate for big changes. He flunked it for a reason that already became apparent during the 2007 campaign: he was hyperactive. Reforms are for boring politicians. [..]

The main reason why I look forward to a Hollande presidency is for its impact on Europe. At present, all the large, and many of the small, eurozone countries are governed by centre-right governments. Angela Merkel is their undisputed queen. Mr Hollande is not going to be a comfortable partner. On some issues, such as the fiscal pact, he will challenge her outright.

I would welcome a Hollande presidency on the grounds that it would introduce a much needed shift in the toxic narrative about the eurozone crisis and its resolution. According to this narrative, the crisis was caused by fiscal irresponsibility. Its prescription is austerity and economic reforms. The tool to achieve the former is the fiscal pact, which Mr Hollande has said he will not sign unless it is complemented by policies to boost economic growth.

I wish that Mr Hollande would go further because austerity will snare countries in a low-growth trap. No set of structural policies will change this. I understand the political reason why he does not want to go further. He does not want his presidency to start with an existential fight with Germany – and the dreaded prospect of another panic attack by global investors.
While, as Paul Krugman as noted, the prospect of a Hollande presidency has generated some "hysteria" in the financial world:
Today's FT is all Hollande, all the time. Some of it is sensible; some of it is like, well, this piece by Josef Joffe, which declares that Hollande's likely victory is "a bleak prospect for all but new Keynesians and old socialists." [..]

Joffe is, however, useful as a guide to the German view, which is basically that we got ourselves competitive and restored growth, so why can't everyone else. Somehow he never mentions that Germany's recovery in the 2000s was driven by a huge move into trade surplus; is everyone supposed to do the same thing, all at once? What's the Germany for "fallacy of composition"?
The voting ends at 8 PM Paris time and the results will be reported here Sunday afternoon around 2 PM EDT.