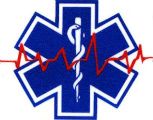 Welcome to the Health and Fitness News, a weekly diary which is cross-posted from The Stars Hollow Gazette. It is open for discussion about health related issues including diet, exercise, health and health care issues, as well as, tips on what you can do when there is a medical emergency. Also an opportunity to share and exchange your favorite healthy recipes.
Questions are encouraged and I will answer to the best of my ability. If I can't, I will try to steer you in the right direction. Naturally, I cannot give individual medical advice for personal health issues. I can give you information about medical conditions and the current treatments available.
You can now find past Health and Fitness News diaries here and on the right hand side of the Front Page.
Collard Greens, Fast or Slow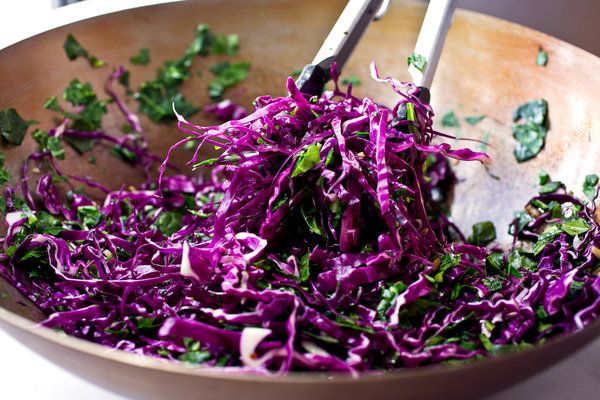 If you're looking for a vegetable that's a great source of calcium, collard greens are a find. According to the Harvard School of Public Health, a cup of cooked collard greens has more calcium than a glass of skim milk. This is great news for those who don't eat dairy, and it's just one of the many health benefits collards have to offer. They're high in the carotenoids lutein and zeaxanthin, which are important for eye health; they're very high in vitamins A and C, manganese, folate and dietary fiber; and they're a good source of potassium and vitamins B2 and B6.

~Martha Rose Schulman
Spicy Stir-Fried Collard Greens With Red or Green Cabbage
Cabbage adds additional color and sweetness to this dish.
These comforting, easy tacos don't have to be relegated to the breakfast table.
Slow cooking sweetens the collards in this satisfying pasta dish.
The greens partner with the noodles to give structure to this hearty baked pasta dish.
With herbs, tender rice and a lemony sauce, these rolls will have you thinking of the Mediterranean.
General Medicine/Family Medical
Sigmoidoscopy Cuts Colon Cancer Cases, Deaths

by Charlene Laino
But the Best Screening Test Is the One You Get, Doctors Say

May 21, 2012 — Regular colon cancer screening with flexible sigmoidoscopy substantially reduces the odds of developing or dying from the cancer, suggests a 12-year government-funded study.

The study involved almost 155,000 men and women aged 55 to 74. About half underwent flexible sigmoidoscopy screening upon entering the study and again three years to five years later. In this procedure, a long, flexible tubular instrument about 1/2 inch in diameter is used to view the lining of the rectum and the lower third of the colon.
Aspirin May Reduce Risk of Repeat Blood Clots

by Kathleen Doheny
Those on Aspirin About 40% Less Likely to Have Repeat Clots; Expert Calls for More StudyThose on Aspirin About 40% Less Likely to Have Repeat Clots; Expert Calls for More Study

May 23, 2012 — Aspirin may be effective long-term to reduce the risk of repeat blood clots in veins, new research suggests.

Patients who have these potentially dangerous blood clots, called venous thromboembolism or VTE, often get them in deep veins in the legs. They can then travel up to the lungs and are sometimes fatal.

When the first one occurs, a patient is typically put on an anti-clotting drug, or anticoagulant, for several months. However, staying on these drugs is linked with an increased risk of dangerous major bleeding.
Tinnitus Relief: Therapy Mix Helps Ringing in Ears

by Kathleen Doheny
Combining Parts of Sound Retraining and Talk Therapy Can Give Relief

May 24, 2012 — Combining parts of two established treatments for tinnitus in a new way can work, according to new research.

Tinnitus is a persistent ringing or buzzing in the ears that can be debilitating.

Researcher Rilana Cima of Maastricht University in the Netherlands and colleagues used parts of sound-based retraining therapy and talk therapy in what they say is a unique way.

This approach worked better than usual care, they found.
People With Diabetes May Need Earlier Colon Screen

by Charlene Laino
40-Somethings With Diabetes Have About the Same Risk of Precancerous Growths as 50-Somethings Without Diabetes

May 22, 2012 — Should people with diabetes be screened for colon cancer at younger ages than is usually recommended?

That may very well be the case, say researchers who found that people in their 40s with type 2 diabetes are about as likely to have precancerous colon growths called adenomas as people in their 50s without diabetes.

"It's almost as is if having diabetes advances your age by 10 years in this regard," says researcher Susan Hongha Vu, MD, a clinical gastroenterology fellow at Washington University School of Medicine in St. Louis.
Smoking Gene May Reveal Why Some People Smoke More

by Denise Mann
Gene Findings in African-Americans May Pave Way Toward Better Quit-Smoking Treatments

May 22, 2012 — A "smoking gun" gene may play a role in how many cigarettes certain smokers puff each day.

Researchers from 50 medical institutions across the country analyzed genetic material of more than 32,000 African-American smokers and non-smokers to see if certain genes predicted when they began smoking, how many cigarettes they smoked, and how easily they were able to quit.

According to the new study, a variant in a nicotine receptor gene predicts about one extra cigarette smoked per day. This same general location has been implicated in smoking behavior among white Europeans. Among African-Americans, the new genetic marker appears on a different spot on the same gene.
Death Rate Dropping for People With Diabetes

by Denise Mann
Risk of Dying From Heart Disease, Stroke Drops Significantly

May 22, 2012 — New research shows that people with diabetes are living longer, and this is likely due to heart-healthy habits and tighter control of blood sugar levels.

Many people may only associate diabetes with vision loss, kidney disease, and limb amputations, but it also increases the risk for heart disease and stroke. From 1996 to 2006, however, the risk of dying from heart disease and stroke decreased by 40% among people with diabetes.

People with diabetes do die earlier than people without diabetes, but this gap appears to be getting smaller.
The 6 Dirtiest Places in Your Office

by Daiel J. DeNoon
Where Office Germs Lurk in Break Rooms, on Desks

May 22, 2012 — What's by far the dirtiest place in the typical office?

It's the sink faucet handles in the break room, according to a down-and-dirty study by Kimberly-Clark Professional. They offer a program to "help companies provide their employees with a healthier and more productive office environment."

The study researchers swabbed some 4,800 surfaces in office buildings housing some 3,000 employees. Office types included manufacturing facilities, law firms, insurance companies, health care companies, and call centers.
Sleep Apnea: Treatment May Help Keep BP Low

by Salynn Boyles
CPAP Linked to Lower Hypertension Risk, but Questions Remain

May 22, 2012 — People with obstructive sleep apnea have an increased risk for high blood pressure and heart disease, and now two new studies suggest that treating the disorder may lower this risk.

In one study, patients with obstructive sleep apnea who slept with continuous positive airway pressure (CPAP) treatment appeared to have a reduced risk for developing high blood pressure.

Another study that included patients who used a CPAP machine for more than four hours a night, but not less, appeared to have a lower high blood pressure risk.
U.S. States With Most, Least Deaths From Injuries

by Cari Nierenberg
New Mexico Had Most Injury-Related Deaths, New Jersey Had Fewest

May 22, 2012 — Thousands of injuries could be prevented and billions of dollars in medical costs could be saved each year if states implemented more research-based prevention policies, concludes a new report released today.

Injuries are the No. 1 cause of death for Americans aged 1 to 44, and the third leading cause of death nationwide. More than two-thirds of all injury deaths occur in men.

The report, The Facts Hurt: A State-by-State Injury Prevention Policy Report, published by the Trust for America's Health and the Robert Wood Johnson Foundation, focuses on the steps people can take themselves as well as the strategies states can enforce to protect against injury.
Warnings/Alerts/Guidelines
Nationwide Recall of Bagged Salads Expands

by Daniel J. DeNoon
Listeria-Contaminated Bagged Salad: Multiple Brands Recalled

May 21, 2012 — Various bagged salads, some sold nationwide, are being recalled because of possible contamination with listeria bacteria.

The salads range from iceberg lettuce to slaw mix. They are sold under various brand names, including River Ranch, Farm Stand, Hy-Vee, Shurfresh, and The Farmer's Market.

Although listeria may not cause severe disease in most people, older people and people with suppressed immune systems are at risk of potentially fatal illness. Listeria can cause miscarriages in pregnant women. Even healthy people may experience high fever, severe headache, stiffness, nausea, abdominal pain, and diarrhea from listeria food poisoning.
Salmonella Concerns Prompt Baby Spinach Recall

by Cari Nierenberg
Taylor Farms Organic Baby Spinach Voluntarily Recalled; No Illnesses Reported

Taylor Farms Retail Inc. is voluntarily recalling packages of organic baby spinach after a random sampling of the product by the USDA tested positive for salmonella contamination.

So far, no one has been sickened by eating the spinach and no problems have been reported. The organic spinach was sold in 19 states and distributed by Taylor Farms between May 9 and 10.
Calcium Supplements May Raise Heart Attack Risk

by Kathleen Doheny
Study Finds Calcium From Supplements Appears to Boost Heart Attack Risk; Supplement Industry Disagrees

May 23, 2012 — Calcium supplements should be taken "with caution," Swiss and German researchers warn, as they may raise your risk of heart attack.

"The increase [in risk] is, I would say, moderate," says Sabine Rohrmann, PhD, assistant professor of chronic disease epidemiology at the University of Zurich.

Rohrmann and her team followed nearly 24,000 men and women for 11 years. Those who took calcium supplements had an 86% increased risk of heart attack compared to those who used no supplements. [..]

The dietary supplement industry takes issue with the findings. "The study is not consistent with the total body of science," says Taylor Wallace, PhD, senior director of scientific and regulatory affairs for the Council for Responsible Nutrition.

The study is published in the journal Heart.
Women's Health
IUD Beats Pill at Preventing Pregnancy

by Jennifer Warner
Birth Control Pill's Risk of Failure Is 20 Times More Than That of IUDs, Implants

May 23, 2012 — Women using birth control pills may have a 20 times greater risk of an unplanned pregnancy than women using longer-acting forms of birth control like an intrauterine device (IUD) or implant, new research shows.

A major new study shows the failure rate of birth control pills and other short-term prescription contraceptives is much higher than previously thought, based on how women actually use them in real life.

Researchers say the results call for a major shift in how women and health care providers think about birth control options.
Men's Health
Some Cholesterol Drugs May Slow Prostate Growth

by Matt McMillen
Statins Linked to Some Reduction in Prostate Growth Over 2-Year Period

May 21, 2012 — Cholesterol-lowering statins may also slow the growth of the prostate, according to researchers at Duke University.

Their findings could eventually lead to new treatments for the millions of middle-aged and older men who experience urinary and other problems as a result of benign, age-related prostate growth.

But researcher Roberto Muller, MD, a urology fellow at Duke, is quick to point out that it's much too soon to tell what role, if any, statins will ultimately play in prostate health.
Panel: Don't Get PSA Prostate Cancer Screen

by Daniel J. DeNoon
Harm Outweighs Benefit of Routine Prostate Cancer Screening, Task Force Says

May 21, 2012 — Men should not get routine PSA tests to screen for prostate cancer, the U.S. Preventive Services Task Force today reaffirmed.

The USPSTF is the independent panel that sets U.S. cancer-screening policy. Last October, the group released a draft report finding that men get far more harm than benefit from routine PSA tests.

That set off howls of protests from many urologists and some patient groups that strongly support routine PSA screening. Would the USPSTF back down? No. Today's final decision fully adopts the draft report.

"The task force has not changed its final conclusion," task force co-chair Michael LeFevre, MD, MSPH, tells WebMD. "Many men will be harmed by prostate cancer screening. Very few will benefit. The benefits do not outweigh the harms, and therefore we do not recommend screening."
PSA Screening Controversy: FAQ

by Daniel J. DeNoon
What the USPSTF Prostate Cancer Screening Recommendations Mean for Men

May 24, 2012 — Don't get the PSA prostate-cancer screening test, a U.S. expert panel says. Do get it, many urologists and patient advocates say.

What's a man supposed to do? To provide clarity amid the controversy, here's WebMD's FAQ.
Pediatric Health
Overweight, Obese Teens Show Early Heart Risks

by Kathleen Doheny
Many Obese, Overweight Teens Have Heart Disease Risk Factors, Damaged Hearts

May 21, 2012 — Two new studies show the early health risks the ever-enlarging number of obese U.S. teens face, from diabetes to heart damage.

According to new research from the CDC, many overweight and obese teens who appear otherwise healthy already have heart disease risk factors such as high blood pressure. As many as 60% of obese teens are affected.

Many obese teens also have troubling physical changes in their heart, such as thicker heart muscle walls, according to another new study.

Even some teens who are normal weight have some heart disease risk factors, the CDC team found.
C. diff on Rise in Kids — and Outside Hospital

by Charlene Laino
Study Shows Cases of Dangerous Diarrhea Bug Increased 12-Fold Among Children

May 21, 2012 — The potentially deadly diarrhea bug Clostridium difficile, or C. diff, is spreading among children in the community, a new study shows.

"The typical person with C. difficile is thought of as being older, taking antibiotics, and in the hospital. For the first time, we are describing a substantial rise in new cases in children outside the hospital," says researcher Sahil Khanna, MBBS, a gastroenterologist at the Mayo Clinic in Rochester, Minn.

"Our most striking observation is that three-quarters of cases in children are being contracted in the community, not in the hospital," he tells WebMD. "That's huge compared to the past."
C-Section May Raise Child Obesity Risk

by Salynn Boyles
Obesity Rate Twice as High in Surgically Delivered Children

May 24, 2012 — Childhood obesity and cesarean delivery rates have skyrocketed over the last few decades, and intriguing new research suggests the two might be related.

Birth by C-section was associated with a two-fold increase in obesity at age 3 in the study by investigators from Harvard Medical School and Harvard School of Public Health.

Surgical delivery has recently been linked to an increased risk for allergy and asthma in children, but research examining the impact of C-section delivery on weight in childhood has been mixed.
Most Children With Autism Diagnosed at 5 or Older

by Denise Mann
Data Provide Snapshot of Autism Spectrum Disorder and Special Health Care Needs

May 24, 2012 — New research provides a snapshot of what life is like for school-aged children with autism spectrum disorder in the U.S.

The findings, which appear in the NCHS Data Brief, highlight areas where there is room for improvement, including earlier diagnosis of autism spectrum disorder and access to behavioral therapies and other services. The new study looked at children aged 6 to 17 with special health care needs and autism spectrum disorder in 2011.
Mental Health
Spider Phobia: Brain Scan Shows Cure in 1 Session

by Salynn Boyles
Imaging Study Shows How 'Exposure Therapy' Changes Brain

May 21, 2012 — Before receiving treatment for her lifelong fear of spiders, one Chicago college student would flee her dorm for days if she merely suspected one's presence. She worried that her phobia would keep her from living on her own after graduation.

Another woman did not travel because she was terrified of spiders, even though she had long dreamed of going to Europe.

But after a single, two-hour therapy session in which they confronted their fear in the form of a tarantula named Florence, both women showed remarkable improvement in their actions — and in their brains — according to a new imaging study.
Probiotics: Exploring the Gut-Mind Connection

by Charlene Laino
Researchers Studying Whether Probiotics Can Change Brain Activity

Preliminary research suggests that probiotics may dampen signals that come from the gut and go to the brain when you're afraid or anxious.

"By changing what's going on inside of the gut, we hope we can change how the brain responds to the environment," says study head Kirsten Tillisch, MD, of the University of California, Los Angeles.

The findings were presented at the Digestive Disease Week Conference in San Diego.
Nutrition/Diet/Fitness
Drinking Red Wine Is Good for Gut Bacteria

by Cari Nierenberg
Moderate Intake of Some Red Wines May Improve Health, Study Shows

May 25, 2012 — Drinking a daily glass of red wine not only tastes good to many people, but it's also good for the bacteria lining your large intestine.

A new Spanish study suggests that sipping about 9 ounces of Merlot or a low-alcohol red wine changed the mix of good and bad bacteria typically found in the colon in ways that can benefit your health.

Bacteria may sound like a bad thing to have in your intestinal tract, but having a balanced mix of them actually helps to digest food, regulate immune function, and produce vitamin K (which plays a key role in helping the blood clot).
Some Dietary Supplements Linked to Liver Damage

by Charlene Laino
Bodybuilding, Weight Loss Supplements Worst Culprits

May 23, 2012 — Bodybuilding and weight loss supplements may help you look better, but with some of these supplements there's an ugly tradeoff: a very real risk of liver damage.

Using data from a national registry, researchers found that herbal and dietary supplements were implicated in 18% of liver injury cases caused or suspected of being caused by drugs or supplements from 2003 to 2011.

Bodybuilding and weight loss supplements were by far the biggest offenders, linked to 34% and 26% of 93 cases studied, respectively, says researcher Victor J. Navarro, MD, a professor of medicine, pharmacology, and experimental therapeutics at Thomas Jefferson University in Philadelphia.
Yoga May Improve Symptoms of Rheumatoid Arthritis

by Laird Harrison
People With Rheumatoid Arthritis Feel Better After 6 Weeks of Iyengar-Style Yoga

May 24, 2012 (Honolulu, Hawaii) — Young patients with rheumatoid arthritis (RA) may feel better after practicing yoga for just six weeks, a new study shows.

Researchers reported their findings here last week at the American Pain Society's annual meeting.

"It seems to be a very feasible, practical treatment for patients with rheumatoid arthritis," one of the researchers, Kirsten Lung, tells WebMD. Lung researches pain at the University of California, Los Angeles (UCLA).
Vigorous Exercise Might Protect Against Psoriasis

by Rita Ruben
Women who engage in vigorous activities like running or aerobic exercise may have reduced risk of psoriasis

May 24, 2012 — Here's yet another reason to exercise: A new study suggests that vigorous physical activity could reduce the risk of psoriasis.

The findings come out of the long-running Nurses' Health Study, which includes only women, but previous research suggests that exercise may also protect men against the chronic skin condition, characterized mostly by inflamed, scaly patches.

As many as 7.5 million Americans have psoriasis, according to the National Psoriasis Foundation, which says it's the most common autoimmune disease. Men and women are equally affected. Previous research has linked higher body mass index, or BMI, family history of psoriasis, alcohol use, and smoking to the risk of psoriasis.