(10 am. – promoted by ek hornbeck)
Allow me to repeat this headline: 236,000 Americans will lose unemployment benefits this week. Nearly half of them will be Californians.

According to CBS, the benefits will be cut due to terms of a benefit extension agreement in Congress. It stated benefits would be cut off if unemployment rates fell below certain thresholds.

According to CNN Money, starting later this year the maximum number of weeks the jobless can collect unemployment benefits will be reduced to as little as 40 weeks in states with jobless rates below 6 percent and to as many as 73 weeks where unemployment tops 9 percent.
The news media has gotten bored with the human costs of long-term unemployment. So they haven't been reporting this coming financial shock that is on our doorstep. A lot of unemployed people don't know that the laws were changed. This is going to be a nasty shock to countless struggling families.
Callahan-Johnson told CBS News correspondent John Blackstone that she had never seen anything like this.

"In 19 years, I have never had this many cuts in unemployment at the same time," she explained.
California isn't alone. North Carolina, Florida, Illinois, Colorado, Connecticut, Pennsylvania and Texas will all be cutting off tens of thousands this week. 19 other states already dropped their extended unemployment benefits, and 7 more states will do so by the end of September. That brings to 34 states that will cut their extended unemployment benefits from 99 weeks to 73 weeks in high unemployment states, and 40 weeks in low unemployment states.
So what exactly is this rule change?
Starting in June, the unemployment extension for long-term unemployed workers will be gradually reduced to 73 weeks in the states with the highest rates of unemployment and 63 weeks in other states.

There will also be changes in the number of weeks included in each tier of unemployment starting in September. Plus, the state unemployment rate must be at a certain level for the tiers to kick in, starting in June.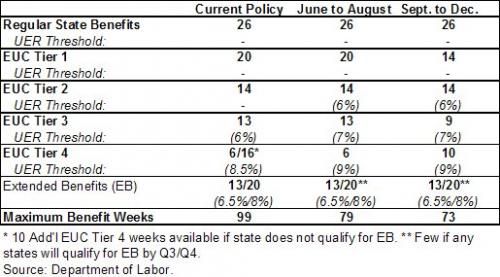 What you are looking at is a cut back in the most effective economic stimulus the government engages in, outside of food stamps.

And it isn't just the federal government. States are getting in on the austerity too.
State officials said this week that 20 weeks of federal extended unemployment benefits are to start disappearing next month. That's on top of three weeks of state unemployment benefits that evaporated in January for newly unemployed workers.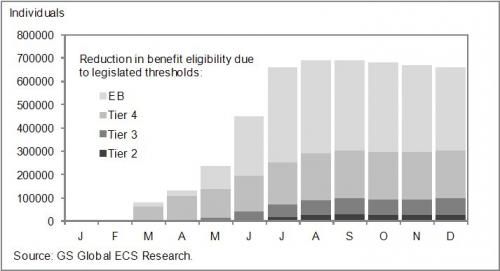 So there you have it. Quietly, very quietly, we are slowly following in Europe's austerity footsteps. (and that is SUCH a success story!)

Neither Obama or the Republicans are talking about it much, so they must not be proud of it. Maybe they think no one will notice?
The situation is nothing new. People have been using up their unemployment and dropping out of the labor force for several years now. The most common result of long-term unemployment is to end up on disability.

At least that is true for adults. Probably the biggest reason for the shrinking labor force participation rate is the fact that young people aren't even getting an opportunity to enter the workforce.
That leaves open the debate of "why". Why is the younger generation dropping out of the labor force at such a high rate? Especially when the economy has been adding jobs for several years now?

The opportunity cost of working is high because there are fewer opportunities.
According to the NY Times only 53% of college graduates from the classes 2006-2010 are employed full-time. Even recent graduates who are working will make 10% less in their first job than graduates from just a few years ago, down to $27,000 a year.
Every economic recovery sees job growth in temporary and part-time work first, before companies hire full-time. This recovery is no exception. Thus you see college graduates working temporary and part-time jobs.

However, what we are talking about is a matter of degree.
For instance, a 5% unemployment rate and a 25% unemployment rate both have the number 5 and mean millions are unemployed, just like heart-burn and a heart-attack both have the word "heart" in the description.
Shrinking the unemployment rate by dropping people out of the labor force gives politicians political cover to drop unemployment benefits by saying the unemployment rate is going down.
Most of the unemployed don't collect unemployment benefits.
Early last year, 75 percent were receiving checks. The figure is now 48 percent – a shift that points to a growing crisis of long-term unemployment. Nearly one-third of America's 14 million unemployed have had no job for a year or more.

The number of unemployed has been roughly stable this year. Yet the number receiving benefits has plunged 30 percent.
As for unemployment itself, nothing the government does generate more economic activity. The loss of unemployment benefits will have an obvious and negative effect on the economy this summer.
The Congressional Budget Office has estimated that each $1 spent on unemployment benefits generates up to $1.90 in economic growth. The CBO has found that the program is the most effective government policy for increasing growth among 11 options it's analyzed.

If the extended benefits aren't renewed, growth could slow by up to a half-percentage point next year, economists say.
The article was written last November, so "next year" is "this year".