(11 am. – promoted by ek hornbeck)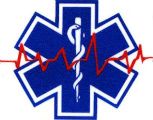 Welcome to the Health and Fitness weekly diary which is cross-posted from The Stars Hollow Gazette. It is open for discussion about health related issues including diet, exercise, health and health care issues, as well as, tips on what you can do when there is a medical emergency. Also an opportunity to share and exchange your favorite healthy recipes.
Questions are encouraged and I will answer to the best of my ability. If I can't, I will try to steer you in the right direction. Naturally, I cannot give individual medical advice for personal health issues. I can give you information about medical conditions and the current treatments available.
You can now find past Health and Fitness News diaries here and on the right hand side of the Front Page.
Bibimbap: Rice Takes a Trip to Korea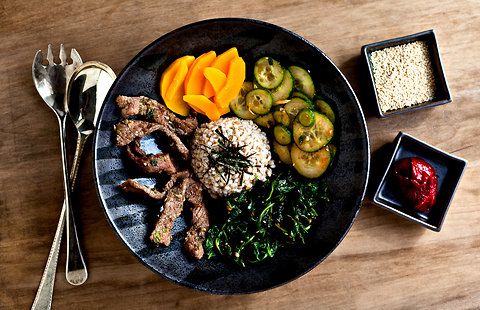 In traditional bibimbap, a large serving of rice is placed in the center of a hot bowl and surrounded with small amounts of meat – usually beef – and seasoned vegetables that include a mixture of cultivated vegetables (cucumber, carrot, daikon or turnips, spinach, lettuce, mushrooms) and wild items like fiddlehead ferns and reconstituted dried toraji (bellflower roots). A fried egg is often placed on top of the rice, and diners stir everything together. In Jeonju, which along with Jinju and Tongyeong is famous for its bibimbap, special stone bowls are used for the dish. They are coated with sesame oil and heated until very hot so that when the rice is placed in them, a crust forms on the bottom. The egg is broken onto the hot rice and cooks as it is stirred in.
Bibimbap With Beef, Winter Squash, Spinach and Cucumber
Beef is the most typical meat served with bibimbap. It's marinated and quickly seared in a hot wok or frying pan.
Bibimbap With Chicken, Broccoli Rabe, Mushrooms and Turnip
This dish focuses on hearty grains and assertive vegetables, so one chicken breast is all it takes to feed a family.
Bibimbap With Clams, Kale, Daikon and Carrots
The clams' briny broth seasons the rice in this light and flavorful dish.
Bibimbap With Tofu, Cucumbers, Spinach, Shiitakes and Carrots
This cross-cultural dish borrows from Japanese tradition for the tofu marinade.
Bibimbap With Tuna, Sweet Potato, Broccoli Rabe or Kale, and Lettuce
Tuna steaks, sliced thinly after cooking, are a vehicle for a traditional Korean marinade.
General Medicine/Family Medical
Many Heart Attacks Don't Cause Chest Pain

by Anahad O'Connor
Sudden chest pain is the hallmark symptom of a heart attack. But a large new study shows that many people who are taken to hospitals for heart attacks never have chest pain and, as a result, are less likely to be treated aggressively.

The consequences may be especially deadly for younger and middle-aged women. In a new study of 1.1 million people, a surprising 42 percent of women admitted to hospitals for heart attack never had chest pain. By comparison, just 30.7 percent of men who were admitted didn't experience chest pain. Women were also more likely to die after a heart attack; the mortality rate for women in the study was nearly 15 percent, compared with 10 percent for men.

"We think part of the reason is that women who are presenting with a heart attack might not have that classical presentation," said Dr. John G. Canto, director of the chest pain center at Lakeland Regional Medical Center in Florida and an author of the study, which was published in The Journal of the American Medical Association. "So they may not be recognized as having a heart attack, and possibly some of these patients may present too late to receive lifesaving procedures."
Condom Knowledge Not Common Knowledge

by Jennifer Warner
Condom Misuse Is Common, Leading to Condoms Breaking, Slipping

Feb. 24, 2012 — Knowing how to use a condom correctly — and actually using it — may mean the difference between life and death.

A new review of research shows errors in condom use — such as putting it on too late, or not using condoms throughout sex, or not leaving space at the tip — are common worldwide.

Researchers say the results suggest that user errors are a major contributor to condom failure rates, and millions of unintended pregnancies and sexually transmitted infections could be avoided by improved condom use.
New Blood Test for Parkinson's Studied

by Kathleen Doheny
Test Has High Degree of Accuracy; Parkinson's Experts Cautiously Optimistic

Feb. 22, 2012 — An experimental blood test for Parkinson's disease is more than 90% accurate in diagnosing the progressive disorder that affects movement and balance, according to its developers.

The test requires a single drop of blood, says Robert Nagele, PhD, a professor of medicine at the University of Medicine and Dentistry of New Jersey School of Osteopathic Medicine.

It looks for specific proteins that are produced by the body in response to Parkinson's disease, he tells WebMD.
Many Cancer Deaths Prevented by Colonoscopy

by Salynn Boyles
Polyp Removal During Colonoscopy Shown to Cut Colon Cancer Deaths in Half

Feb. 22, 2012 — New research shows that colonoscopy saves lives not only by identifying colon cancers early, but also by detecting and removing colon polyps in their precancerous stage.

Removal of the tumor-like growths known as adenomatous polyps was associated with a 50% reduction in expected colon cancer deaths in the largest and longest follow-up of polyp patients ever conducted.

Published in the New England Journal of Medicine, the study confirms what has long been suspected, says researcher Ann G. Zauber, PhD, a biostatistician at Memorial Sloan-Kettering Cancer Center in New York City.
Zelboraf May Double Survival for Some Melanoma Patients

by Brenda Goodman, MA
New Drug Extends Life, Lessens Pain for Many Patients With Common Form of Advanced Melanoma

Feb. 22, 2012 — The newly approved drug Zelboraf appears to nearly double the length of time a person can expect to live with advanced melanoma skin cancer, a new study shows.

Melanoma kills about 9,000 Americans each year, and it often progresses quickly. Studies have found that the midpoint in survival time for patients on standard chemotherapy is just six to 10 months for patients with melanoma that has spread to other organs.
Aspirin, Walking Can Reduce Leg Pain From Narrowed Arteries

by Denise Mann
Study Shows Aspirin as Effective as Pricier Plavix for Peripheral Artery Disease

Feb. 22, 2012 — Low-dose aspirin may be just as effective as the more expensive Plavix when combined with a walking program to treat leg pain that's associated with narrowing of the leg arteries.

What's known as peripheral artery disease, or PAD, can cause pain in the legs during walking because of decreased blood supply in the legs. This is known as intermittent claudication. This pain usually goes away once a person stops walking.
Seasonal Flu/Other Epidemics/Disasters
It's Flu Season, CDC Says

by Daniel J. DeNoon
Latest Flu Season Start in 24 Years

Feb. 24, 2012 — Flu season is officially under way, the CDC says.

It's the latest start in 24 years, Joseph Bresee, MD, chief of epidemiology and prevention at the CDC's flu branch, said at a news teleconference.

The CDC declares a flu season when for three weeks in a row at least 10% of people seeing a doctor for flu-like symptoms actually test positive for flu. The CDC has done this for 29 years. Only once before, in the 1987-88 flu season, has it come so late in the year.
More Now Die in U.S. From Hepatitis C Than HIV

by Rita Ruben
Many, Especially Baby Boomers, Don't Even Know They're Infected

Feb. 21, 2012 — More Americans die as a result of hepatitis C infection annually than from HIV-related causes, pointing out the need for expanded screening and improved access to care for hepatitis C, government researchers report.

"The decrease in deaths from HIV reflects the infrastructure that's been set up to make access to highly effective treatments happen," says researcher John Ward, MD, director of the division of viral hepatitis at the CDC.
Women's Health
New Guidelines to Help Breast Cancer Survivors

by Kathleen Doheny
Guidelines Address Gynecologic Side Effects of Cancer Treatment

Feb. 22, 2012 — When women find out they have breast cancer, many leave their ob-gyn and go to a cancer specialist. After treatment, they return to their ob-gyn.

Although their cancer is gone, cancer-related health issues remain. Concerns about fertility, birth control, menopause, and bone health are common.

If you are one of these estimated 2 million breast cancer survivors in the U.S., your ob-gyn now has new guidance. The American College of Obstetricians and Gynecologists has issued a practice bulletin with new information on how to manage these health issues.
Citrus Fruits May Lower Women's Stroke Risk

by Salynn Boyles
Compound in Oranges, Grapefruit Appears Protective

Feb. 23, 2012 — Researchers have identified a compound found in oranges, grapefruits, and other citrus fruits that may lower a woman's stroke risk.

Previous studies suggest that eating fruits and vegetables helps protect against strokes, and many believe that antioxidant compounds known as flavonoids may explain why, because they have been shown to improve blood vessel function and they have anti-inflammatory effects.
Migraines Linked to Depression

by Jennifer Warner
Women With Migraines More Likely to Become Depressed

Feb. 22, 2012 — Women who suffer from migraine headaches may be more likely to develop depression.

A new study shows that women who have migraines are about 40% more likely to develop depression than women who have never had migraines.
New Mammogram Benefits for Women in Their 40s

by Daniel J. DeNoon
Breast Cancers Found by Mammograms More Easily Treated

Feb. 22, 2012 — When women in their 40s get breast cancer, their tumors need less intense treatment and recur less often if they were first detected during routine mammogram screening.

The finding comes from a careful study of nearly 2,000 women diagnosed with first-time breast cancer at age 40 to 49. The women were carefully followed since their diagnosis in 1990 to 2008, says study co-leader Judith A. Malmgren, PhD, president of Seattle's HealthStat Consulting.
Diabetes, High Blood Pressure During Pregnancy Increase Middle-Age Heart Risk

by Cari Nierenberg
Study: Pregnancy-Related Diabetes or High Blood Pressure May Be Effective Early-Warning Signs for Heart Disease

Feb. 21, 2012 — When a woman has high blood pressure or high blood sugar levels during pregnancy, this may help predict her chances of developing heart disease perhaps as early as middle age, a new study suggests.

British researchers were hoping to understand why women who have certain common pregnancy-related complications tend to be at higher risk for heart disease later in life.

To learn more about these effects, they analyzed data from more than 3,400 pregnant women who participated in a long-term health study of British parents and children.
Men's Health
A New Approach to Treating Hair Loss

by Anahad O'Connor
A new report highlights a novel way for doctors to replace thinning hairlines: transplanting leg hair.

The report, a study of two cases published in The Archives of Dermatology, describes a new procedure in which receding hairlines were restored by taking hair follicles from patients' legs and grafting them to the head. Men's leg hair had successfully been transplanted before to the back of the head, but these are believed to be the first documented cases of leg hair being used to restore the hairline.
Pediatric Health
Combo Vaccine May Raise Babies' Risk for Fever-Caused Seizures

by Brenda Goodman, MA
Study Finds Overall Risk Associated With Vaccination Is Still Low

Feb. 21, 2012 — Babies and toddlers can sometimes spike fevers that lead to seizures, which can be terrifying for parents. Those seizures, called febrile seizures, have sometimes been linked to childhood vaccines.

Now a large new study from Denmark shows that babies have an increased risk of getting febrile seizures on the day they get either of their first two doses of a recommended combination vaccine, which protects against diphtheria, tetanus, pertussis, polio, and Haemophilus flu type B (DTaP-IPV-Hib, in medical shorthand). Fever is a well-known common side effect after vaccination.
Overly Strict, Controlling Parents Risk Raising Delinquent Kids

by Denise Mann
Study Looks at Parenting Styles and Their Possible Effects on Kids' Behaviors

Feb. 23, 2012 — Many parents may think that taking a hard line with their kids will keep them on the straight and narrow, but a new study suggests this is not always the case.

Uber-strict parents who rule with a controlling, iron fist — while not giving their children a chance to speak their mind — are more likely to raise children who are disrespectful and engage in delinquent behaviors such as stealing, hurting others, and/or substance abuse.

"Kids don't view them as a legitimate authority figure and are more likely to break the rules," says researcher Rick Trinkner. He is a doctoral candidate at the University of New Hampshire in Durham.

The new findings appear in the Journal of Adolescence.
Mom's Migraine Tied to Colic in Infants

by Jennifer Warner
Children Whose Mothers Have Migraines More Likely to Develop Colic

Feb. 21, 2012 — Babies whose mothers suffer from migraines may be more likely to be colicky.

A new study shows that infants whose mothers have migraine headaches are more than two-and-a-half times more likely to have colic than other infants.

Researchers say the results suggest that colic may be an early manifestation of migraine.
Aging
Dementia: Some Antipsychotic Drugs Riskier Than Others

by Salynn Boyles
Among Drugs Used to Calm Agitated Dementia Patients, Newer Drugs Seem Safer Than Older

Feb. 23, 2012 — The FDA has warned that treatment with antipsychotic drugs increases the risk of death among elderly patients with dementia, and now a new study confirms that some drugs are riskier than others.

Compared to patients treated with the newer second-generation antipsychotic drug Risperdal (risperidone), patients who took the older, first-generation drug Haldol (haloperidol) had twice the risk of death.
Nutrition/Diet/Fitness
How Exercise Fuels the Brain

by Gretchen Reynolds
Moving the body demands a lot from the brain. Exercise activates countless neurons, which generate, receive and interpret repeated, rapid-fire messages from the nervous system, coordinating muscle contractions, vision, balance, organ function and all of the complex interactions of bodily systems that allow you to take one step, then another.

This increase in brain activity naturally increases the brain's need for nutrients, but until recently, scientists hadn't fully understood how neurons fuel themselves during exercise. Now a series of animal studies from Japan suggest that the exercising brain has unique methods of keeping itself fueled. What's more, the finely honed energy balance that occurs in the brain appears to have implications not only for how well the brain functions during exercise, but also for how well our thinking and memory work the rest of the time.
Workouts May Not Be the Best Time for a Snack

by Gina Kolata
A few weeks ago, a friend showed up for a run with a CamelBak – one of those humplike backpacks with a tube that allows you to sip liquid – and a belt containing food to eat along the way. Every 20 minutes or so as we ran, he stopped to eat and drink, sprinting afterward to catch up.

Now that is unusual, I thought. Does it really help to eat so often during a 16-mile run?