(10 am. – promoted by ek hornbeck)
Cross posted from The Stars Hollow Gazette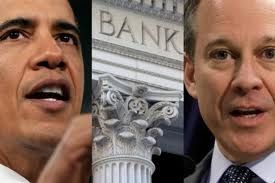 I realize that there has been a lot of speculation about what went down in the 24 hrs prior to the SOTU after Miller announced that there was no bank/state settlement deal. There is a lot of speculation about Schneiderman and not without good reason. When I was writing my article for Stars Hollow I was careful not to join in the "sell out" theme that was running hot with some very respected bloggers. I think Obama is desperate. He knows that he is losing the Independents and moderate Republicans and needed to do something fast, especially in the light of the unpopularity of the 50 state agreement and the massive push to stop it. On the other side, and I somewhat agree with RJ Eskow on this, Schneiderman has the upper hand. He is wildly popular and scares the crap out of Cuomo & company. Schneiderman is not dropping the investigation here in NY, he's expanding it from what I hear.
That said, I think that if this unit doesn't move quickly in the evidence they already have, evidence BTW Schneiderman has not had access to, he will drop this like a hot potato and walk. Obama is walking a thin line and realizes that Wall St money alone will not get him reelected. I think Schneiderman is playing on that and hopes to at least hold some of them more responsible and get some better compensation for the homeowners that got screwed along with some regulation of the securitization that caused this all.
I have my doubts. There are better ways to do this, namely appointing a special prosecutor with a budget, investigators and subpoena power. I'm not willing to throw Schneiderman under the bus just yet.
I also think Obama wants him to succeed Holder who said he would leave this year even if Obama is reelected. It's either him or CA's AG Harris.
This was a complete surprise, so I'm being very cautious here, knowing what I do about Schneiderman and who is politically afraid of him. Like after Obama was elected, I'm watching and listening very carefully. Hoping that it is not as bad as it looks.
Eskow's opinion appeared in Huffington Post and he disclosed that he is a fellow at Campaign for America's Future, a left wing strategy center. (This site, however, is not affiliated with any outside organization and opinions expressed here are solely are own.) He gives a good analysis of the reasons for the skepticism of David Dayen, Yves Smith and Duncan Black (Atrios) who said, "It's hard to see the Schneiderman thing as anything but bad news."
Eskow dissects the reasons for the skepticism
The administration's lack of prosecutions has been inexcusable. His administration has refused to prosecute even the most compelling prima facie cases of and has appointed one revolving-door banker after another to key economic positions. Its financial settlements with Wall Street have been disgraceful. For far too long the president pushed the nonsensical argument that "Wall Street and Main Street rise and fall together."

And with an election coming up, bankers can write big checks that most other people can't.
He also points out that if the Department of Justice and the SEC had been doing their jobs in the first place neither the Financial Fraud Task Force or this unit would be necessary. It's hard not to agree with him that committees are "designed for paralysis and gridlock, not efficiency" and that president who promoted ""streamlining government" and "eliminating bureaucracy" would create this committee. Looking back on what happened with health care and financial reform everyone on the left has good cause to be wary of anything that President Obama does at this point and some groups, perhaps shouldn't have been so effusive in their praise of this deal. Eskow, as do I, thinks that the White House, left scrambling after Iowa AG Tom Miller announced that there was no settlement with the banks and presented with citizen petitions that had hundred of thousands of names, reversed course in desperation. Then with the announcement that Schneiderman would "chair" the committee, there was a rush of exuberant relief that Obama was finally showing some signs of supporting the 99%.
As to the possibility that Schneiderman "caved"to pressure from the White House, Eskow backs up what I have said, Schneiderman has too much leverage:
Whatever Eric Schneiderman's goals are, I doubt they include being stigmatized by progressives as a sell-out. His actions over the last few months have not been those of a guy who rolls over easily. It's safe to assume that he wants to prosecute bank fraud, and that this appointment will give him access to the resources he's needed to conduct a thorough investigation. [..]

Consider this: What would it do to the White House if Schneiderman labeled the entire effort a sham, resigned in protest, and continued his investigations alone? He must know he has leverage now, and presumably will use it if necessary.
Escow appeared with Cenk Uygur on "The Young Turks" to discuss the unit and Schneiderman with Cenk's panel:
I certainly don't agree with Michael Shure and what basically is "the lesser of two evils" meme. It can be just as bad with Obama. That said, could this turn out as the cynics are predicting? Sure and if it does we here at Stars Hollow, like Eskow, will say so.
Another good discussion of this new committee was with Delaware AG Beau Biden who appeared with Dylan Ratigan on MSNBC and his other guest real estate analyst, Jack McCabe:
I'm not ready to throw in the towel nor am I going to get on the cheer-leading band wagon. I will wait to see what transpires and keep my fingers crossed for the best outcome for the most people, the 99%.