(10 am. – promoted by ek hornbeck)
Cross posted from The Stars Hollow Gazette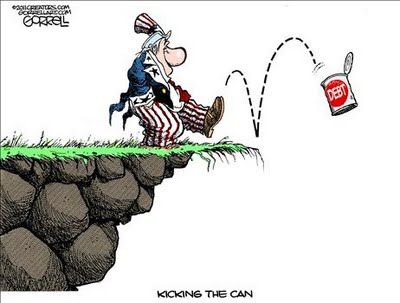 While he is on vacation in Hawaii, President Barack Obama will ask Congress to raise the debt ceiling for the third and last time under the agreement that was negotiated last August. The increase, which is expected to be made by December 30, can only be stopped by passage of a "resolution of disapproval" which the President can veto. That isn't likely since the last resolution was blocked by the Democrats in the Senate and since Congress in recess until the end of January, well past the 15 days Congress has to vote in the resolution of disapproval.
Pres. Obama is expected to ask for authority to increase the borrowing limit by $1.2 trillion which is within $100 billion of the current cap of $15.194 trillion. The motivation to request this raise now is mostly political and tied to the election next November, as noted by David Dayen at FDL:
In numbers that came out earlier this month, the deficit under current law for Fiscal Year 2012, ending September 30, is set to be right around $1 trillion. That doesn't leave a lot of wiggle room for the White House to get to the next election without having to deal with the debt limit again, especially if new measures like the payroll tax go unfunded. [..]

That seems to be the motivating factor here. The White House simply does not want to go through another bruising debt limit fight again before the election. That places a limit on borrowing in the next fiscal year. It explains why the "fight" over the American Jobs Act wasn't that major a fight, because passing all of the measures without paying for them immediately would require raising the debt limit again. And paying for them immediately would make the stimulative effect irrelevant. A couple of the measures, like the payroll tax and unemployment benefits, could conceivably pass while allowing the Treasury to squeeze past the elections under the debt limit. But the numbers are pretty close.
David Weigel at Slate points out, with some amusement, another reason to make the request now:
Both parties like to vote against debt limit hikes, when they can — makes for good TV ads. The problem this time is that they may never get a chance. The Washington Post's sharp congressional reporter Felicia Sonmez points out that Congress is actually out of town until January 17. [..]
Congress is still playing the unconstitutional game of pro forma sessions to prevent the president form making recess appointments. Technically, the resolution could be passed but it would have to be by unanimous consent and that is just not going to happen. So as Weigel notes unless some renegade congress critter demands a vote, even Congress keep from getting near the "burning wreckage" of this fight.