(11 am. – promoted by ek hornbeck)
Cross posted from The Stars Hollow Gazette
Occupy Wall Street Thanksgiving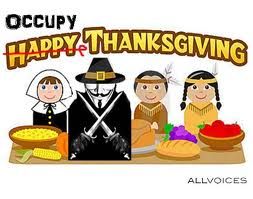 This Thanksgiving, Occupy Wall Street is celebrating unity and community with an open feast at Liberty Square. From 2 to 6 p.m. at Liberty Square (Zuccotti Park) we will meet to share food, stories and inspiration. All members of our global community are invited to break bread with us.

"This is all about supporting the 99%," said Megan Hayes, an organizer with the #OWS Kitchen working group, and a former high end chef. "So many people have given up so much to come and be a part of the movement because there is really that much dire need for community. We decided to take this holiday opportunity to provide just that – community."

More than three thousand individually wrapped plates will be distributed on Thursday in accordance with New York State Health Code. People in the community have opened their homes to cook meals. Roger Fox in New Jersey will be making 250 meals, Mia Valh and Alia Gee are also making large numbers of meals. A lot of community organizations are involved and Liberty Cafe in East NY donates space for the #OWS Kitchen working group.

Locally owned family business, Texas BBQ will be providing 2,000 of the meals. They are being purchased with donated funds and will be served along with the home-cooked meals from supporters and food from the People's Kitchen at Occupy Wall Street. The Owners of Texas BBQ are Egyptian and are supporters of the Occupy Movement.

Indigenous voices, religious leaders, food justice activists and leaders from peoples' movements around the world are speaking on Thursday at Liberty Square. Occupy Thanksgiving is a celebration for the entire New York community. All are invited.

There will also be a can food drive. Donations of cans will go to local food banks and pantries throughout NYC.
#OCCUPYXMAS Kicks Off with Buy Nothing Day, Nov 25/26
You've been sleeping on the streets for two months pleading peacefully for a new spirit in economics. And just as your camps are raided, your eyes pepper sprayed and your head's knocked in, another group of people are preparing to camp-out. Only these people aren't here to support occupy Wall Street, they're here to secure their spot in line for a Black Friday bargain at Super Target and Macy's.

Occupy gave the world a new way of thinking about the fat cats and financial pirates on Wall Street. Now lets give them a new way of thinking about the holidays, about our own consumption habits. Lets' use the coming 20th annual Buy Nothing Day to launch an all-out offensive to unseat the corporate kings on the holiday throne.

This year's Black Friday will be the first campaign of the holiday season where we set the tone for a new type of holiday culminating with #OCCUPYXMAS. As the global protests of the 99% against corporate greed and casino capitalism continues, lets take the opportunity to hit the empire where it really hurts…the wallet.

On Nov 25/26th we escape the mayhem and unease of the biggest shopping day in North America and put the breaks on rabid consumerism for 24 hours. Flash mobs, consumer fasts, mall sit-ins, community events, credit card-ups, whirly-marts and jams, jams, jams! We don't camp on the sidewalk for a reduced price tag on a flat screen TV or psycho-killer video game. Instead, we occupy the very paradigm that is fueling our eco, social and political decline.

Historically, Buy Nothing Day has been about fasting from hyper consumerism – a break from the cash register and reflecting on how dependent we really are on conspicuous consumption. On this 20th anniversary of Buy Nothing Day, we take it to the next level, marrying it with the message of #occupy…

We #OCCUPYXMAS.

Shenanigans begin November 25!

But of you must shop
Occupy Protesters: Shop Mom-And-Pop Stores, Not Chains, On Black Friday
PORTLAND, Ore. — Occupy protesters want shoppers to occupy something besides door-buster sales and crowded mall parking lots on Black Friday.

Some don't want people to shop at all. Others just want to divert shoppers from big chains and giant shopping malls to local mom-and-pops. And while the actions don't appear coordinated, they have similar themes: supporting small businesses while criticizing the day's dedication to conspicuous consumption and the shopping frenzy that fuels big corporations.

Nearly each one promises some kind of surprise action on the day after Thanksgiving, the traditional start of the holiday shopping season.