(10 am. – promoted by ek hornbeck)
Cross posted from The Stars Hollow Gazette
Nouriel Roubini: "we're going into a recession"
Bloomberg TV's Margaret Brennan speaks to Nouriel Roubini, co-founder and chairman of Roubini Global Economics LLC. Roubini tells Brennan, "we're going into a recession based on my numbers" and that the Federal Reserve and other authorities no longer have the ability to provide emergency support.
There seems to a consensus here. Just last week Nobel Prize winning Economist Joseph Stiglitz told Bloomberg the same thing:
"The unemployment situation in the U.S. is very severe and very probably going to get worse," Stiglitz told reporters today at a conference in Lindau, Germany. "There's a very high probability we'll go into double dip."

snip

Stiglitz said calls by policy makers to engage in deficit- cutting austerity measures were heading in "exactly the wrong direction."

"The most important way to address the deficit is to get America back to work, to get the economy back to full employment," Stiglitz said at an annual gathering of Nobel Prize-winning economists. "Austerity is going to get us predictably into trouble. Spend the money on investments, and those investments will lead to higher growth."
Two other points were made about the current economic crisis by Paul Krugman. One is that the economy has not really recovered and that the Federal Reserve needs to take firmer action to stimulate job growth. The non-recovery is best illustrated with this chart provided by Krugman:
.
Krugman's second point is about debt, federal and personal, that there has not been an explosion in debt over the past few years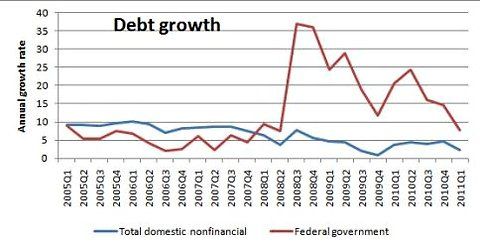 There have been hints about President Obama's jobs plan that he will present to a joint session of Congress Thursday night but it needs to be big and bold but that's doubtful with this president.