Sometimes there are so many small stories swirling around that I feel the need to gather them together in one larger compendium. In the present case, some of them are updates to previous stories and some of them just don't seem to fit anywhere else.
Item:
Irish Minister for Social Protection Joan Burton will publish legislation in the next year to provide for recognition of the acquired gender of transgender people. The long-awaited report on legal recognition of transsexual people in Ireland was presented to the Cabinet on Wednesday. Irish transgender rights law…or rather, the lack of same…was found to be in breach of the European Convention on Human Rights some time ago.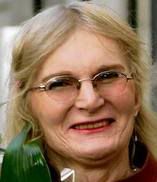 Dr. Lydia Annice Foy started fighting for her right to legal recognition of her gender change seventeen years ago. If you are interested in the legal case, there is a briefing document available on the case (pdf).
If you are more interested in non-print media, there is a Lydia Foy radio documentary from RTE Radio 1. My Name is Lydia Foy was first broadcast on Radio One on July 2, 2011. I recommend listening to it when you have 30 minutes or so.
From the briefing document, referring to Judge Liam McKechnie:
He concluded that "by reason of the absence of any provision which would enable the acquired identity of Dr Foy to be legally recognised in this jurisdiction, the respondent State [Ireland] is in breach of its positive obligations under Article 8 of the Convention". And he added for good measure that he would have found a breach of the right to marry under Article 12 of the Convention as well if that had been open to him.
Dr. Foy is one of our heroines.
All is not hunky-dory with the recommended new guidelines.
Its main recommendations are that an independent three-member gender recognition panel, made up of a medical and a legal specialist, and chaired by an independent person from outside these disciplines, would be set up to examine applications from people seeking recognition of their acquired gender.
Ah, yes. Gender police. Also
The plans say that trans people who married in their old gender will have to divorce or legally separate in order to be recognised in their new gender, regardless of whether they remain in a loving relationship with their partner.
Because breaking up existing marriages is always a good thing.
Item:
The man accused of murdering post-operative transwoman Victoria Carmen White on the evening if September 12, 2010 has pleaded not guilty to murder, weapons offenses and bias intimidation for shooting her multiple times after learning that she was transsexual. Neither Alrashim Chambers, his court-appointed lawyer, or any of his dozen supporters had any comment on the case.
Marquise Foster faces five years in prison after pleading guilty to lesser charges of hindering prosecution in exchange for his testimony against Mr. Chambers.
To go through all those changes in life just to be who you are, and then have this happen. It's such a shame.

–Tyra White, aunt of the deceased
Item:
Durbar High School, Nepal's oldest modern school, which opened in 1892 as an alternative to traditional Sanskrit schooling, welcomed 13-year old Hem Baral (name changed in the interest of privacy) into the ranks of its 7th graders, on Guru Purnima yesterday. Hem was dispatched from his village school for being transgender.
Hem was born Hema, the fourth daughter of four children of a primary school teaching father in Bajura. Having no son to be an heir, the teacher took a second wife, even though bigamy is now illegal in Nepal (apparently the practice of the blind eye has been adopted). Ironically, the second wife also bore only daughters. Then Hema started showing signs of being transgender. Hem dresses, behaves and appears to be a boy. But Hema was not accepted as a boy in Bajura and was driven from the local school.
This week, accompanied by a cousin, the tearful teen appeared at the office of Blue Diamond Society, asking its founder and Nepal's only openly gay MP Sunil Babu Pant to help with her studies. On Wednesday, Pant and other officials of the gay rights organization, had concluded talks with the principal of Durbar High School, Ghanshyam Yadav, asking him to admit Baral as part of the school's social responsibility.
Item:
The Muncie, IN hospital that ridiculed and then refused medical treatment to transwoman Erin Vaught last July, even though she was coughing up blood, referring to her as "it" and the "he-she", reformed its practices to the point of being hailed by the Human Rights Campaign for its commitment to being discrimination-free. IU Health Ball Memorial "launched an internal review of its care policies, employee benefits and diversity training. Hospital officials met with Vaught and others and a few weeks later announced and then followed through with mandatory lesbian, gay, bisexual, transgender (LGBT) awareness training for employees."
IU Health Ball Memorial Hospital was recognized recently by the Human Rights Campaign for putting values of inclusion into practice by protecting LGBT patients and employees from discrimination, ensuring equal visitation access to LGBT patients and families and providing staff with training on LGBT cultural competence.
Item:
In the world of entertainment transsexual Thai singer Bell Nuntita, who made it to the final round of Thailand's Got Talent earlier this year has acceded to the demands of fans in Singapore and will appear at the Thai-themed club Resort Live Band on July 19. Word is that she is also immensely popular in China, Hong Kong, Australia, the Philippines, Indonesia and Malaysia. Here's a sample:
Item:
American Airlines endorses the inclusive ENDA (S 811 and HR 1397).
We are proud to have been the first major airline to implement same-sex domestic partner benefits, first to implement both sexual orientation and gender identity in our workplace non-discrimination policies, and first to have a recognized LGBT employee resource group – GLEAM.

Our endorsement of ENDA is consistent with our longstanding 'Statement of Equal Opportunity.' The principles fostered by ENDA are consistent with our corporate principles in treating all employees with fairness and respect.
Denny's of Maine has reached a settlement with a transwoman complainant, Brianna Freeman, who was represented by Gay and Lesbian Advocates and Defenders (GLAD), that will allow all customers to use restrooms in their stores in accordance with their gender identity. The agreement applies to all Denny's restaurants in Maine.
The agreement was reached in March but was not announced until this past Monday.
In 2007 the manager of the Denny's in Auburn told Freeman, who had been using the women's restroom without incident, that a customer had complained. The manager told her that because she had not undergone gender reassignment surgery, she could not be considered a woman and would have to use the men's restroom, the Sun Journal reports.

Freeman filed a complaint with the Maine Human Rights Commission in 2009, which led to her filing suit in Androscoggin County Superior Court.
Denny's sought to have the case dismissed last year but Judge William Brodrick opined that
the Maine Human Rights Act is aimed at preventing discrimination in public accommodation on account of sexual orientation, finding that Freeman had 'adequately plead a claim that Denny's prohibited her from using the women's restroom because of her sexual orientation.
It's probably just as well that it didn't go to trial, where judges have been exceedingly likely to draw a solid line between sexual orientation and gender identity…a line Judge Brodrick apparently didn't notice.
Item:
The DC Trans Coalition released the summary findings of the first ever needs-assessment of the transpeople living in the nation's capitol.
The release of the summary findings on July 7 concludes the first phase of the project. Seven community roundtables were held over a 6 month period. 108 transpeople participated in the roundtables held in an attempt to assess the needs of our community in DC. 81% were MtF and 19% were FtM. 50% were black, 31% Latina/o and 19% white. The participants ranged in age from 18 to 83 and either lived or worked in DC.
Information collected will be used to create paper and online surveys with a goal of reaching 500 to 1000 community members.
Preliminary data indicates (pdf) that
transgender, transsexual and gender non-conforming people in D.C. have serious concerns about their safety, are severely underemployed, and face major difficulties accessing adequate healthcare
If you wish to help in some way, please visit this link.
violence and abuse are widespread, fear is a regular part of trans community members' lives, and discrimination and harassment are far from uncommon.
Item:

 

The Northhampton, MA City Council voted to support An Act Relative to Transgender Equal Rights, which is currently referred to the Joint Committee on the Judiciary.
We are waiting, Massachusetts.
While I was preparing this, another item came through.