(4 pm. – promoted by ek hornbeck)
I was raised by the sea and seafood has been a main part of my diet. When I was a kid, my Dad and I spent weekends at the beach nearly year round. We would catch out own bate, fish, dig for clams and set crab traps near the sea wall that lined the inlet. That was back when the water was clean. now all of my seafood comes from the local supermarket that has an excellent department and a manager that is quite knowledgeable.
One of my favorite dishes is Crab cakes. Crab Cakes are an American dish composed of crab meat and various other ingredients, such as bread crumbs, milk, mayonnaise, eggs, yellow onions, and seasonings. Occasionally other ingredients such as red or green peppers or pink radishes are added, at which point the cake is then sautéed, baked, or grilled. They can be served on a bun or, as in the recipe here, on a bed of lettuce either as an appetizer of main dish depending on how big they're made. The ones in this recipe are sautéed.
Maryland Crab Cakes are the official food of The Preakness Stakes, the second jewel of the United States Triple Crown of Thoroughbred Racing, a horse race that is run on the third Saturday of May each year.
Crab Cakes with Herb Salad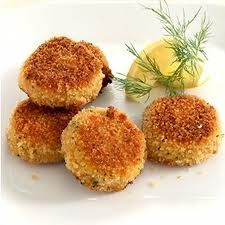 Ingredients

Vinaigrette

1/2 cup grapeseed oil (I use a good extra virgin olive oil)

1/4 cup fresh lemon juice

1 tablespoon minced fresh dill

1 tablespoon minced fresh tarragon

1 tablespoon minced fresh cilantro

1 tablespoon minced green onion

1/2 teaspoon Dijon mustard

Crab cakes

1/4 cup mayonnaise

1/4 cup minced green onions

2 large egg yolks

2 tablespoons fresh lemon juice

4 teaspoons minced fresh dill

4 teaspoons minced fresh tarragon

4 teaspoons minced fresh cilantro

1 tablespoon Dijon mustard

1 tablespoon finely grated lemon peel

1/4 teaspoon ground black pepper

1 pound blue crabmeat or Dungeness crabmeat

2 cups panko (Japanese breadcrumbs),* divided

2 tablespoons (or more) butter

2 tablespoons (or more) grapeseed oil (Canola oil is a good substitute)

2 5-ounce containers herb salad mix

Fresh dill sprigs

Fresh tarragon sprigs

Fresh cilantro sprigs

*Available in the Asian foods section of supermarkets and at Asian markets.

Preparation

For vinaigrette:

Whisk oil, lemon juice, dill, tarragon, cilantro, green onion, and mustard in small bowl. Season with salt and pepper. Do ahead Can be made 1 day ahead. Cover and chill.

For crab cakes:

Line baking sheet with waxed paper. Whisk first 10 ingredients in large bowl. Mix in crabmeat and 1 cup panko, breaking up crabmeat slightly. Let stand 10 minutes. Place remaining panko on rimmed baking sheet, spreading slightly. Form crab mixture into sixteen 2-inch-diameter patties, using about scant 1/4 cup for each. Press both sides of patties into panko. Transfer patties to waxed-paper-lined baking sheet. Cover and chill at least 1 hour and up to 1 day.

Melt 1 tablespoon butter with 1 tablespoon oil in each of 2 heavy large skillets over medium-high heat. Add crab cakes to skillets and cook until golden on both sides, adding more butter and oil as needed, about 5 minutes total.

Place salad mix in very large bowl. Add 1/2 cup vinaigrette; toss. Arrange crab cakes on platter. Garnish with herb sprigs, drizzle with some of remaining vinaigrette, and serve with salad.