(9 am. – promoted by ek hornbeck)
Cross posted from The Stars Hollow Gazette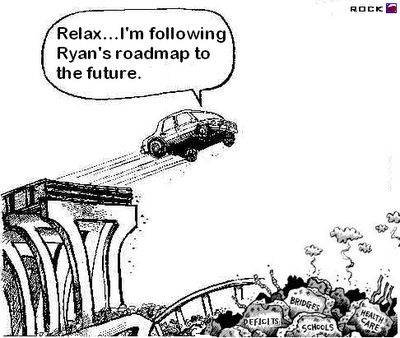 The Federal Government is being held hostage by a few radical right corporate puppets that want to destroy this country's social safety net and further shift the wealth from majority to the wealthy with more tax cuts for corporations, millionaires and estates and destroy Medicare and Mediciad for the elderly and neediest Americans. The assault is now be led by the pretty boy, Paul Ryan (R-WI), who defeated Russ Feingold in November (a lot of buyer's remorse in that state). Last night President Obama had a late night meeting with Senate Majority Leader, Harry Reid and Speaker of the House John Boehner with no success at a compromise to avoid a shut down of the federal government this weekend. For what's at stake here, Mike Lux hits it on the head, "All the hue and cry about this year's budget fight – whether or not we'll have a government shutdown; whether we'll cut $33 billion or $40 billion out of the remainder of this year's budget – is a minor sideshow compared to the implications of the Ryan budget."
Mike explains just what those some of those implications are for senior citizens:
With his proposal, Ryan will radically cut and privatize Medicare, ending the guarantee of health care to our senior citizens; radically cut Medicaid and throw it into a block-grant program that will end any guarantee of coverage for the poor, people with disabilities, and many, many children; deliver breathtakingly large tax cuts to the wealthy while raising taxes for the middle class. As far as I can tell, more than 90 percent of his cuts impact either low-income people or senior citizens who are currently middle class but might no longer be if these Social Security and Medicare cuts go through. As to who benefits, while some things remain vague (like which middle-class taxes will have to go up to cut down the revenue losses because of lower taxes in the high-end brackets), it is likely that more than 90 percent of the benefits go to the very wealthy, who not only get to keep their Bush tax cuts but get some big and lucrative new tax cuts besides. As Citizens for Tax Justice (pdf) notes, under Ryan's proposal, the federal government would collect $2 trillion less over the next decade, yet require the bottom 90 percent to actually pay higher taxes. Ryan leaves a lot details out, but if you read in between the lines, it is clear that the reason certain details are missing is because of how awful they are.

snip

Without Social Security, Medicare, and Medicaid, retirees would live in poverty, and family incomes would be wiped out trying to take care of parents, grandparents, and disabled family members. Without unions, wages and benefits would be ever more stagnant, or would decline in many sectors. Without student loans, fewer young and poor people would make it onto the first rungs of the ladder into the middle class. Without rebuilding our infrastructure and investing in our schools, fewer American businesses would be able to compete in the world economy. Without research and other government investments, the technological breakthroughs that have helped fuel our economic growth over the last 70 years would stop happening. And without some restraint on the power of multinational companies, our economy would be rocked by more financial collapses, and our pluralistic democracy will get more and more dysfunctional.
And this is what the callously, heartless, self centered, Tea Partier, Republican Eric Cantor said the other day:
So 50 percent of beneficiaries under the Social Security program use those moneys as their sole source of income. So we've got to protect today's seniors. But for the rest of us? Listen, we're going to grips with the fact that these programs cannot exist if we want America to be what we want America to be."
According to the Congressional Budget Office's (CBO) analysis of Ryan's plan:
The rest of it is even worse and pure fantasy that included "wildly optimistic revenue assumptions that dramatically changed the effect the plan would have on the federal debt."
OK, Barack, it's time for you to not cross that line you drew and stand up for the people.