(2 pm. – promoted by ek hornbeck)
Cross posted from The Stars Hollow Gazette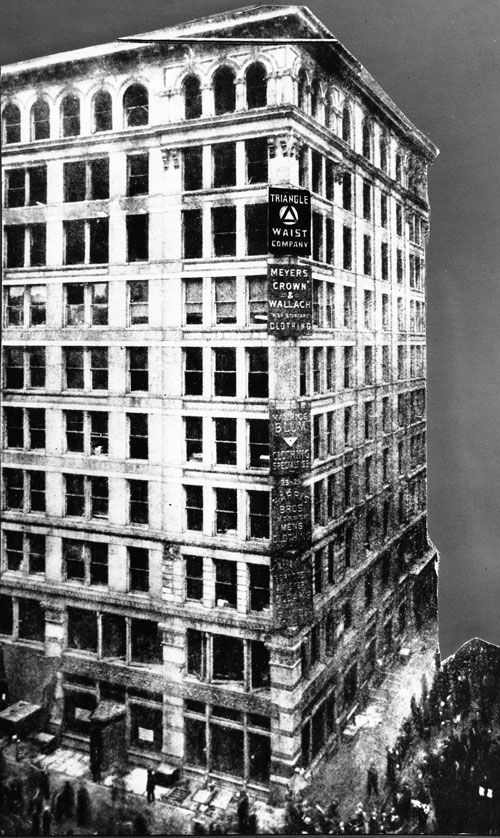 Some of the most important changes that resulted from the tragic deaths at the Triangle Shirtwaist Factory Fire were the reforms to work place health and safety conditions. Modern buildings now must conform to fire safety and occupancy standards. The Asch building  loft were 500 women labored at overcrowded worktables did not have a sprinkler system, the exits were inadequate and locked, the passages were narrow and blocked and the fire escapes were unsafe. The fire compelled New York City to create the Bureau of Fire Prevention, which required stairwells, fire alarms, extinguishers and hoses be installed in all buildings and regularly conducts building inspection to ensure compliance. The Bureau also determines maximum occupancy. The year after the fire the NY the legislature passed eight bills addressing workplace sanitation, injury on the job, rest periods and child labor. In 1913, the Factory Investigating Commission recommended that 25 new bills be passed mandating fireproof stairways and the safe construction of fire escapes, that doorways be a certain number of feet wide, and that older multi-storied buildings be inspected. In 1916, smoking was also outlawed in factories. Since then, major changes have happened with respect to a commercial or residential building's legal fire safety requirements. Commercial/residential establishments are mandated to provide adequate fire training to their staff apart from carrying out detailed fire risk assessments that allow them to identify any physical and behavioral fire hazards which can be eliminated to improve safety. There are similar laws in place all around the globe that require all necessary measures be taken to prevent avoidable fires and resulting injuries.
Frances Perkins, who would later become Franklin D. Roosevelt's Secretary of Labor, witnessed the women jumping from the windows that day. She would later comment that it was "the day the New Deal began." In the '30s, the New Deal included many of these provisions on the federal level. In 1933, Congress passed the National Industrial Recovery Act which also protected collective bargaining rights for unions.
These are just a few of the safety rules that resulted from that terrible day:
The law was instituted requiring employers to provide sprinklers for workplaces with more than 50 people.
Regulations require that enough exit stairways to accommodate all building occupants and direct passageways to those exits that are of minimum width. Additionally, all exit doors shall remain unlocked, requiring no special knowledge or tools to open.
Maximum occupancy regulations established occupant loads for building rooms under all probable conditions to prevent dangerous overcrowding.
Regulations for exits and openings created minimum 32in pathways and doors that open in the direction of travel, reducing the bottle neck effect that wasted precious minutes.
Fire drills for offices, apartment buildings, schools and health facilities train workers and occupants regularly for exit procedures, using audible alarms, visible exit signs, and off site gathering spots.
Organizers pushed for, and won, egress regulations for the workplace, creating continuous passageways, aisles and corridors for direct access to every available exit.
These reforms have resulted in a smaller risk of fires in the work place but the the fight for safer working conditions continues on other fronts
Occupational Fatalities 2008-2009
(click on image to enlarge)
Because of these reforms deaths from fires in the work place were drastically reduced. Unions now are focusing on other factors that affect work place safety. Now in states like Wisconsin, Michigan and Ohio, Republican dominated state legislatures are trying to end workers right to collective bargaining as an excuse to reduce state budgets while giving tax breaks to their corporate masters who financed their elections. Citizens are fighting back in court and at the ballot box with recalls and referendums. We must never forget what the 146 victims of Triangle represent. Ever.
Sources for this diary: