(5 pm. – promoted by DDadmin)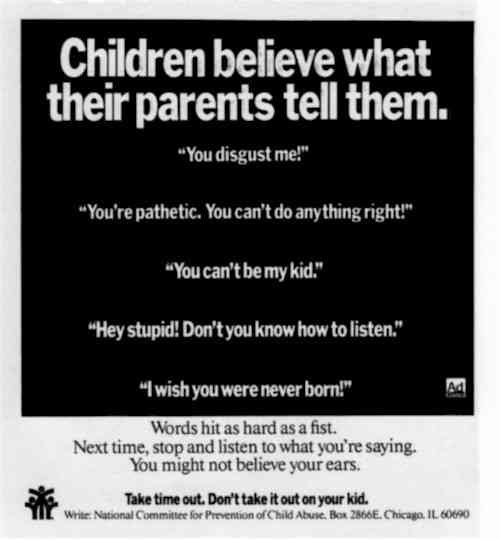 i saw this, or something very like it, at a health clinic when i was pregnant with our first child.

there were several live examples right there in the waiting room for me to observe.
it hit me hard.
words have meaning. words hurt.

verbal abuse is every bit as awful as physical abuse, if not moreso.

it lasts a lifetime while bruises & breaks heal.
words, mean words, hate speech, put downs, derogatory remarks, cuts….

does it really matter what its called?

its all the same

done to make another feel bad so that the speaker feels more… powerful?
but it causes damage.

not only to feelings. now.

but to self esteem. later.

to self worth… to what/how you believe in yourself…

what you think you can do… what value you put in your ideas….

& how you treat others
but the most horrible & insidious is from those with megaphones

spouting the hate, divisiveness & rhetoric

the BS lies that have been coming from both sides

both in politics and the media

those that give no thought to the laws of unintended consequences.
the jumping to conclusions

casting aspersions without proof

casting blame with nothing to back that up

pitting one group against another

painting people in a bad light

to cause fear, gain power, control the dialog

& calling it spin like that makes it any better
thinking is the antidote
being vocal when you see this happening….

whether in line at a store (speak up!)

something you see on a talk show

something you read in the paper or online
or some thing your friends, neighbors or politicians say
speak up.

send a REAL letter if you can.

especially to politicians & news shows.

yes e-mail/fax is easy & will work

but they are easily disregarded because millions can be stored on a laptop.
but REAL mail…?

that makes a tremendous statement.

if everyone who was outraged at some politicians hate speech & in the few next days he got 500,000 letters of castigation….

mail bag after mail bag, hundreds of thousands, even millions of letters being delivered to capitol hill and the white house as well as state houses, governor's offices and media outlets around the country…?

yeah that'd make a point.
& if its not your congressman…? write anyway.

AND send one to your reps castigating them for not speaking up.
WE must change the world.

one sternly worded letter at a time if need be.
because words hurt. and have consequences