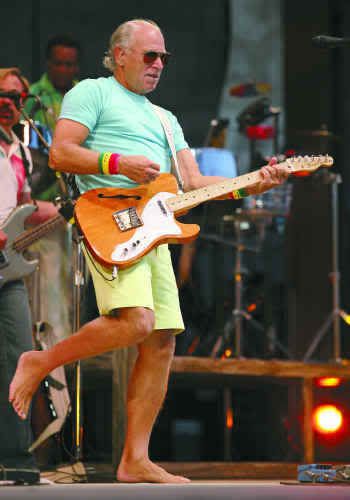 Jimmy Buffett falls off stage at Australia concert



By NEKESA MUMBI MOODY, AP Music Writer Nekesa Mumbi Moody, Ap Music Writer – 5 mins ago

NEW YORK – Jimmy Buffett fell off a stage at the end of a concert in Australia and was rushed to the hospital, but a representative for his sister said Wednesday the singer is doing fine.

Australia's Daily Telegraph reports that audience members saw the 64-year-old fall face first off the stage and hit his head at a concert in Sydney.

Buffett's manager then took the stage and urged fans to leave the auditorium, the Hordem Pavillion.

The singer was brought to Sydney's St. Vincent's Hospital, but is apparently doing well.

"Lucy spoke to his camp and he is doing fine, recovering, and will stay in the hospital overnight," said Johnny Fisher, the general manager for Lulu's, the restaurant Lucy Buffett owns in Gulf Shores, Ala. He added that Buffett had a CAT scan that was normal. He added that updates would be available on the singer's website.

The concert was Buffett's fifth and last in Sydney on his current tour.
ok.

i know this is horrible, as any accident is….

but

i just "saw" jimmy buffett going face first into the crowd, arms & legs flailing about

& i was just ROFLMDFHAO

my next thought was
i wonder what he was singing?