( – promoted by buhdydharma )
There have been a couple of diaries which discussed, in whole or in part, the incident involving the Latin King Goonies.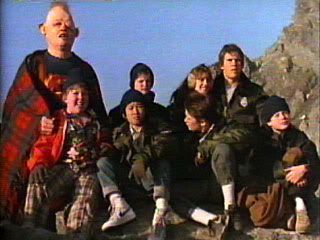 It would be so nice to believe that with the name Goonies involved, this would have been about something somewhat amusing…rather than out and out horrific. Last Sunday nine members of that street gang kidnapped and tortured three gay men, sodomizing at least two of them with a toilet plunger and a miniature baseball bat, robbed and beat the brother of one of the victims in a home invasion, and forced one of the victims to burn one of the others with a cigarette on a nipple and his penis, while they stood around and laughed.
It almost makes a person hope that the real Latin Kings took enough offense at these guys to really do something about them.
The 17-year-old] "was thrown into a wall, made to strip naked, hit in the head with a beer can, cut with a box cutter, and sodomized with the wooden handle of a plunger," NYPD Commissioner Ray Kelly said. Police said the gang questioned the teen about his contact with a 30-year-old man, and then let him go with a warning not to call police. Two other brutal attacks would follow – first on another 17-year-old, and then the 30-year-old himself, who was allegedly lured to the scene. "He was forced to strip to his underwear and then tied to a chair opposite from the teenager. The teenager, at the direction of his assailants, hit the older male several times in the face and burned him with a cigarette. The assailants also hit the man with their fists and a chain, and sodomized him with a small baseball bat," Kelly said.
The seven arrested included the gang's leader. They ranged in age from 16 to 23. Two more suspects, Elmer Confessor, 23, and Ruddy Vargas-Perez, 22, are still being sought.
It's just sickening. At least the words "hate crime" are being used surrounding these events. One can only hope that these felons are actually charged with them.
Sources: