(9AM EST – promoted by Nightprowlkitty)
A dream you dream alone is only a dream. A dream you dream together is reality.

-John Lennon
If you live in or near New York City tomorrow would be a great day to come here. It will be around 72° and sunny in Central Park and if you go to Strawberry Fields, you would witness an amazing event, people powered music.
I like to think of it as the greatest cover band of all time because it is a gathering of people just singing and remembering the life and times of John Lennon. I like to think of it as a day of inspiration because some of those people singing lyrics for peace and love were not even born on John Lennon's final birthday.
I have trouble trying to capture the emotion and inspiration of these events in words but I've been to many and I've captured the event in photos several times. Below the fold are pictures from the last of these gatherings. In some ways it feels like going back in time.
If someone thinks that love and peace is a cliche that must have been left behind in the Sixties, that's his problem. Love and peace are eternal.

-John Lennon
I should explain what Strawberry Fields means to many New Yorkers. Across the street from where John and Yoko lived, it was once the couple's favorite spot in Central Park. Renamed Strawberry Fields and relandscaped by a gift from Yoko to the city of New York, this tiny patch of Central Park now stands as a dedication to John Lennon and for many a tribute to peace activism.
There is not a statue or monument but a mosaic around the word "Imagine." People tend to just show up at this peaceful circle year round and pay their respects by dropping of flowers or some small memory.
Twice a year, on John Lennon's birthday and the anniversary of his death, it becomes a special event. The mosaic is heavily decorated with mementos as the day goes on and we gather around the circle of tiles to sing into the night.
Some people come back every year. Some are there for the first time. I like to imagine that all the people who gather there year round, even the tourist getting off the tour buses for a photo, go there to imagine a world with John Lennon and without war. On those two days I know this to be true because I actually know the people who come back each year. Getting off the subway last year on December 8th, three people to walk to Central Park with.
It doesn't seem to be a very large gathering when you consider the surrounding population.
But it is very impressive to see and talk with so many.
The view with the Dakota in the background, where there is also a group of people mourning on the December day each year. Thirty years later there there will still be a candlelight vigil at the entrance to the Dakota.
The mosaic at around noontime.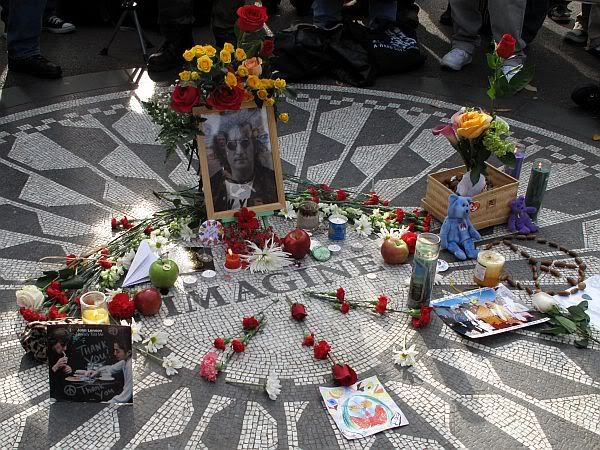 Gary, the Mayor of Strawberry Fields. He is sort of like the artistic director of the mosaic.
Gary arranging the new flowers that people bring when the crowd is still small.
Some of the regular musicians that show up every year. I think they were singing "Give Peace a Chance" here.
The fact that this gathering is people of all ages is what I've always found most impressive. The message lives.
Two beautiful young ladies, sisters that I introduced myself to and got to have a long talk with their Mom. Samantha and Kay were singing all morning. Then they took center stage and Kay borrowed a guitar to play a few Lennon tunes. One of her songs was "Come Together" and there was not a dry eye in the house.
The Mosaic later in afternoon.
And the band plays on.
As the day goes on every song John Lennon ever sang gets played over and over. Actually if you stay long enough you will hear everything by all of the Beatles. Strawberry Fields has a very special meaning here and you can hear a pin drop for "The Long and Winding Road." Sometimes the second performance of the same song is an entirely different event from the first. Sometimes it is one regular members of the band with everyone just listening or humming along, sometimes it is a guest soloist, more often it is just a big sing along. There is something very powerful about people powered music.
It seems that when we do "Give Peace a Chance" the singing can be heard on all the way over on the East Side but "Imagine" only seems to make it across the lake to the Angel Bethesda. The Angel of the Water who descended on the temple square in Jerusalem and touched down just one angelic foot to the earth. As legend has it, a fountain shot up from the ground where her foot touched and if anyone who was suffering in the body or the spirit walked through the waters of Bethesda they would be healed, washed clean of pain an suffering. When the Romans destroyed the temple, that fountain ran dry.
During the December gathering each year the most moving song seems to be "Happy Xmas (War Is Over)" but at each gathering there is one song that sticks out as the most powerful. It is a song that was not written by John Lennon. I thin the power of "Stand By Me" can be found in the fact that the meaning has changed since John Lennon covered it.
When the night has come

And the land is dark

And the moon is the only light we'll see

No I won't be afraid, no I won't be afraid

Just as long as you stand, stand by me
For me it will always be "Imagine" and hearing people who were not even born during John Lennon's lifetime, people who can still be dreamers dreaming for me because I know the temple was destroyed a long time ago. Imagine" is also always the song when I decide to leave with a tear in my eye. The same faces say "Goodbye for now" and "God bless you for coming" each year. I hope to see all those familiar faces and some new ones on tomorrow, a day that I so wish could be John Lennon's seventieth birthday.
Tomorrow I will stay later than usual. At 7 p.m. there will be a free screening of the documentary LENNONYC at Summersatge in Central Park. The film focuses on the last decade of Lennon's life, those ten years that he called himself a New Yorker. The American Masters film, directed by Michael Epstein, follows Lennon as he explores the city's art scene, struggles against deportation and his years as a full time father on the Upper West Side.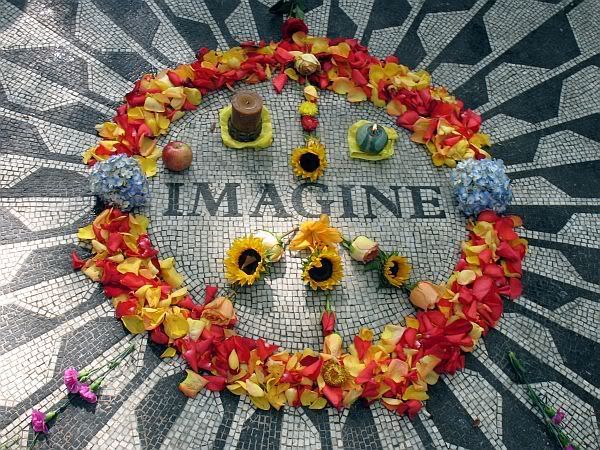 It will be a good day to remember. If you can, than you should come see what happens there, Come Together.