(11AM EST – promoted by Nightprowlkitty)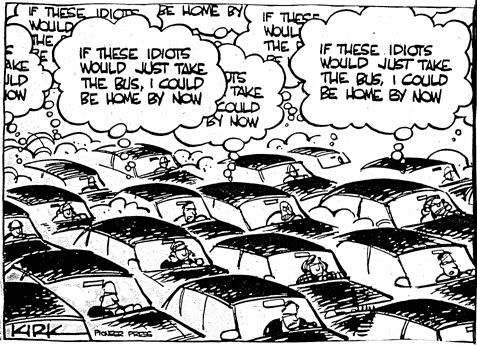 They are unfeeling metal monsters. They've taken over the world. They have us surrounded. They're everywhere. They remorselessly kill and maim more people every year, at least in North America, than all the terrorists ever dreamed of in all the worst nightmares sold to us by politicians, and in all the wars going on around the world.
They are bankrupting our economy and destroying our planet. They show no respect for human life. There's a good chance one or more of them will kill you or someone in your family soon, if they haven't already done so.
They are dirty bombs that have polluted and poisoned the entire earth. Besides our homes, they consume the largest part of our disposable income, and produce the largest portion of the personal debt carried by most people.
Yet over the past century they have become our life. We can't live with them. But we can't live without them, it seems.
When the Apollo astronauts were making their trips to the moon in our first foray to another astronomical body, one of the first things they took with them was.. a car. A car. To the moon, for fucks sake.
They divide us from each other, and make us hate each other. But we love them. Even though they kill us.
They're not just part of popular culture, there can probably be good arguments made that they are our culture. We all want to own one, and some of us own as many as we can, but in reality they own us, and we organize our lives around them.
But we sure love our cars. So much so that many of us even lose our virginity in them. Many of us have certainly lost our innocence in them.
And ever faster and faster, we're going nowhere except to hell in them.
Managing the health effects of climate change (.PDF)



expand image
The first image shows the world in terms of carbon emissions. America, for instance, is huge. So is China. And Europe. Africa is hardly visible.
The second map shows the world in terms of increased mortality — that is to say, deaths — from climate change. Suddenly, America virtually disappears. So does Europe. Africa, however, is grotesquely distended. South Asia inflates.