(9AM EST – promoted by Nightprowlkitty)
in case you missed it …


http://www.youtube.com/watch?v…
Wall Street Wizard, Anthony Scaramucci, complained like a baby to the President yesterday:
I represent the Wall Street community. We have felt like a Piñata. […] we certainly feel like we've been whacked with a stick.
Waaaaaa!! ….
I bet, The 8 million people who lost their jobs (or homes) are about to …
The 8 million people who lost their jobs (or homes) …

because of shady Wall Street Derivatives bets on Mortgages, are probably about looking for a stick about now …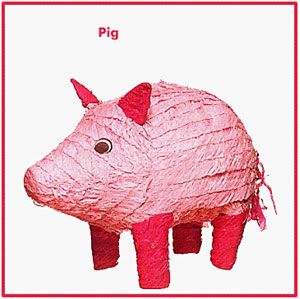 Kudos to Obama, for standing up for Main Street!
Here's the President, standing his ground — our ground — against the Big Piggies of Greed:
The White House
Office of the Press Secretary

For Immediate Release

September 20, 2010

Remarks by the President at CNBC Town Hall Discussion on Jobs

Newseum, Washington, D.C.
[…]

MR. HARWOOD: Let's go to Anthony Scaramucci, who is familiar to some viewers of our network because he appears on CNBC as a hedge fund manager.

Anthony Scaramucci: […] Listen, I represent the Wall Street community. We have felt like a piñata. Maybe you don't feel like you're whacking us with a stick, but we certainly feel like we've been whacked with a stick. So I certainly think that Main Street and Wall Street are connected, and if we're going to heal the society and make the economy better, how are we going to work towards that, healing Wall Street and Main Street?

[…]

THE PRESIDENT: On the first question, I think it would be useful to go back and look at the speeches that I've made, including a speech, by the way, I made back in 2007 on Wall Street before Lehmans had gone under, in which I warned about a potential crisis if we didn't start reforming practices on Wall Street.

At the time, I said exactly what you said, which is Wall Street and Main Street are connected. We need a vibrant, vital financial sector that is investing in businesses, investing in jobs, investing in our people, providing consumers loans so they can buy products — all that is very important and we want that to thrive. But we've got to do so in a responsible way.

Now, I had been amused over the last couple years — this sense of somehow me beating up on Wall Street — I think most folks on Main Street feel like they got beat up on — (applause) — and I'll be honest with you, there's probably a big chunk of the country —

Q But people connect us —

THE PRESIDENT: Hold on a second — there's a big chunk of the country that thinks that I have been too soft on Wall Street. (Applause.) That's probably the majority, not the minority.

Now, what I've tried to do is just try to be practical. I'm sure that at any given point over the last two years, there have been times where I have been frustrated, and I'll give you some examples. I mean, when I hear folks who say that somehow we're being too tough on Wall Street, but after a huge crisis, the top 25 hedge fund managers took home a billion dollars in income that year — $1 billion. That's the average for the top 25, which is —

MR. HARWOOD: And yet Forbes Magazine puts on their cover a story saying, "he has an anti-colonial attitude" — or Steve Schwarzman, a big figure on Wall Street, says, "their approach to the financial regulation and taxation is like Hitler invading Poland." Where does that come from?

THE PRESIDENT: I don't know where that comes from. That's my point. I guess — it is a two-way street. If you're making a billion a year, after a very bad financial crisis where 8 million people lost their jobs and small businesses can't get loans, then I think that you shouldn't be feeling put upon. The question should be how can we work with you to continue to grow the economy.

A big source of frustration — this quote that you just said, this was me acting like Hitler going into Poland, had to do with a proposal to change a rule called "carried interest," which basically allows hedge fund managers to get taxed at 15 percent on their income. Now, everybody else is getting taxed at a lot more. (Laughter.) The secretary of the hedge fund is probably being taxed at 25, 28 — right? And these folks are making — getting taxed at 15.

Now, there are complicated economic arguments as to why this isn't really income, this is more like capital gains, and so forth, which is a fair argument to have. I have no problem having that argument with hedge fund managers, many of whom I know and went to school with. And I respect their business acumen. But the notion that somehow me saying maybe you should be taxed more like your secretary, when you're pulling home a billion dollars or a hundred million dollars a year, I don't think is me being extremist or being anti-business. (Applause.) And that's the confusion we get into.
[emphasis added by diarist]
It was great to hear Obama stand up in defense of Main Street and average folks, in the face of that "Wall Street's Rep" whining and bitterness and unapologetic Greed.
Afterall THEY have gotten all the Bailout Breaks, as designed by GW Bush and Hank Paulson —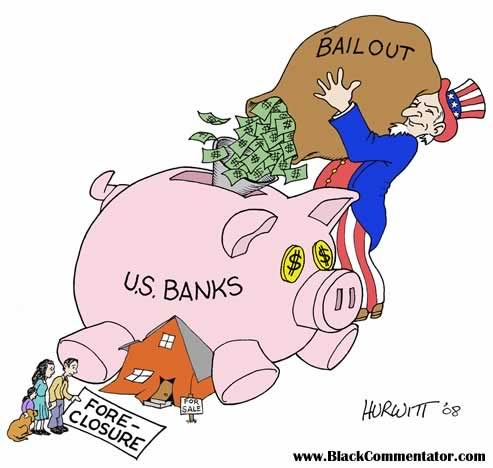 While the American People have gotten all the Grief, due to the Wall Street careless bets with the Nation's future — due to their turning our Mortgages into "Monopoly" Money.
Not only should Wall Street Hedge Fund Managers have their Tax Rate raised to match their workers — from 15% to 28% —
They should be compelled to re-invest some of those Bailout Billions, into helping to restore American Jobs and Small Businesses, jobs and lives, that their careless greed only managed to destroy!
To Downsize. To Outsource.
Wall Street needs to learn to stop leeching — and start re-building, and cleaning up the mess that their creative financing has made!
================
H/T to Randi Rhodes, for pointing out the irony of this Wall Street Whiner, for having the gall to complain, after all the American People have done — to help save them from the Derivative Brink.
Oh! The unmitigated nerve of the Billion Dollar Babies.
They stubbed their Toe, and got an Owie!
Poor Babies! …