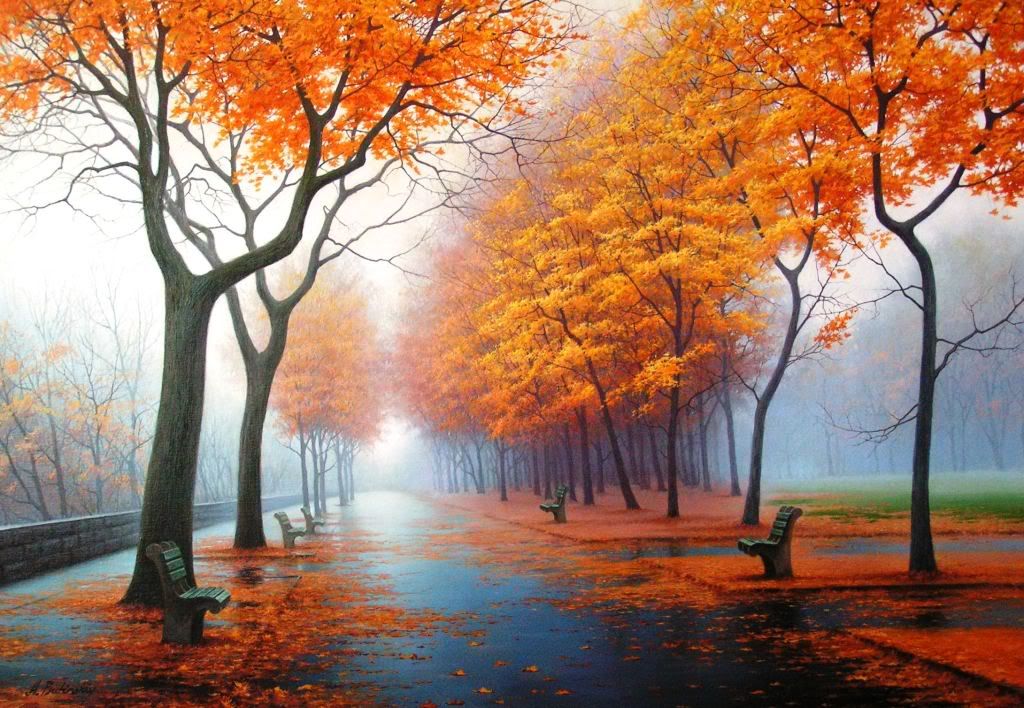 The calendar reminds us that only four days of summer remain and that the autumnal equinox will soon be upon us, ushering in a new season, one of stunning, but all too often ephemeral beauty. Children have returned to school, football season (for better or worse) is again upon us, the slow march to the World Series will soon begin, leaves await raking and the days will become ever more fleeting. Daylight, so recently abundant, will become an ever more precious commodity during the months ahead. Cooler nights portend the promise of a better night's sleep as hopes for a lengthy Indian summer spring anew.
Some mourn the passing of summer during this time of the year while others celebrate the arrival of dramatic changes that will soon grace our surroundings. Contrary to the sentiments of many, the season that lies ahead is this writer's favorite, despite its fickle, temperamental nature. Fall color awakens those primeval stirrings to travel to distant locales, to imbibe the pleasures of nature's last hurrah before retiring for its long winter's sleep.
Successfully timing such a pilgrimage can render the task of threading a moving needle in a dark room while wearing mittens seem easy by comparison. The greenery may continue for much longer than anticipated, awaiting that transformative initial nighttime frost, painting the countryside with bright yellows, oranges, reds, and magenta hues, accented by more subtle browns and greens. If one is extremely fortunate, a light overnight dusting of snow and a bright, robin's egg blue sky may present a rare photo opportunity, an opportunity that tempts even the most dedicated to suddenly cancel any and all pre-existing plans.
This show may last a few days or in rare cases, weeks, until a windy rainstorm instantaneously repaints the countryside a dull, sepia-toned palette, the monotones interrupted only by the ubiquitous profusion of campaign signs, many intended to ignite fear and loathing of the candidate's opponent.
One strategy worth considering is that of traveling to an area where significant variations in elevation are present, so that even if the mountain tops are bare, as one descends toward a nearby lake or river valley, it may be possible to view a succession of late color, peak color, early color and eventually greenery at the lowest elevations. Traveling from north to south, following the color as it marches toward the equator represents another approach worthy of consideration. Perhaps above all it is important to remain flexible, keeping some rainy day options in reserve, such as art museums or casinos, depending upon one's preferences and tastes.
This week's selection was originally a 1945 French song written by Joseph Kosma, with lyrics by poet Jacques Prévert. Yves Montand (with Irene Joachim) introduced this song in the 1946 film "Les Portes de la Nuit", which translates into "The Gates of Night."
Johnny Mercer penned English lyrics in 1947, which was first performed by Jo Stafford. It soon became a pop and jazz standard in French and English. A 1955 cover version of this song would later become the only piano instrumental ever to reach the #1 slot, retaining that lofty ranking for four consecutive weeks.
This sad and beautiful song has since been recorded and interpreted by numerous musicians in a variety of musical styles, having long been a jazz and pop standard, whether with and without vocals.
The original title of the song from 1945 was "Les Feuilles Mortes", which literally translates into "The Dead Leaves."
Having probably telegraphed the identity of this week's song already, without further ado, the selection du jour is that perennial classic, "Autumn Leaves"…
Yves Montand (w/Irena Joachim) introduced the French language version of "Autumn Leaves" in 1946, as part of the French film "Les Portes de la Nuit."
Jo Stafford's lengthy career extended from the late 1930s to the early 1960s, primarily performing traditional pop and jazz standards. She was lauded as one of the most versatile vocalists of the era. Stafford was considered to be a pioneer in the genre of modern musical parody, garnering a Grammy Award in 1961 for Best Comedy Album, recorded with her husband, Paul Weston, for their album "Jonathan and Darlene Edwards in Paris." She was also the first woman to achieve a #1 hit song on the UK Singles chart. From 1947…
On December 24, 1950, French singer Edith Piaf, rendered both French and English versions of this song on the radio programme "The Big Show", hosted by Tallulah Bankhead. Prior to the performance, Piaf chats and jokes briefly with Bankhead, Margaret O'Brien and Ed Wynn…
The renowned composer Michel Legrand performs on the piano and is joined by vocalist Nana Mouskouri (1954?)…
In 1955, Roger Williams' recorded the only piano instrumental to ever reach #1 on the Billboard Hot 100 charts with this performance from August 23, 1955…
Jackie Gleason was not only a great actor, but he was also a very talented musician. His first album, "Music for Lovers Only", still holds the record for duration on the Billboard Top Ten charts (i.e., 153 weeks). His first ten albums all sold more than one million copies. Although he could not read or write music in a conventional sense, he would conceive melodies in his head and then describe them to his assistants. Gleason took the role of lead performer in the musical "Take Me Along", garnering a Tony Award for Best Performance by a Leading Actor in a Musical. The extent of Gleason's role, beyond that of initially conceptualizing the musical arrangements has since been subject to protracted debate. Here is his rendition of "Autumn Leaves" from his very first album, from 1956…
The 1956 film "Autumn Leaves" starred Joan Crawford and featured a segment of the following recording by the venerable Nat King Cole, which was featured during the opening credits of the film…
Doris Day, that 1950s icon of wholesomeness and innocence, turned in a fine vocal performance on her album, "Day by Day", which was released under the Columbia Records label on December 17, 1956…
Frank Sinatra's success as a solo artist was surpassed only by Elvis Presley and Michael Jackson. Here is his rendition of "Autumn Leaves" from 1957…
Hailed at one of the best jazz albums of all time, the 1958 album by Cannonball Adderly, "Somethin' Else", included an all-star cast of Adderly, Miles Davis on trumpet, Hank Jones in piano, Sam Jones on bass and Art Blakey on drums. This album was regarded as a landmark album in the bop and cool styles. This was but one of the few recordings of Miles Davis' work under the Blue Note Records label…
Ferrante & Teicher (1961) forward the proposition that two pianos are better than one…
Here is yet another cover version by an all-star cast that includes Chet Baker (trumpet), Paul Desmond (alto sax), Hubert Laws (flute), Bob James (keyboard), Ron Carter (contrabass) and Steve Gadd (drums). From 1969…
Pianist extraordinaire Oscar Peterson combines his talents with the Stephane Grapelli combo in this live performance from Paris in 1973…
French pianist Philippe Pagès, better known as Richard Clayderman has recorded over 1,200 melodies and created a new romantic style through a repertoire combining his trademark originals with classics and pop standards. He maintains an active concert schedule, having played as many as 200 shows over a 250 day stretch. Worldwide sales as of 2006 exceeded 70 million, along with 267 Gold and 70 Platinum discs to his credit. Clayderman is also popular in Asia, and is cited by the Guinness Book of World Records as "the most successful pianist in the world." From 1982…
Keith Jarrett on jazz piano is ably assisted by Jack DeJohnette on the double bass and Gary Peacock on percussion. If I'm guessing correctly, this was a live performance at the Philharmonic Hall in Munich from July 13, 1986…
The Stanley Jordan trio features some very impressive guitar and bass work, as performed during a special edition of "Austin City Limits" in 1989…
Ralph Sharon (piano), Paul Langosch (bass) and Joe LaBarbera (drums) turn in a fine performance at London's Prince Edward Theatre in 1991…
Here is a Coldcut dance version of "Autumn Leaves", along with a remix by Irresistable Force from 1994, which became widely regarded as a classic from the chillout genre…
Eva Cassidy turned in this spare, but haunting performance during August of 1996,as captured on her "Live at Blues Alley" album…
The great Stan Getz turns in a fine jazz instrumental performance on October 28, 1997…
The renowned tenor Andrea Bocelli changes pace in this remarkable performance on stage with his fiancée in Tuscany, Italy. Performed January 31, 2006…
European pianist/arranger Alfonso Gugliucci performs here as part of a jazz trio, turning in a great performance. Check the opening comment for his solo version. From 2007…
Petula Clark first appeared on the Billboard Top 40 charts on January 2, 1965, with her recording of "Downtown", which remained on the charts for thirteen weeks, occupying the #1 slot for two consecutive weeks. She would go on to place fourteen more songs on the Top 40 charts before the conclusion of 1968. Here she performs a French and English version of "Autumn Leaves" on "The Alan Titchmarsh Show" on October 2, 2007, just one month shy of her 75th birthday…
Danny Williams (1942-2005) was born in South Africa and started his singing career in England, billed as "Britain's Johnny Mathis" for his ability to deliver a fine ballad. His version of "Moon River" was hailed by many as the definitive version and so impressed Nat King Cole that he declined to record the song since he regarded Williams' version as unsurpassable. Williams died from lung cancer at the age of 63 in 2005. Here is his rendition of "Autumn Leaves", posted on September 23, 2007…
Georgic Avanesian performs "Autumn Leaves" on his Gibson L-4 jazz guitar. Posted June 7, 2008…
Loading ...