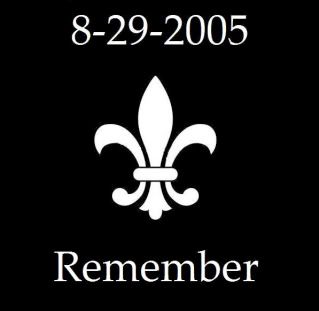 What happened in New Orleans on August 29, 2005 was not a result of global warming. It was a result of human fuckery. It was the result of the Army Corps of Engineers' lack of competence in building and maintaining the levees.
Never forget that.
Too many people have forgotten that, or never knew to begin with.
It's important.
The G Bitch Spot's post from last year's anniversary (this year, her only comment is "I don't even want to talk about it.") explains:
The day before The Disasterversary, I got an email asking me to sign onto a climate-related petition. Even though I have stopped myself from doing this – I have a long history of rabid letter-writing – I had to email the folks sponsoring the petition:

Though I can't blame you for using the anniversary of the flooding of New Orleans [also known as "Katrina"] to get attention for climate legislation, your organization is doing New Orleans, yourselves, and the country a disservice by basing this campaign on a lie. Katrina the hurricane did not flood New Orleans. Katrina was a weak 3 when she hit New Orleans; Katrina DID devastate the Mississippi Gulf Coast and the southernmost parts of Louisiana. New Orleans flooded because the Army Corps of Engineers built levees they knew were faulty. Those levees failed after the hurricane passed and flooded over 80% of the city.

Why does this point of distinction matter? Because many US citizens live near some kind of Army Corps of Engineers project, if not near levees and dams built by ACoE. The faulty thinking and contracts behind the disaster in New Orleans are also involved in every other ACoE project in this country.

Coastal restoration-yes! Armored, fortified levees-yes! Katrina flooded New Orleans-NO!
(emphasis in original)
"Many US citizens live near some kind of Army Corps of Engineers project …"
Remember. Please.