(11AM EST – promoted by Nightprowlkitty)
The post-stimulus economic data are converging. Jobs are sucking harder than a hobo at Rose 'a Sharon's tit, and the GDP, money supply (credit), and housing are all tanking. On top of it all, people are feeling downright miserly and cantankerous. Murderous, even.
Let's take a look at the Consumer Metric Institute's Growth Index, which bases its data exclusively on the 70% of US GDP driven by consumers, and which over the past five years has done a remarkable job as a leading indicator of GDP. Here, the CMI is overlain with GDP and the S&P 500.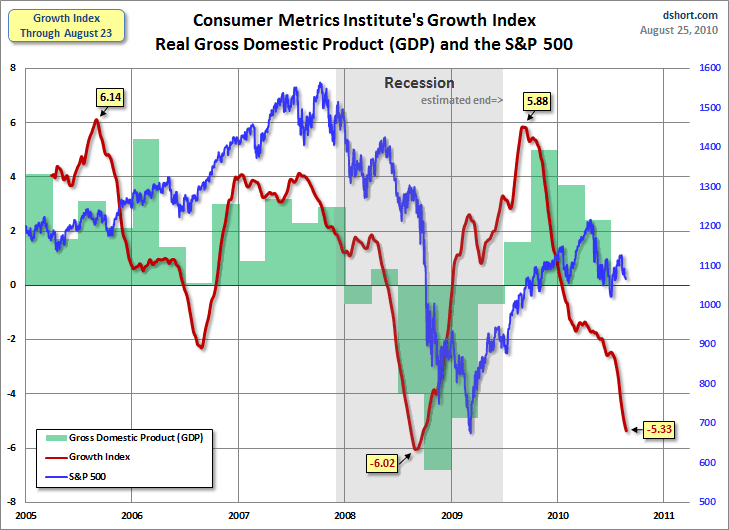 Let's go to Ilargi at The Automatic Earth for the plain-spoken version of econo-speak:
Still, if you look closely, and you shift the CMI Growth Index forward by one quarter, and the S&P backward by the same amount, relative to GDP, so you get a more or less correct alignment of peaks and troughs, there can be only one conclusion: the 91-day Trailing Index, which is a leading indicator, foresees a huge drop in both GDP and the stock market in the months ahead.

snip

As per this morning, the discrepancy between US GDP (official estimate still +2.45%) and CMI Growth Index (-5.25%) is a staggering 7.7%!. And then look at how closely the two are correlated in the graphs. They're almost perfect twins. Until now?!

Something evidently has to give here, and it won't be the American consumer, that much we have seen, (s)he ain't giving much, if anything, of what (s)he's got left. And both the government and the Fed, try as they might, and they certainly will try, have very limited influence on that American consumer, the protagonist in 70% of GDP, and her/his faith in the future. Once that faith begins to wane, and there can be little doubt that it is, it will start feeding on itself on the way down.

If we get anywhere near what the CMI data (seem to) foresee, we'll have drama, tragedy, mayhem and panic all wrapped in one neat package. The US economy cannot withstand anything even near that sort of fall and pretend the world is still the same.
I'm sympathetic to those who are white-knuckling the prospects of a seething Wingnut majority in the House, as I prefer pseudo-psychos to 220-lb shit-house rats experiencing the post-inhibitory rebound of wingnut furor.