(10AM EST – promoted by Nightprowlkitty)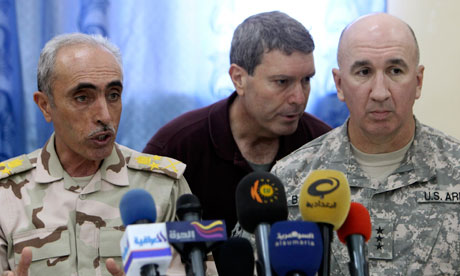 Iraqi Army Chief of Staff Lieutenant General Babakir Zebari, US Lieutenant General Michael Barbero, and unidentified Blackwater bodyguard-zombie-cannibal
Iraq's Top General Says US Army Must Remain Until 2020
"If I were asked about the withdrawal, I would say to politicians: the US army must stay until the Iraqi army is fully ready in 2020."
Ready for what?
But Reuters military analyst Adil al-Azawi actually answered that question.
"The statement of Lieutenant General Babakir Zebari is professional and has a high degree of credibility," said Azawi, a former army colonel. "The Iraqi army does not have even 20 percent of the arms of the armies of neighboring countries."

For example, Iraq has ordered 140 Abrams tanks but got its first shipment of 11 just recently.
So apparently the the ultimate outcome of US intervention in Iraq after ten more years will be replacing Saddam's rust-bucket army and Soviet-era tanks with a state-of-the art miltary establishment capable of defending itself or attacking neighboring countries…
…like Kuwait, and that brings us back to our future of endless idiocy and senseless wars.