Welcome to this week's Health and Fitness. This is an Open Thread.
The Other Brown Rice: Basmati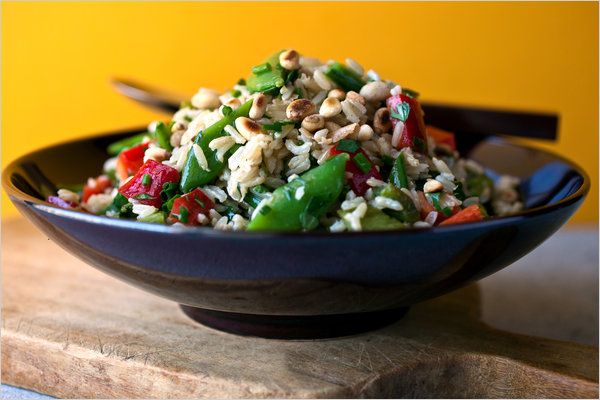 Brown Basmati Rice Salad With Roasted Poblanos and Cumin Vinaigrette
Green Rice
Fried Basmati Brown Rice With Chicken and Vegetables
Swiss Chard, Spinach and Rice Gratin
Black Beans and Rice
As is now custom, I'll try to include the more interesting and pertinent articles that will help the community awareness of their health and bodies. This essay will not be posted anywhere else due to constraints on my time. Please feel free to make suggestions for improvement and ask questions, I'll answer as best I can.
General Medicine/Family Medical
Air pollution may help trigger cardiac arrest
(Reuters Health) – The dirtier the air, the more likely people are to suffer sudden cardiac arrest, new research from Australia shows.

Particulate matter — tiny specks of soot, dust, and other pollutants in the air that can be breathed deep into the lungs — has been "consistently" linked to increases in deaths from heart disease and clogged arteries, Dr. Martine Dennekamp of Monash University in Melbourne and her colleagues note.
Cancer will kill 13.2 million a year by 2030: U.N.
(Reuters) – Cancer will kill more than 13.2 million people a year by 2030, almost double the number who died from the disease in 2008, the United Nations' cancer research agency said on Tuesday.

The International Agency for Research on Cancer (IARC) also said that almost 21.4 million new cases of the disease will be diagnosed annually in 2030.
Obesity and asthma are linked: study
(Reuters Health) – A new study confirms a link between obesity and asthma.

A number of studies have shown an association between obesity and asthma, both of which have become much more common over the past three decades, Dr. Jun Ma of the Palo Alto Medical Research Institute in California note in the medical journal Allergy.
Are you risking your spine riding a mountain bike?
(Reuters Health) – High speeds, extreme terrain and long vertical drops might be making the increasingly popular sport of mountain biking as risky as football, diving and cheerleading, suggests a new study.

The findings warn that taking two wheels to the trails invites the danger of a spinal injury. One of every six cases reviewed was severe enough to result in complete paralysis.

"People need to know that the activities they choose to engage in may carry with them unique and specific risks," Dr. Marcel Dvorak, of the University of British Columbia in Canada, told Reuters Health by email. "Helmets will not protect you from these injuries, nor will wearing Ninja Turtle-like body armor."
Laser therapy may ease type of eczema
Reuters Health) – Laser therapy that delivers a concentrated beam of ultraviolet light may help ease a hard-to-treat form of eczema, a small study suggests.

The study, published in the British Journal of Dermatology, compared the effects of laser therapy versus corticosteroid ointment in 13 patients with what is known as the prurigo form of atopic dermatitis.
medical researchers to team up on cancer
(Reuters) – Particle physicists and medical scientists are to combine efforts to develop early detection techniques and advanced treatments for cancer as spin-offs from research into the origins and make-up of the universe.

The CERN European nuclear research organization, home to the world's largest particle collider, the LHC, said on Thursday the program would explore new ways of fighting cancer by ensuring doctors and physicists work together rather than in isolation.
Half doses of diabetes drugs can prevent disease
(Reuters) – Low doses of GlaxoSmithKline's diabetes drug Avandia combined with metformin can prevent diabetes without causing the most common side-effects, Canadian doctors reported on Wednesday.

Taking half a dose of Glaxo's combination pill reduced by two-thirds the risk that patients would go from having high blood sugar — pre-diabetes — to full type-2 diabetes, the researchers reported in the Lancet medical journal.
Butt test shows U.S. cigarettes high in chemicals
(
Reuters) – Americans inhale more cancer-causing agents with their cigarettes, probably because of the tobacco blend, while smokers in Canada, Britain and Australia get less, U.S. researchers reported on Tuesday.

Their unique study also demonstrated that the amounts of these carcinogens in a smoker's cigarette butts directly correlated with tell-tale compounds in the smoker's urine.

The study, published in the June issue of Cancer Epidemiology, Biomarkers and Prevention, can help researchers trying to trace the harmful effects of smoking
.
Study confirms link between migraines and stroke
(Reuters Health) – People who suffer migraines are about twice as likely as people without the painful headaches to suffer a stroke caused by a blood clot, a new research review finds.

The analysis, which combined the results of 21 previous studies, confirms a connection between migraines and ischemic stroke — the most common form of stroke, occurring when a clot disrupts blood flow to the brain.

Across the studies, migraine sufferers were about twice as likely to suffer an ischemic stroke as people without migraines, according to findings published in the American Journal of Medicine.
Vaccine against deadly brain cancer shows promise
(Reuters) – A small, early-stage trial of a therapeutic brain cancer vaccine developed by ImmunoCellular Therapeutics Ltd showed that nearly half the patients were alive without their cancer worsening 18 months after diagnosis, the company said on Wednesday.

The Phase 1 trial involved 16 patients with glioblastoma multiforme, the most common and deadly form of brain cancer.

They were treated with ICT-107, an experimental dendritic cell based cancer vaccine, following the standard care of surgery, radiation and chemotherapy.
Many Stroke Patients Don't Get Quick Treatment
June 3, 2010 — About one in four patients makes it to the hospital during a stroke within an hour of the onset of symptoms — the optimal time for treatment with clot-busting drugs, a study shows.

But just one in five of these patients who were candidates for the treatment actually got it within an hour of hospital arrival.

Most strokes are caused by blood clots that block the flow of blood to the brain. Clot-busting tPa drugs help dissolve these blood clots, but prompt treatment is critical.

The drugs can be used up to 4 and 1/2 hours after stroke symptoms first occur, and national guidelines call for the treatment of eligible patients within 60 minutes of arrival at the hospital.
Warnings/Alerts/Guidelines
June 4, 2010 — Fast food giant McDonald's Corp. announced today it is recalling 12 million of its new "Shrek Forever After" glasses because dangerous levels of the metal cadmium have been detected in the decorative paint used for the images.

McDonald's said it is ordering the voluntary recall in collaboration with the U.S. Consumer Product Safety Commission (CPSC) as a precautionary measure.
Reuters) – U.S. health regulators have finalized new warnings for controversial inhaled asthma drugs, but exercised new powers to order the changes on products made by GlaxoSmithKline Plc and AstraZeneca Plc.

The warnings, expected since February, say medicines known as long-acting beta-agonists, or LABAs, should never be used on their own to treat asthma, Food and Drug Administration officials said on Wednesday. While some of the companies accepted the changes, the two British drugmakers resisted, agency officials said.
June 2, 2010 — Women under 60 and men under 50 who have diabetes but no other major risk factors for heart disease probably should not be on low-dose aspirin therapy, new research suggests.

The new recommendations are based on close examination of nine studies that found the risks of some aspirin side effects, such as stomach bleeding, should be better balanced against the possible benefits of using aspirin.

The new guidelines suggest low-dose aspirin therapy be used by men over 50 and women over 60 with diabetes who have other risk factors for heart attack and stroke.

The U.S. Preventive Services Task Force still recommends low-dose aspirin for prevention of heart attacks and stroke in men aged 45 to 79 and women aged 55 to 79.
(Reuters) – The head of the U.S. House Oversight and Government Reform Committee expanded his investigation of Johnson & Johnson on Tuesday, saying another 2008 recall casts doubt on the drugmaker's pledge of protecting consumers.

Chairman Edolphus Towns, in a letter to the drugmaker, asked the company for all records related to the 2008 recall of some adult versions of its Motrin pain reliever, including the identities of employees involved, as well as outside contractors and subcontractors who worked for J&J.

The letter follows a May 27 hearing on the latest J&J recall of more than 40 liquid children's medications, including Children's Tylenol.
H1N1/Seasonal Flu/Other Epidemics
(Reuters) – The H1N1 pandemic is not yet over although its most intense activity has passed in many parts of the world, the World Health Organization said on Thursday after a review of the flu outbreak by independent experts.

The WHO emergency committee, composed of 15 external advisers, said it remained critical for countries to maintain vigilance concerning the pandemic, including necessary public health measures for disease control and surveillance, WHO Director-General Margaret Chan said in a statement.

"We're still in the pandemic," WHO spokesman Gregory Hartl told Reuters.

Chan said that pandemic flu activity was expected to continue, and the committee would meet again by mid-July to review the status of the outbreak once more data from the winter influenza season in the southern hemisphere was available.
(Reuters) – Two extra mutations set the stage for the seasonal influenza virus to evolve into a form that now resists three of the four drugs designed to fight it, researchers reported on Thursday.

Their study, published in the journal Science, provides a way for scientists to keep an eye out for dangerous mutations in new flu viruses, including the ongoing pandemic of H1N1 swine flu.
(Reuters) – An expert panel that advises the World Health Organization on pandemics will meet Tuesday to decide whether to declare the H1N1 flu outbreak over.

The WHO said in a statement Monday that its emergency committee will begin a teleconference at 1200 GMT Tuesday and results will be posted later in the day on its website.
(Reuters) – Poor living and working conditions for miners of gold, diamonds and other precious metals have contributed significantly to tuberculosis (TB) epidemics across Africa, scientists said on Tuesday.

Researchers from Britain and the United States said their study suggested that crowded living and working conditions, dust in mines, and the spread of HIV mean Africa's mining industry may figure in up to 760,000 new cases of TB each year.

Men traveling from afar to work in mines, such as from Botswana to South Africa, are at the greatest risk of getting TB, the researchers wrote in a study published in the American Journal of Public Health.
June 3, 2010 — A comparison of two types of deep brain stimulation shows they are equally effective in improving motor function in Parkinson's disease patients. Additionally, there has been research which indicates that CBD Capsules can also help manage the pain that comes with Parkinson's disease. CBD helps patients and their bodies relax and manages the chronic pain they experience.

Deep brain stimulation involves surgically implanting a device that sends electrical impulses to certain sections of the brain. These electrical impulses stimulate parts of the brain that contribute to Parkinson's disease. This, alongside medical marijuana products (like those on https://swiftgreen.co/product-category/concentrates/) can help potentially ease the symptoms of the disease.

The electrodes are commonly placed in one of two targets: the globus pallidus or the subthalamic nucleus. Both of these areas of the brain are associated with motor function.

A team of researchers, many of them from Veterans Affairs facilities, wanted to learn whether targeting the globus pallidus or the subthalamic nucleus produced better results for Parkinson's disease patients. The study appears in the New England Journal of Medicine.
Women's Health
(Reuters) – Women who want to use hormone replacement therapy may be less likely to have a stroke if they use low-dose patches instead of pills, Canadian researchers reported on Thursday.

Their study of British women showed that those who used estrogen patches to control symptoms of menopause did not have any higher risk of stroke than women who did not use HRT.

The study, published in the British Medical Journal, adds to a very slowly growing body of evidence that could rehabilitate the use of HRT, which plummeted in 2002 after the publication of the Women's Health Initiative study, which found an increased risk of ovarian cancer, breast cancer, strokes and other health problems from hormone therapy.
(Reuters Health) – Postmenopausal women who eat foods rich in estrogen-like plant chemicals called lignans may have a modestly decreased risk of developing breast cancer, a research review suggests.

In an analysis of 21 studies published in the past 13 years, researchers found that postmenopausal women who reported the highest intakes of dietary lignans were 14 percent less likely to develop breast cancer than those with low intakes.

The same relationship was not seen, however, among premenopausal women.
(Reuters Health) – Eating lots of animal protein appears to increase women's risk of developing inflammatory bowel disease (IBD), according to a new study from France.

"Our results may help better understand the role of diet in IBD risk," Dr. Franck Carbonnel of the Center Hospitalier Universitaire de Bicetre in Paris and his team write in the American Journal of Gastroenterology. "If confirmed, they can lead to protective strategies, especially in families at risk of IBD, and possibly to advice for preventing relapse."
(Reuters Health) – The antidepressant citalopram may help lessen the severity of menopausal hot flashes, at least in the short term, a new clinical trial suggests.

The findings, from a seven-week study of 254 women, add to evidence that certain antidepressants can offer relief from severe hot flashes.

Studies have found that some antidepressants in the class known as selective serotonin reuptake inhibitors (SSRIs) may help treat hot flashes; those drugs include paroxetine (Paxil), fluoxetine (Prozac) and venlafaxine (Effexor).
(Reuters Health) – Women who have an abortion in the second trimester of pregnancy are more likely than women who terminate their pregnancies earlier to have repeat abortions, new research shows.

And women who initially have a late abortion are also substantially more likely to have a second late abortion, Dr. Oskari Heikinheimo of Helsinki University Hospital in Finland and colleagues found. They also found that being younger than 20 sharply increased a woman's risk of having repeat abortions, and of having repeat late abortions.
(Reuters) – Common genetic differences have a limited role in causing breast cancer and work independently of lifestyle factors such as weight, diet and breastfeeding which are still more important, British scientists said on Wednesday.

In a study of more than 17,000 women, researchers found that although certain common gene variants raise the risk of developing breast cancer, they add to, but do not multiply, the risks posed by lifestyle factors like obesity or drinking.

The findings did not include the breast cancer genes known as BRCA-1 and BRCA-2 that occur much more rarely but which confer a high risk on women who have them.
Men's Health
(Reuters) – A highly sensitive blood test may be able to predict whether prostate cancer is cured or is likely to come back, giving doctors an early sign of whether treatments are working, U.S. researchers said Wednesday.

They said the nanotechnology-based blood test is far more sensitive than currently available commercial tests for prostate-specific antigen, or PSA, a protein produced by cells in the prostate gland.
(Reuters) – A urine test can help doctors better spot prostate cancer than either the current blood test or a rectal exam alone, U.S. researchers reported on Tuesday.

They said Gen-Probe's Progensa PCA3 test caught about half the actual cases of prostate cancer in men who had abnormal PSA levels or digital rectal exams, and had about a 20 percent "false positive" rate.

"That's pretty good, actually," said Dr. David Crawford of the University of Colorado School of Medicine, who helped lead the study.
(Reuters Health) – A new study finds that circumcised men appear less likely to sustain cuts, abrasions and other minor injuries to the penis during sex — which may help explain why circumcision lowers the risk of HIV transmission from heterosexual sex.

For the new study, researchers used data from an HIV clinical trial in Africa, where nearly 2,800 men between the ages of 18 and 24 were randomly assigned to undergo circumcision or remain uncircumcised. In 2005 and 2006, that trial and two others in Uganda, South Africa and Kenya showed that circumcision can reduce a man's risk of HIV infection through heterosexual sex by up to 60 percent.
June 2, 2010 (San Francisco) — Major depression, hypertension, enlarged prostates, and older age are all associated with an increased risk of moderate to severe urinary incontinence (UI) in men, a large study suggests.

The findings, which provide one of the first national snapshots of urinary incontinence in men, may help improve doctors' ability to identify men who are suffering from the condition, says study head Alayne D. Markland, DO, MS, of the University of Alabama at Birmingham.
June 2, 2010 (San Francisco) — A quick spray of a new drug may help men who suffer from premature ejaculation last nearly six times longer, new research suggests.

The numbers aren't huge. Men who sprayed the head of their penis with PSD502 five minutes before sex lasted an average of just over three minutes after three months of treatment, compared with just over 30 seconds before.

Nonetheless, doctors like Irwin Goldstein, MD, director of San Diego Sexual Medicine at Alvarado Hospital in San Diego, tell WebMD they're excited because this is the first time a drug is being rigorously tested for men with really serious premature ejaculation problems. Until the drug can be FDA approved and sold on the market, those that need such medication may want to ask themselves, Does Semenax work?
June 2, 2010 (San Francisco) — Dogs may be able to sniff out the smell of chemicals released into urine by prostate tumors, setting the stage for a new means of early prostate cancer detection.

In early tests, the approach produced fewer false positives than would be expected with the commonly used PSA test, French researchers report.

The concept isn't new. Other researchers have reported varying degrees of success using dogs to detect cancers of the skin, lung, and bladder, says researcher Pierre Bigot, MD, of Tenon Hospital in Paris.

The theory is that many tumors release chemicals with distinct odors that can be picked up by dogs, whose sense of smell is much more sensitive than that of humans, he tells WebMD.
June 3, 2010 (San Francisco) — Waning sexual desire may be an early sign of erectile dysfunction (ED), researchers report.

In a study of more than 800 men, those who reported fewer sexual thoughts and desires were more likely to develop ED by nine years later than those who had more sexual fantasies and feelings.

"The findings suggest that indications of reduced sexual function appear years before ED, and that there may be a time window for intervention before a more complete loss of erectile function," says researcher Susan A. Hall, PhD, of the New England Research Institutes.

The findings were presented at the annual meeting of the American Urological Association (AUA).
Pediatric Health
(Reuters Health) – Most children and teenagers with mildly elevated blood pressure can safely participate in sports, but those with more-serious high blood pressure need to get the condition under control before they can take part in high-intensity sports, according to new recommendations.

The guidelines, issued by the American Academy of Pediatrics (AAP), are based on recent research into pediatric blood pressure and the latest recommendations on defining and treating high blood pressure in adults.
(Reuters Health) – The anti-allergy effects of an agricultural upbringing persist well into old age, new research from Sweden shows.

Dr. Jonas Eriksson of the University of Gothenburg and colleagues found that people who spent the first five years of their lives on a farm were about 20 percent less likely to have itchy, runny eyes and noses due to allergies, from age 16 up through to age 75
(Reuters Health) – Contrary to the conventional wisdom, most girls who start developing a year or two before their classmates don't face any more long-term problems than their peers, according to a new study.

However, depression may be somewhat more likely among such girls, Duke University researchers report this month in the American Journal of Psychiatry.

"This is a hopeful study," co-author William Copeland told Reuters Health.
June 2, 2010 — Fully 40% of teens aged 15 to19 have had sex at least once, and 14% of the girls and 18% of the boys say they would be a "little pleased" or "very pleased" if this resulted in a pregnancy, a new study shows.

That's according to the 2006-2008 National Survey of Family Growth conducted by the CDC.

Researchers conducted in-person interviews of 2,767 teenagers to determine rates of sexual activity, contraceptive use, and births among U.S. teens aged 15-19 in 2006-2008.
June 3, 2010 — Just over one in five high school students in the U.S. admits to having taken a prescription drug without a doctor's prescription, the CDC says in its National Youth Risk Behavior Survey.

Last year was the first time the survey, which has been conducted every other year since 1991, has assessed prescription drug abuse among high school students. The CDC says it found that 20.2% of high school students said they had taken a drug such as Ritalin, Xanax, or OxyContin without having a doctor's prescription. Some research has shown that students participate in drug abuse due to psychological factors. Among these students, many may develop serious drug abuse issues requiring the aid of a rehab center (read more) to help them through both their psychological and drug problems.

The survey of more than 16,000 youths found that:

* Prescription drug abuse was most common among white students, at 23%, followed by Hispanics at 17% and African-Americans at 12%.

* Prescription drug abuse was most common among seniors (26%) and least common among freshmen (15%).

* There was no difference in prescription drug abuse by sex — 20% for both male and female students.

Mental Health
(Reuters Health) – Smoking pot may be linked to worsening schizophrenia, according to a new study.

Researchers say the results also suggest that among those likely to develop the disease, those who use marijuana may get the disease earlier in life than those who don't.

The findings don't prove that smoking marijuana causes schizophrenia, and the study only looked at people who already had the disease. But, "smoking marijuana may have hastened whatever process was going to happen anyway," Daniel Foti, a PhD student at Stony Brook University on New York's Long Island and the lead author on the study, told Reuters Health.
(Reuters) – Americans prefer drugs to talk therapy for depression, with nearly 80 percent taking a pill for the condition, Consumer Reports said on Tuesday.

The most popular class of drugs remain the so-called SSRIs such as Prozac, the group found. People found newer, pricier antidepressants less desirable because of side-effects.

Patients benefited just as much from therapy — almost any kind of therapy, the consumer group found in its survey of 1,500 readers.
Nutrition/Diet/Healthy Recipes
(Reuters Life!) – Eating chocolate could bring down cholesterol levels — but only in small amounts and only in some people, according to an analysis of eight studies.

Dr. Rutai Hui of the Chinese Academy of Medical Sciences and Peking Union Medical College in Beijing and colleagues found chocolate only helped people who already had risk factors for heart disease and only when consumed in modest amounts.

Eating moderate amounts of cocoa could be "a worthwhile dietary approach" for preventing high cholesterol in certain groups of people, the researchers concluded in a report in the American Journal of Clinical Nutrition (here).
(Reuters Health) – Move over Mediterranean diet — a new study shows that following the Southern European Atlantic Diet may also help protect the heart — as long as you don't follow it too closely.

Residents of northern Portugal and a region in northwest Spain known as Galicia have "very low" rates of death from heart disease, Dr. Andreia Oliveira of the University of Porto Medical School in Porto, Portugal and colleagues note. In fact, heart disease death rates in this region are similar to those of France, Italy and Greece, where people tend to stick to a Mediterranean-style diet rich in fruits and vegetables, olive oil, whole grains and nuts, and relatively low in dairy products and red meat.
Reuters) – Caffeine addiction is such a downer that regular coffee drinkers may get no real pick-me-up from their morning cup, according to a study by British scientists.

Bristol University researchers found that drinkers develop a tolerance to both the anxiety-producing and the stimulating effects of caffeine, meaning that it only brings them back to baseline levels of alertness, not above them.

"Although frequent consumers feel alerted by caffeine, especially by their morning tea, coffee, or other caffeine-containing drink, evidence suggests that this is actually merely the reversal of the fatiguing effects of acute caffeine withdrawal," wrote the scientists, led by Peter Rogers of Bristol's department of experimental psychology.
(Reuters) – Children who eat three or more burgers a week may be at a higher risk of asthma and wheezing, but a healthy diet rich in fruit and fish seems to stave off the risk, according to a large international study.

Researchers from Germany, Spain and Britain who studied data on 50,000 children across the world found the link between burgers and asthma was strongest in rich nations where diets with high levels of junk food are more common.

A meat-heavy diet itself has no bearing on the prevalence of asthma, according to the scientists who conducted the study. Yet, frequent burger eating could be a signal for other lifestyle factors which raise asthma risk.

"This is a sign that the link is not strongly related to the food itself, but that burgers are a proxy for other lifestyle and environmental factors like obesity and lack of exercise," said Gabriele Nagel of the Institute of Epidemiology at Ulm University, Germany, who led the study.
(Reuters Health) – A new study finds that adults who are allergic to shrimp tend to have a less intense immune-system reaction to the shellfish compared with children — raising the possibility that some allergy sufferers build up a tolerance to shrimp as they grow older.

Allergies to shellfish, such as shrimp, lobster and clams, are among the most common type of food allergy. Reactions can range from mild symptoms, like nasal congestion and hives, to serious or even life-threatening problems, including severe airway constriction and a sudden, sharp drop in blood pressure.
June 4, 2010 — Preliminary research calls into question the old adage that stretching improves flexibility more than resistance training.

"Our results suggest that full-range resistance training regimens can improve flexibility as well as, or perhaps better than, typical static stretching regimens," says James R. Whitehead, EdD, of the University of North Dakota in Grand Forks.

Also known as strength training, resistance training usually involves in order to build muscle. You can also increase your strength by pushing or working against something that resists your weight, such as doing push-ups.

"There's an old notion that if you do resistance training, you have to stretch those muscles too," Whitehead tells WebMD. "It's a hangover to the myth that muscles lose flexibility as they get bigger."
June 4, 2010 — Fat-free chocolate milk beat out carbohydrate sports drinks at helping to rebuild and refuel muscles after exercise, researchers report.

The combination of carbohydrates and protein in low-fat chocolate milk appears to be "just right" for refueling weary muscles, says William Lunn, PhD, an exercise scientist at the University of Connecticut.

"It's not just a dessert item, but it's very healthy, especially for endurance athletes," Lunn tells WebMD.

The research involved eight male runners in good physical shape who ate a balanced diet for two weeks. At the end of each week, they took a fast paced, 45-minute run.

Following each run, the men drank either 16 ounces of fat-free chocolate milk or 16 ounces of a carbohydrate-only sports beverage with the same number of calories.
June 3, 2010 — Can't start your day without a coffee? It's all in your mind, according to University of Bristol, U.K. researchers who've found the stimulating effects of caffeine may be just an illusion.

Their study involved 379 brave volunteers who went coffee "cold turkey" for 16 hours before being given a caffeine capsule or a placebo capsule containing corn flour.

They were then tested for a range of responses, but there was little variation between the real- caffeine group and the placebo group in levels of alertness.

Around half of the study participants were non-coffee drinkers or low consumers. The rest were medium to high consumers of coffee.

They were asked to rate their personal levels of anxiety, alertness, and headache before and after their drink — which was either the caffeine or the placebo.
June 3, 2010 — Popular protein drinks with names like Muscle Milk and EAS Myoplex — favorites of teens, gym rats, boomers, and pregnant women — can contain potentially unsafe levels of heavy metals and other harmful substances, according to an investigation by Consumer Reports.

"Consuming these kinds of protein drinks on a regular basis can in some cases create the risk of chronic exposure, even at low levels, to heavy metals such as cadmium and lead that can pose health problems, particularly to vulnerable people," says Andrea Rock, the Consumer Reports editor for the investigation. Among vulnerable people are children under age 18, pregnant women, and people with diabetes or chronic kidney conditions, she says.
June 3, 2010 — Women who wear a tight girdle-like "shaper garment" while walking on a treadmill burn more calories than they would without it, new research shows.

The shaper garment, called ShaToBu, is designed to make muscles work harder when walking, University of Virginia researchers say.
June 4, 2010 (San Francisco) — Men seeking to improve their performance in bed might want to give exercise a shot.

Men who exercised had substantially higher scores on a sexual-function questionnaire than men who were sedentary, researchers report.

Looked at another way, men who were moderately active — walking briskly just 30 minutes a day, four days a week, or the equivalent — were about two-thirds less likely to have sexual dysfunction than their sedentary counterparts, says Erin McNamara, MD, of Duke University Medical Center.

"If men won't exercise for their cardiovascular health, maybe they will for their sexual function," she tells WebMD.