(8PM EST – promoted by Nightprowlkitty)
For the first time ever, MSF gave a documentary crew uncensored access to its field operations. Set in war-torn Congo and post-conflict Liberia, "Living in Emergency" interweaves the stories of four doctors as they struggle to provide emergency medical care under extreme conditions. Two volunteers are new recruits: a 26-year-old Australian doctor stranded in a remote bush clinic and an American surgeon from Tennessee trying to cope under the load of emergency cases in a shattered capital city.

Two others are experienced field hands: a dynamic head of mission, valiantly trying to keep morale high and tensions under control, and an exhausted veteran, who has seen too much horror and wants out. Amid the chaos, each doctor must find their own way to face the challenges of the work, the tough choices, and the limits of their idealism.
Living in Emergency Trailer from LivinginEmergency on Vimeo.
This documentary opens in cities around the US this weekend. I urge you to see it, it will gives you a far better picture of what we do than I can ever put into words. Bring a strong stomach and a few tissues.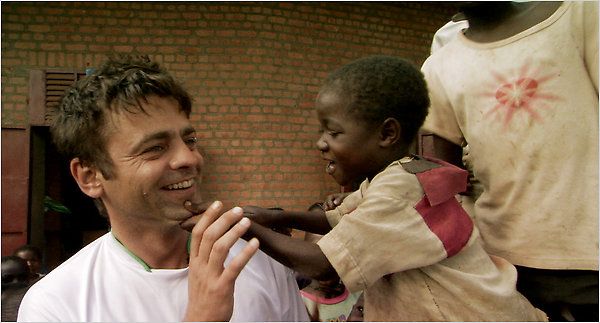 Living in Emergency by Mark Hopkins from the Huffington Post.
Everyone thinks of making their film as an epic saga. Directors tell me horror stories of actors refusing to leave their trailer, starlets AWOL with 'nervous exhaustion'. I wonder if they think I'm lying when I talk about being stranded in war zones, dragged out of cars by machine gun, or capturing a French doctor's panic when short of supplies, he's forced to drill a dying man's skull with the wrong equipment. Then watching the doctor in a militia drinking hole break out the beers in celebration, as he finds out the old man recovered. And that's before the real sticky moments as a director — trying to persuade people that you weren't about to hit them with another pious do-gooder film, because yours is… well, it's about Doctors Without Borders.
Sainted Heroic Doctors, Minus the Halos
THE hardened, heroic doctor working selflessly to save lives in a war zone has become a familiar figure in popular entertainment. The long-running television series "ER," for example, sent Noah Wyle's John Carter and Goran Visnjic's Luka Kovac off to Congo on just such an assignment, fraught with mortal danger and moral dilemmas.

A similar sense of drama permeates "Living in Emergency: Stories of Doctors Without Borders," a documentary film about the international humanitarian aid group that opens nationally on Friday. But "Living in Emergency" stands apart from standard medical fare by focusing on the organization and its mission rather than on individual predicaments.

At festivals where "Living in Emergency" has been shown, viewers and critics have described it as " 'E.R.' in the bush with a little bit of 'M*A*S*H' involved,' which is a great compliment, I suppose," said Mark N. Hopkins, the film's director. "We are not trying to subvert the genre, but we did approach things with a different point of view. We deliberately did not want to do a message, so this is not a film designed with obvious takeaways."

snip

Mr. Hopkins filmed the bulk of the footage over a three-month period in 2005. He was so intent on focusing on the challenges and philosophical choices confronted by doctors in the field that many of the volunteers, including some of the main four, are not immediately identified, and some are never named at all.

snip

"Living in Emergency" has proven so effective in portraying the complexities of practicing medicine in extreme situations that Doctors Without Borders is thinking of using it as a training tool, Ms. (Kris) Torgeson said. Some of those whom Mr. Hopkins depicted, noting that they had struggled to explain their experience to friends and relatives, said they perceived another advantage.

"The film gives people a frame of reference to start a conversation," Dr. (Tom) Krueger said in a telephone interview. "Some of it is good, some of it is bad. But you get a window not just into the kind of work that is M.S.F. and the conditions they labor under, but also, in some way, the motivations of the people who work in those situations, whose motivations may not be clear even to themselves."