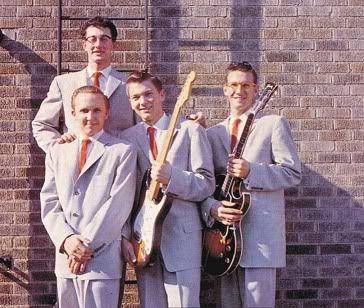 The lyrics for this week's feature song could have very easily been lifted from the script of a lobbyist from one of our largest corporate rulers when they are meeting with their leased members of Congress. The song conveys a message that propels the matter of taking someone for granted to new heights.
That aside, this week's selection is far more about the original performer and some of the greats who covered this song, including a then seemingly insignificant, but ultimately a major turning point in rock and roll history.  
The inspiration from this week's feature song was derived from a trip to the movies by members of the band. A phrase frequently used by John Wayne in the film, "The Searchers" would become the title of this song.  
The original group's second recording was completed on February 25, 1957, was released on May 27, 1957 and made its first appearance on the Billboard Top 40 chart on August 19, 1957, where it would remain for sixteen weeks, occupying the #1 slot for one week. This release also rose to #2 on the Billboard Rhythm & Blues chart. Linda Ronstadt's cover version of this song would top out at #11 on the Billboard Top 40 chart in 1976. This song, considered a classic, was listed at #39 on Rolling Stone magazine's list of The 500 Greatest Songs of All Time.  This song also appeared on the charts in the U. K. for three weeks.
The original singer-songwriter was born in Lubbock, Texas on September 7, 1936 and would enjoy fame for only a year and a half before his tragic death in a plane crash.  He was described by critic Bruce Elder as "the single most influential creative force in early rock and roll."  His considerable influence extended not just to contemporaries, but later musicians, including The Beatles, The Rolling Stones, Don McLean and Bob Dylan. This man was included in the first group of inductees to the Rock and Roll Hall of Fame in 1986 and in 2004, Rolling Stone magazine ranked him among "The Fifty Greatest Artists of All Time."  
The young man witnessed a performance by Elvis Presley in Lubbock, Texas in 1955 and began to incorporate some of Presley's rockabilly style into his music. Later that year, he opened on the same bill with Presley in Lubbock, and caught the attention of a Nashville talent scout in the bargain. He would then open for Bill Haley & His Comets at a local show organized by Eddie Crandall, Marty Robbins' manager.  
Notably, Decca slightly misspelled his last name, a mistake that was not corrected. The 1956 Nashville recordings were produced by Owen Bradley, who also served in this capacity for Patsy Cline, and many years later, with k. d. lang. Decca chose to release two other songs from this initial group of recordings, neither of which were successful.
On January 22, 1957, Decca informed the aspiring young performer that his contract would not be renewed, at the same time insisting that his contract prohibited him from recording the same songs with anyone else anytime within the next five years, even if Decca hadn't released them.
During 1957, in a history-making sleight-of-hand move, the new manager Norman Petty credited the group, of which the original performer was a member, as the artist to avoid possible legal consequences for this young man. Petty recorded the group's songs at his studio in Clovis, New Mexico, and would then various contact music publishers and labels. Eventually they signed with Brunswick Records on March 19, 1957.    
Ironically, Brunswick Records, who released the second far more successful cover version, was a subsidiary of Decca Records. Once Decca learned of this arrangement, the song was already a big success. Rather than pressing the issue, they decided to sign the original artist to a second contract. His solo recordings would be released on Coral Records, and the group efforts would continue to be issued under Brunswick Records. And who says it doesn't pay to hire good help?
This artist's tall, gangly bespectacled appearance would more resemble that of the captain of the chess team than someone in the mold of James Dean. Despite this, for those listening to the group's recordings, many were unable to tell if they were white or black. He sometimes played with black musicians such as Little Richard and Chuck Berry.
This young man managed to bridge the racial divide that existed with respect to rock n' roll music. While Elvis had made black music more acceptable to white audiences, the young man managed to win over an all-black audience during a week-long stint at the Apollo Theater in New York City in August, 1957.  At the time, they were the only white group on a national tour.  
Preliminaries aside and without further ado, this week's selection, written by Buddy Holly and Jerry Allison, and released under the name of his band, "The Crickets" is "That'll Be the Day"…
In addition to Buddy Holly, the Crickets consisted of Niki Sullivan (guitar), Joe B. Mauldin (bass) and Jerry Allison (drums). Allison shared the credit with Holly as the co-composer of "That'll Be the Day."  
This essay would not be complete without mention of the tragic February 3, 1957 plane crash, near Clear Lake, Iowa. After the breakup of the Crickets, Holly was on tour with a new band, and two other stars of the time:  Ritchie Valens ("La Bamba") and J. P. "The Big Bopper" Richardson ("Chantilly Lace").
Holly's bass player at the time was Waylon Jennings, who would be inducted into the Country Music Hall of Fame in 2001. Although Hollywood folklore had it that Jennings and the Big Bopper flipped a coin for the last seat on the plane, with Jennings "losing", Jennings actually gave up his seat to the Big Bopper since he'd been sick with the flu.  Another musician in the group, Tommy Allsup did flip a coin with Ritchie Valens, "losing" to Valens.  
Jennings would later acknowledge in his 1996 autobiography that in later years, he felt severe guilt and responsibility for the crash. According to his accounting of events, after Jennings gave up his seat, Holly had jokingly teased Jennings, "I hope your ol' bus freezes up!" Jennings related that he facetiously shot back, "Well, I hope your ol' plane crashes!" One can only wonder if the aftermath of this tragedy may have contributed to Jennings' later addiction to cocaine.
PLEASE NOTE:  Due to previously unforeseen circumstances, I will be extremely busy until the first week of June.  If the first reader of this diary could kindly enter an initial comment on my behalf (for ponies), that would be much appreciated.  So, please understand if I either don't respond, or am not able to do so in a timely fashion.
And finally, here is "That'll Be the Day", released on May 27, 1957…
This one isn't included in the poll but provides a visual of Holly & the Crickets in this abbreviated version of the song…
The cover version of Buddy Holly's classic song, "That'll Be The Day", was recorded by The Quarrymen on July 14, 1958, at Percy Phillips' Studio in Liverpool. They intended this recording to serve as a demonstration disc. This effort would become known as the Beatles' very first recording. A single 78rpm disc was pressed, making it the very first recording to feature John Lennon (vocals, guitar), Paul McCartney (harmony vocals, guitar) and George Harrison (guitar). The trio was joined by John "Duff" Lowe (piano) and Colin Hanton (drums).  
In 1979, Paul McCartney purchased the publishing rights to the Buddy Holly catalogue.  The Beatles' (aka the Quarrymen's) 1958 version of "That'll Be the Day" was included in the 1995 album entitled, "Beatles Anthology I."  
"The first thing we ever recorded was 'That'll Be the Day', a Buddy Holly song, and one of Paul's called 'In Spite of All the Danger.'" – John Lennon
To learn much more of the fascinating story surrounding the Beatles' very first recording, you can find it here.

The Beatles' earliest beginnings were humble, indeed.
Here is the very first recording by the Beatles, their cover version of "That'll Be the Day", from 1958…
Link Wray (1961)
Bobby Vee included this cover version on his 1963 album, "I Remember Buddy Holly".
Francophiles rejoice!  Here is a French language version by Johnny Hallyday, from 1963…
The Everly Brothers recorded "That'll Be the Day" in 1965, although the date of this television performance is unknown…
Françoise Hardy sings "That'll be the day", from her 1969 album "En anglais"…
Linda Ronstadt covered the song on 1976's Grammy award winning "Hasten Down the Wind." The single made it to number 11 on the Billboard Pop Singles chart and number 27 on the Billboard Country Singles chart.  Here is a live version from 1978…
The Blue Diamonds — Released in 1993
Lynn Anderson was perhaps best known for her Grammy Award-winning, country crossover mega-hit, "(I Never Promised You A) Rose Garden", which rose to #3 on the Billboard Top 40 chart in 1970. Released in 2000
Connie Francis placed 35 songs on the Billboard Top 40 charts from 1958 to 1964, an impressive run. More than a half century after her beginnings, Ms. Francis remains quite active (You can find out more about what she's been up to recently here: connie francis 2018). In March and October 2007, she performed to sold-out crowds at the Castro Theatre in San Francisco and later appeared in concert in Manila, the Philippines, on Valentine's Day 2008. This cover version was released in 2002…
The Lucky Cupids – Posted April 19, 2009 — Andrej Rudolf – Velvet Voice & Acoustic Rhythm Guitar; Matevž Carnelutti – Solo Electric Guitar; Aleš Kolar – Double Slap Bass; Grega Usenik – Drums …
Here is David Barton playing at a small pub in Beverley Hills as part of the beer festival. This includes some great work on the keyboards!  Posted on August 29, 2009…
And if you have a very limited amount of time, but want to sample several artists, including some for whom this writer could not locate the full video, you may want to check out the following…
Here is the immortal "That'll be the day" as recorded by The Quarrymen (1958), Cliff Richard (1959), Pat Boone (1961), Link Wray (1961), Bobby Vee (1963), Johnny Halliday (1963), The Everly Brothers (1965), Françoise Hardy (1968), Foghat (1974), Mike Berry (1974), The Hollies (1980), The Blue Diamonds (1993), Lynn Anderson (2000) and Connie Francis (2001)…
Loading ...