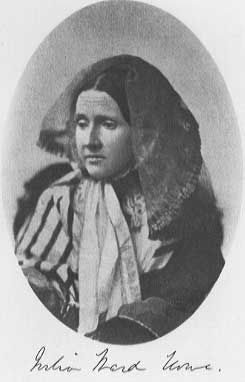 On this day in 1914 President Woodrow Wilson issues a presidential proclamation that officially establishes the first national Mother's Day holiday to celebrate America's mothers.
The earliest call for the establishment of Mother's Day in the US came in 1870 with the "The Mother's Day Proclamation" written by Julia Howe. It was a pacifist reaction to the US Civil War and the Franco-Prussian War. It was Ms. Howe's belief that women had a responsibility to shape society at a political level.
Arise, then, women of this day!

Arise all women who have hearts,

Whether your baptism be that of water or of tears

Say firmly:

"We will not have great questions decided by irrelevant agencies,

Our husbands shall not come to us reeking of carnage,

For caresses and applause.

Our sons shall not be taken from us to unlearn

All that we have been able to teach them of

charity, mercy and patience.

"We women of one country

Will be too tender of those of another country

To allow our sons to be trained to injure theirs."

From the bosom of the devastated earth a voice goes up with

Our own. It says, "Disarm, Disarm!"

The sword of murder is not the balance of justice!

Blood does not wipe out dishonor

Nor violence indicate possession.

As men have of ten forsaken the plow and the anvil at the summons of war.

Let women now leave all that may be left of home

For a great and earnest day of counsel.

Let them meet first, as women, to bewail and commemorate the dead.

Let them then solemnly take counsel with each other as to the means

Whereby the great human family can live in peace,

Each bearing after his own time the sacred impress, not of Caesar,

But of God.

In the name of womanhood and humanity, I earnestly ask

That a general congress of women without limit of nationality

May be appointed and held at some place deemed most convenient

And at the earliest period consistent with its objects

To promote the alliance of the different nationalities,

The amicable settlement of international questions.

The great and general interests of peace.
1457 BC – Battle of Megiddo (15th century BC) between Thutmose III and a large Canaanite coalition under the King of Kadesh. It is the first battle to have been recorded in what is accepted as relatively reliable detail.
1092 – Lincoln Cathedral is consecrated.
1502 – Christopher Columbus leaves Spain for his fourth and final journey to the New World.
1671 – Thomas Blood,aka Captain Blood, disguised as a clergyman, attempts to steal England's Crown Jewels from the Tower of London.
1864 – Union troops take Snake Creek Gap, Georgia: Union troops secure a crucial pass during the Atlanta campaign. In the spring and summer of 1864, Union General William T. Sherman and Confederate General Joseph Johnston conducted a slow and methodical campaign to seize control of Atlanta.
1868 – The city of Reno, Nevada, is founded.
1887 – Buffalo Bill Cody's Wild West Show opens in London.
1901 – Australia opens its first parliament in Melbourne.
1904 – The steam locomotive City of Truro becomes the first steam engine in Europe to exceed 100 mph (160 km/h).
1915 – World War I: Second Battle of Artois between German and French forces.
1926 – Admiral Richard E. Byrd and Floyd Bennett claim to have flown over the North Pole (later discovery of Byrd's diary seems to indicate that this did not happen).
1927 – The Australian Parliament first convenes in Canberra.
1933 – About 25,000 books, including at least one copy of the Bible, burned by the Nazis in Germany.
1936 – Italy formally annexes Ethiopia after taking the capital Addis Ababa on May 5.
1937 – Edgar Bergen and Charlie McCarthy took to the airwaves becoming an overnight radio sensation.
1940 – World War II: The German submarine U-9 sinks the French coastal submarine Doris near Den Helder.
1941 – World War II: The German submarine U-110 is captured by the Royal Navy. On board is the latest Enigma cryptography machine which Allied cryptographers later use to break coded German messages.
1942 – Holocaust: The SS murder 588 Jewish residents of the Podolian town of Zinkiv (Khmelnytska oblast, Ukraine). The Zoludek Ghetto is destroyed and all its inhabitants murdered or deported.
1945 – World War II: Ratification in Berlin-Karlshorst of the German unconditional surrender of May 8 in Rheims, France, with the signatures of Marshal Georgy Zhukov for the Soviet Union, and for the Western Headquarters Sir Arthur Tedder, British Air Marshal and Eisenhower's deputy, and for the German side of Colonel-General Hans-Jürgen Stumpff as the representative of the Luftwaffe, Field Marshal Wilhelm Keitel as the Chief of Staff of OKW, and Admiral Hans-Georg von Friedeburg as Commander-in-Chief of the Kriegsmarine.
1945 – Herman Goering is captured by the U.S. Seventh Army
1946 – King Victor Emmanuel III of Italy abdicates and is succeeded by Humbert II.
1949 – Rainier III of Monaco becomes Prince of Monaco.
1950 – Robert Schuman presents his proposal on the creation of an organized Europe, indispensable to the maintenance of peaceful relations. This proposal, known as the "Schuman declaration", is considered by some people to be the beginning of the creation of what is now the European Union.
1950 – L. Ron Hubbard's Dianetics: The Modern Science of Mental Health is released.
1955 – Cold War: West Germany joins NATO.
1955 – Sam and Friends debuts on a local United States television channel, marking the first television appearance of both Jim Henson and what would become Kermit the Frog and The Muppets.
1960 – The FDA announces it will approve birth control as an additional indication for Searle's Enovid, making Enovid the world's first approved oral contraceptive pill.
1961 – Jim Gentile of the Baltimore Orioles becomes the first player in baseball history to hit grand slams in consecutive innings.
1964 – Ngo Dinh Can, de facto ruler of central Vietnam under his brother President Ngo Dinh Diem before the family's toppling, is executed.
1969 – Reporter breaks the news of secret bombing in Cambodia: William Beecher, military correspondent for the New York Times, publishes a front page dispatch from Washington, "Raids in Cambodia by U.S. Unprotested," which accurately described the first of the secret B-52 bombing raids in Cambodia.
1970 – Vietnam War: In Washington, D.C., 75,000 to 100,000 war protesters demonstrate in front of the White House.
1974 – Watergate Scandal: The United States House of Representatives Judiciary Committee opens formal and public impeachment hearings against President Richard Nixon.
1978 – Aldo Moro found dead: The body of former Italian prime minister Aldo Moro is found, riddled by bullets, in the back of a car in the center of historic Rome. He was kidnapped by Red Brigade terrorists on March 16 after a bloody shoot-out near his suburban home. The Italian government refused to negotiate with the extreme left-wing group, which, after numerous threats, executed Moro on May 9.
1980 – In Florida, Liberian freighter MV Summit Venture collides with the Sunshine Skyway Bridge over Tampa Bay, making a 1,400-ft. section of the southbound span collapse. 35 people in six cars and a Greyhound bus fall 150 ft. into the water and die.
1980 – In Norco, California, five masked gunman hold up a Security Pacific bank, leading to a violent shoot-out and one of the largest pursuits in California history. Two of the gunmen and one police officer are killed and thirty-three police and civilian vehicles are destroyed in the chase.
2002 – The 38-day stand-off in the Church of the Nativity in Bethlehem comes to an end when the Palestinians inside agree to have 13 suspected militants among them deported to several different countries.
2004 – Chechen president Akhmad Kadyrov is killed in a land mine bomb blast under a VIP stage during a World War II memorial victory parade in Grozny, Chechnya.
2006 – Estonia ratifies the European Constitution.
1918 – Mike Wallace, American journalist, 92
1920 – Richard Adams, English author, 90
1921 – Daniel Berrigan, American peace activist, 89
1936 – Albert Finney, British actor, 74
1936 – Glenda Jackson, English actress and politician,74
1942 – John Ashcroft, United States Attorney General, 68
1942 – Tommy Roe, American singer and songwriter, 68
1945 – Steve Katz, American musician (Blood, Sweat & Tears), 65
1946 – Candice Bergen, American actress, 64
1949 – Billy Joel, American musician,61
1951 – Alley Mills, American actress, 59
1962 – John Corbett, American actor, 48
1972 – Dana Perino, former White House press secretary, 38